Life coaching is highly popular with the world changing and people being more conscious about their personal and professional enhancement. So nowadays, almost everyone is searching for some professional to help them through their quest to achieve something great.
In the ever-evolving landscape of personal development, life coaching plays a pivotal role in helping individuals navigate the complexities of life, set meaningful goals, and unlock their true potential.
And with their extraordinary knowledge and unfailing support, life coaches assist you in managing the ups and downs of your life, empowering, lifting, and guiding you. So, let's dive in and meet your potential life-changing allies!
But first, let's delve into understanding life coaches and what makes them the best.
Life Coaches: Your Allies for Lifestyle Enhancement
Life coaches are like guiding lights in the vast sky of personal growth, illuminating your routes and assisting you in navigating every aspect of life. With solid tools and a sincere desire to inspire and enlighten people in need, they are the superheroes of self-discovery.
Imagine having a reliable confidante who would listen to you without judgment, comprehend your goals and difficulties, and give you the confidence you need to overcome obstacles. A life coach exemplifies that.
Are you curious about the role of a life coach and want to learn more about What a Life Coach is and what is not? Our article titled "What is a Life Coach" has all the answers.
So, if you're someone thinking of going on that journey, we are here with some of the best life coaches of 2023. So, prepare to embrace your brilliance, step into your authenticity, and build the life you've always wanted with the help of the best life coaches of 2023.
Top Life Coaches of 2023
Life coaches work in different niches. While some are perfectionists for career coaching, others might be experts in relationships and dating. No matter their expertise, as a help seeker, you should always be free to choose the best life coach for yourself.
Moving on, here are the names of some of the best life coaches of 2023. The list is based on the coaches' popularity, credentials, experience, and qualification.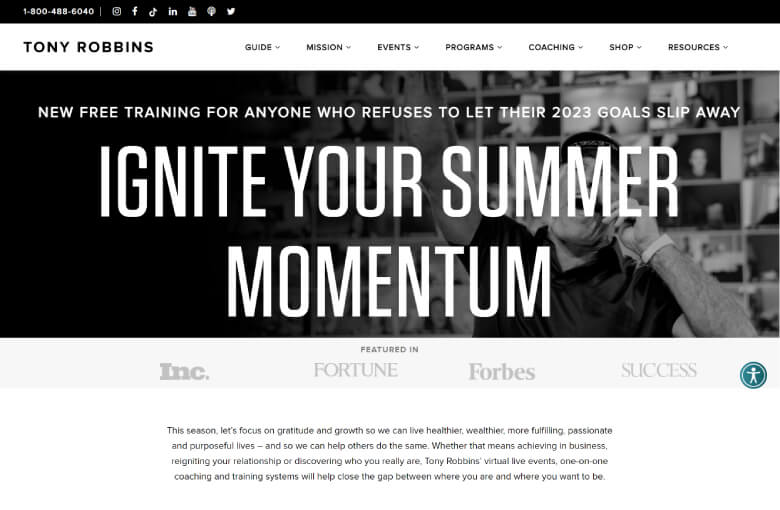 Tony Robbins is a renowned global entrepreneur, investor, New York Times bestselling author, philanthropist, and the world's number one life and business strategist. With a career spanning over four and a half decades, he has inspired more than 50 million people from 100 different nations through his illuminating seminars, radio programmes, and instructional videos.
Tony's warmth, humour, and powerful insights have touched the lives of millions, inspiring personal and professional growth. He specializes in business coaching, result coaching,  life coaching, health coaching and so on. You can find out more about his coaching approach on his website.
Methodology
Tony Robbins' coaching methods have proven effective at the highest levels of success in various fields. He has worked closely with business magnates such as Danny Meyer, Jenny Fleiss, Joe Gebbia, and Marc Benioff, guiding them to improve, innovate, and grow continuously.
His teachings have also impacted top entertainers and athletes, including Aerosmith, Pitbull, Serena Williams, and the Golden State Warriors. Through his books, audio programs, and sold-out seminars, Tony equips individuals with the knowledge and tools needed to create lifelong success.
Awards and Recognition
Tony Robbins has received numerous accolades throughout his illustrious career. Some of the awards and recognitions under his name are as follows:
Named in the "Top 50 Business Intellectuals in the World" by Accenture 
Recognized as one of the "Top 200 Business Gurus" by Harvard Business Press
American Express listed him among the "Top Six Business Leaders in the World."
Fortune magazine featured him as the "CEO Whisperer" and 
Worth Magazine included him in their prestigious list of the 100 most influential people in global finance for three consecutive years.
Client Testimonials
Tony Robbins' impact as a transformational leader, bestselling author, and philanthropist is immeasurable. He has secured his position as one of the most significant personalities in personal and professional development via his dedication to empowering people, advising top leaders, and improving the world.
Through his enduring wisdom, Tony continues to enable millions, leaving a lasting legacy of transformation and inspiration.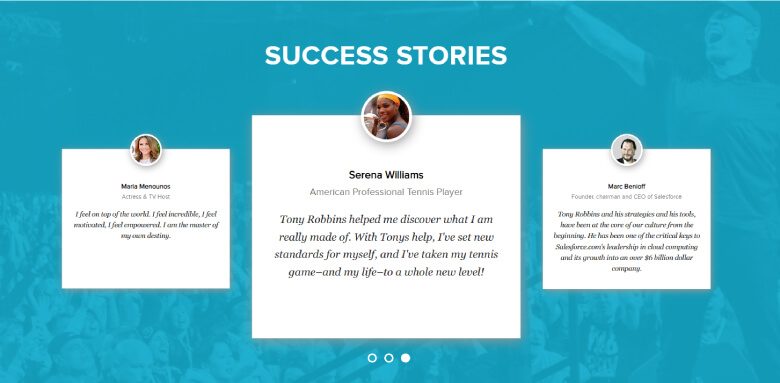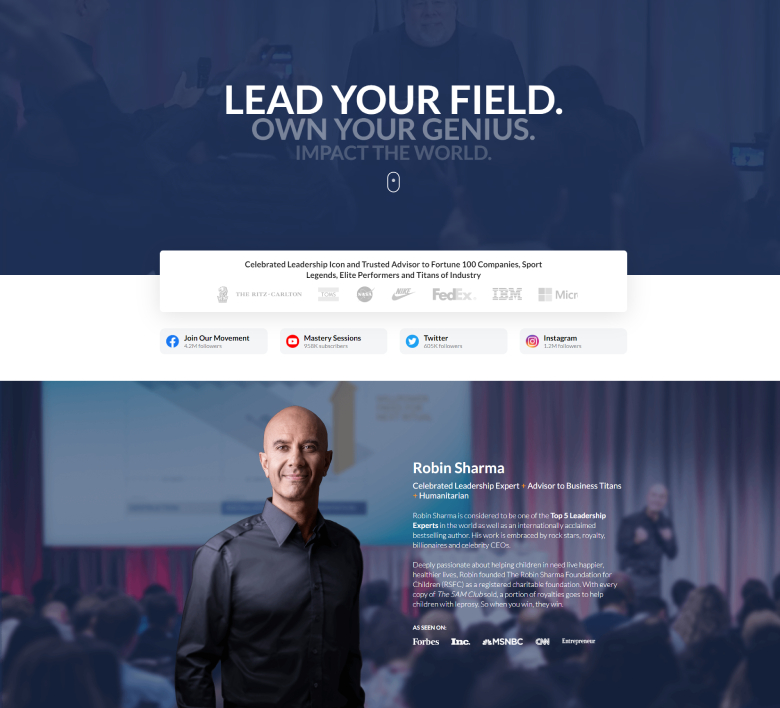 With over 25 years of expertise, Robin Sharma is a lauded life coach and leadership figure. He is known for his extraordinary coaching abilities and for helping successful athletes, businesspeople, and high-profile personalities.
Robin Sharma, who is renowned for his insightful perceptions and game-changing tactics, is respected by influential people all around the world. He has received various honours and recognition for his effective leadership and personal development tutoring.
Methodologies
With years of experience, Robin Sharma has used his platform to coach his clients with practical approaches.
The 5-AM Club: As laid out in his book, The 5-AM Club, Sharma motivates his clients to start their day early. He believes in waking up early at 5 in the morning and exercising, planning, learning, and engaging in personal growth activities.
Leadership principles: According to Robin Sharma, every individual can lead regardless of position. His "Lead Without a Title" guiding principle urges people to assume accountability, exercise initiative, and effect change from any place within an organization.
Sharma emphasizes that one must be capable of leading oneself before one can successfully lead others. Therefore, self-control, self-awareness, and a dedication to ongoing learning and development are required.
Personal Mastery: Along with seeking to become an expert in your industry, Sharma's leadership principles emphasize constant progress. The overarching philosophy of Sharma encourages people to work towards self-mastery or ongoing improvement, particularly in the areas of mentality, heart set, health set, and soul set.
Mindset and Mindfulness: Sharma stresses the significance of having an optimistic, hardy, and growth-oriented mindset. He thinks that success on both a personal and professional level requires attitude mastery.
Sharma urges people to practise mindfulness throughout the day, not just during scheduled meditation or reflective periods. It entails being fully aware of one's thoughts, feelings, and environment at every moment.
These approaches and tools are general principles drawn from Sharma's public teachings. His system with individual clients may be adapted to their unique needs and contexts.
Awards and Recognition
As one of the best life coaches of 2023, Robin Sharma has been contributing to changing people's lives with many rewards and recognition in his name. His well-deserved success is something to remember when hiring a coach for yourself. After all, the award speaks for the effectiveness of the coach!
Here is the list of the awards and recognitions Robin Sharma has received:
Golden Gavel Award by Toastmasters International in 2011
Listed in the Top 50 Management Thinkers in the World by Thinkers50
International Professional Speakers Association (IPSA) Award of Excellence in 2012
Brand Laureate International Brand Personality Award in 2012
"Book of the Year" prize by the Canadian Independent Book Sellers Association for "The Monk Who Sold His Ferrari,"
Clients' Testimonials
As mentioned earlier, Robin Sharma has helped many influential people and businesses enhance their performance. His clients include NASA, Microsoft, Nike, Unilever, General Electric, FedEx, H.P., Starbucks, Oracle, Yale University, PwC, IBM Watson, and the Young Presidents' Organization.
Sharma has made a difference not just through his life coaching website but also through his best-selling books.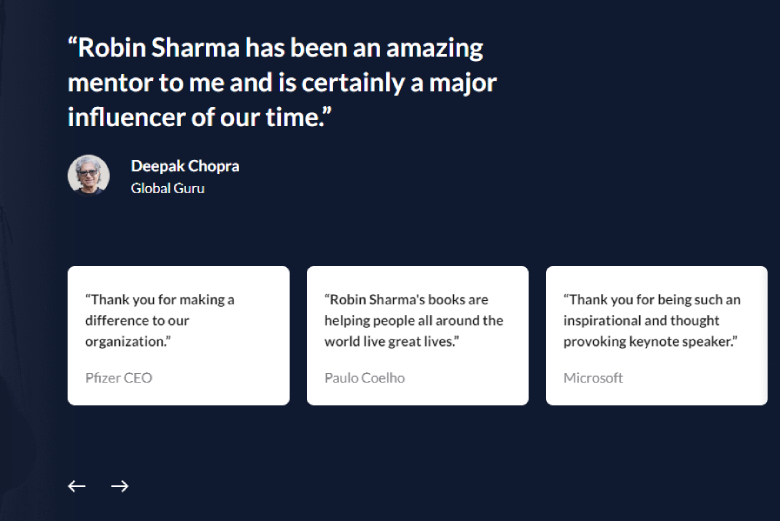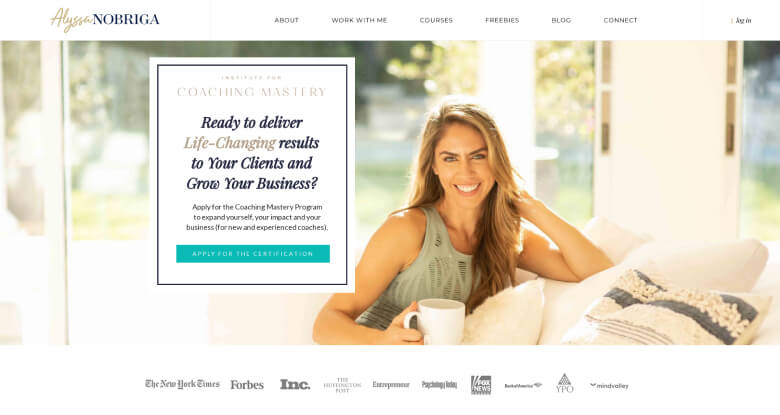 Alyssa Nobriga is a dynamic international speaker, coach, and entrepreneur who has significantly impacted the realm of coaching. After spending more than 15 years of experience in life coaching, Alyssa is now counted as one of the best life coaches of 2023. Her approach as a life coach has transformed many lives.
Also, as the Founder and CEO of The Institute of Coaching Mastery, Alyssa's methodology has been transformative for hundreds of coaches certified by her institute each year.
She is there for you if you want life coaching or to learn how to become a coach. And you can always connect to her through her website.
Methodologies
As a life coach, Alyssa is dedicated to helping her clients transform their lives with her support and guidance. She is a licensed Clinical Somatic Psychotherapist with a profound academic background. She holds a master's degree from The Chicago School of Professional Psychology and a second master's in Spiritual Psychology from the University of Santa Monica.
With her qualifications, she believes in understanding and motivating her clients. Also, the empowerment of her clients is one of her main focuses. Her holistic approach and encouragement to her clients for meditation and mindfulness practice are one of the things that makes her the best life coach of 2023.
Awards and Recognition
In over 15 years of practice as a life coach and a few years as a CEO of the Institute of Coaching Mastery, Alyssa has placed herself as one of the most successful life coaches. She has received recognition for her brilliant contribution. Some of them are as follows:
Featured in high-profile outlets like The New York Times, Forbes, Entrepreneur, Inc., Psychology Today, and Fox
Received commendations from esteemed personalities, such as Deepak Chopra
Clients' Testimonials
As said earlier, Alyssa Nobriga is one successful life coach. Her approach has changed the lives of many, not just as a life coach but also as a life coaching trainer. Her clients and the students from her coaching institution have great things to say about her.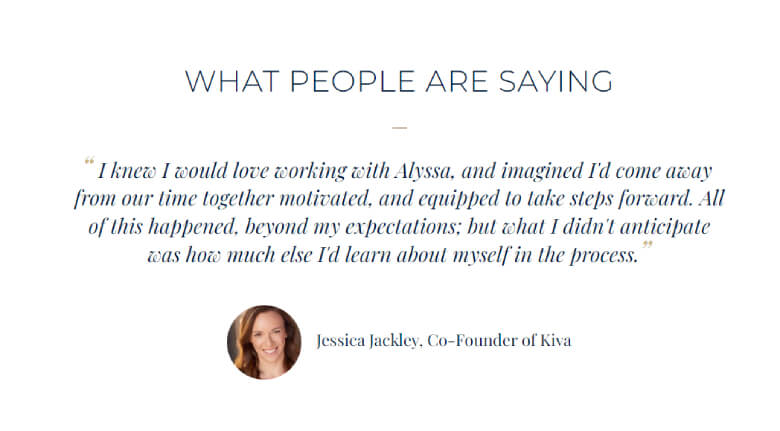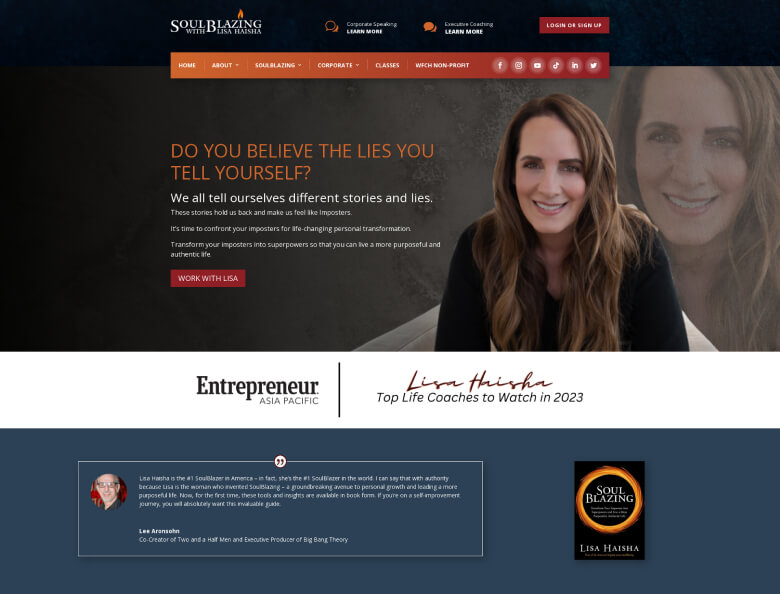 Lisha Haisha is a woman of many talents and a true world traveller. As a mother, life coach, author, transformational speaker, T.V. host, and holder of an M.A. in Spiritual Psychology, Lisa's journey is inspiring. She is one of the best life coaches of 2023 after impacting many lives positively.
Her fascination with the human experience has taken her to over 60 countries, allowing her to make a profound impact through her humanitarian work as she helps people 'Make Shift Happen' in their lives.
Lisa continues to have an impactful approach through her website Soul Blazing.
Her Method
Lisa's coaching is based on the seven archetypes. She believes that understanding how the archetypes influence people's emotions can quickly transform their way of living.
She believes in interacting with her clients to understand where they stand in their lives. Whether it is during ted-talks, corporate podiums, or private retreats, she believes in interactive talks to help her audience.
Her approach has impacted her audiences, entrepreneurs, business leaders, global change makers, creators and humanitarians, healers and educators, and movers and shakers from Hollywood.
Awards and Recognition
As one of Lisa's clients, Frank King, says
"Lisa has been a life coach and traveller for over three decades. She has been to over 60 countries working in orphanages with children worldwide and memorialized their words in the book, "Whispers from Children's Hearts." In addition, she has worked with top businessmen to bedouins on five continents with great results. I highly recommend her brand of coaching called SoulBlazing. She also has a master's in spiritual psychology and a Ph.D. in Life."
Besides her client's great reviews, Lisa is a Three-time Best Selling Author on Amazon.
Clients' Testimonials
Lisa's work with different clients has not just earned her recognition. Her client's experiences make her one of the best life coaches of 2023. In the ocean of life coaches, finding the right one like Lisa is an achievement for those needing life coaching.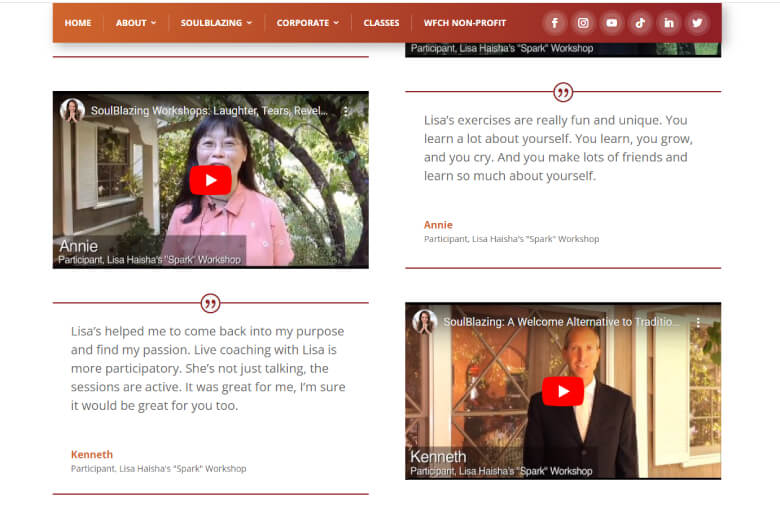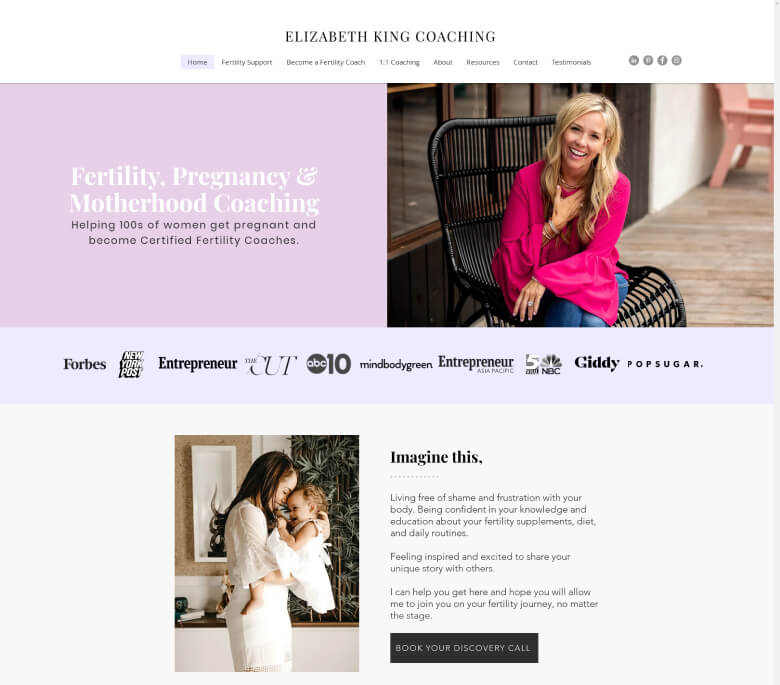 Elizabeth King is a Certified Life Coach specializing in supporting women through the intricate paths of fertility, miscarriage, and new motherhood. She understands the courage it takes to seek assistance, having personally experienced the overwhelming process of pregnancy and becoming a mother herself.
As a proud IVF warrior, she empathizes with the challenges many women face on their journeys to motherhood, especially those over 40. Her website tells everything about her professional journey as a fertility coach.
Methodology
Elizabeth's fertility journey has revealed a pressing need for comprehensive support throughout conception, maintaining pregnancy, navigating pregnancy loss, and embracing motherhood.
Her utmost desire is to provide guidance and encouragement as you embark on your unique journey. With a commitment to continuous education and collaboration with renowned fertility experts,
Elizabeth is equipped with valuable insights and strategies to empower her clients. She understands that achieving "success" on this journey requires time, perseverance, and a strong support network. Elizabeth's warm and compassionate approach will help you find the strength and confidence to navigate your path to fulfillment.
She also endorses products for women who are mothers or want to be mothers.
Awards and Recognition
Elizabeth has spread happiness among her clients as a certified fertility coach. Her welcoming approach has earned her clients and recognition from reputed platforms. What she achieves moving forward is yet to be seen, but it's great that she is making such an impactful difference already.
Elizabeth has been featured in high-profile outlets such as Forbes, The List, Thrive, Giddy, The New York Post, Entrepreneur, and BBC.
Clients' Testimonials
The lady has inspired many lives with Elizabeth's approach to helping women in their fertility journey and empowering them to start something independently. The testimonial section on her website and the reviews from her clients prove it all.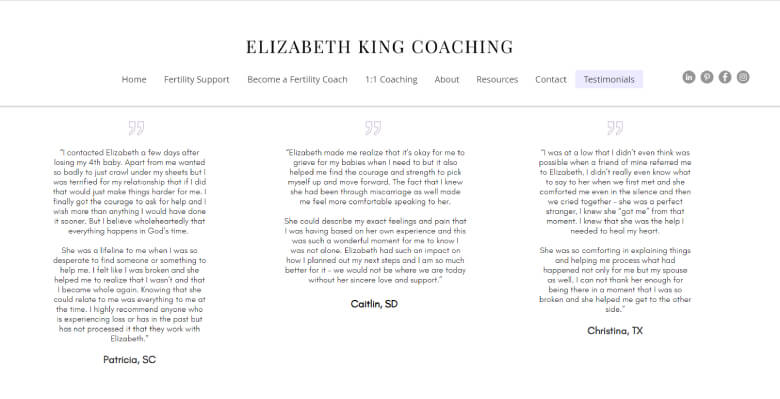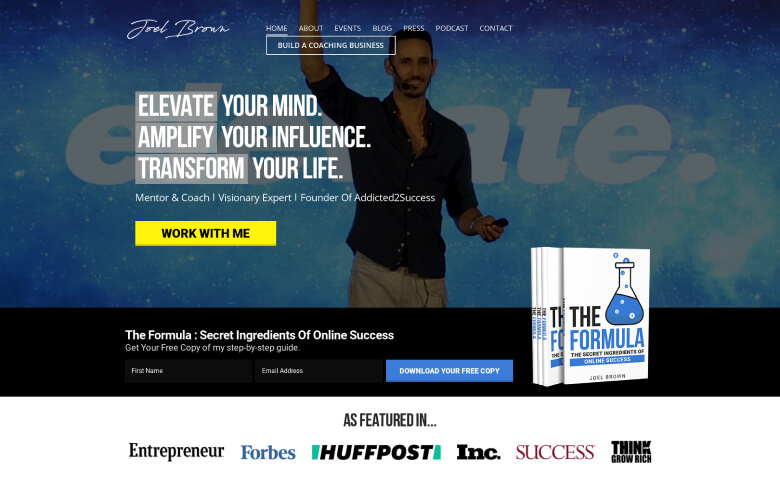 Joel Brown is a renowned motivational speaker, entrepreneur, and founder of the influential platform Addicted2Success.com. With a passion for providing inspiration and empowerment for individuals to unlock their full potential, Joel has become a respected figure in personal development.
Through his unique methodology, he has touched the lives of millions, helping them overcome obstacles and achieve extraordinary success.
His Methodology
Joel Brown's methodology centers around the power of mindset, belief, and personal growth. He emphasizes the importance of self-reflection, goal setting, and consistent action to drive transformation.
Through engaging content and powerful storytelling, Joel offers practical strategies and insights that inspire his audience to take charge of their lives and fearlessly pursue their dreams.
Awards and Recognition
Joel Brown's exceptional contributions to the field of personal development have been widely recognized.
His website has achieved remarkable success, garnering hundreds of millions of views worldwide. As a testament to his impact, Joel has received numerous accolades, including:
The prestigious "2015 BlogStar Awards" by SUCCESS Magazine, acknowledging his platform as the number one self-development blog
Collaboration with renowned figures such as Tony Robbins, The Dalai Lama, Deepak Chopra, and Gary Vaynerchuk, among others
Recognition by significant publications like Forbes, Inc., Entrepreneur, SUCCESS Magazine, and The Huffington Post.
Appeared in films, including "RiseUP," "Think & Grow Rich," "The Death of Recess," and "Age of The Entrepreneur."
His unwavering commitment to his vision has earned him respect and admiration within the industry.
Clients Testimonials
Joel Brown's coaching and teachings have transformed clients from various walks of life. Testimonials pour in, highlighting the profound impact his guidance has had on their personal and professional lives.
Many praise his ability to ignite their passion, instill confidence, and provide actionable strategies for success. Through Joel's coaching, individuals have unlocked their potential, overcome obstacles, and experienced remarkable breakthroughs, leading to lasting change and fulfillment.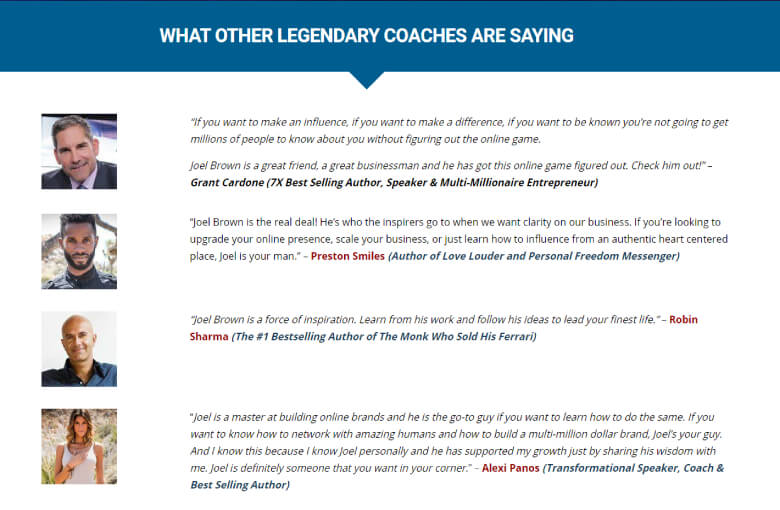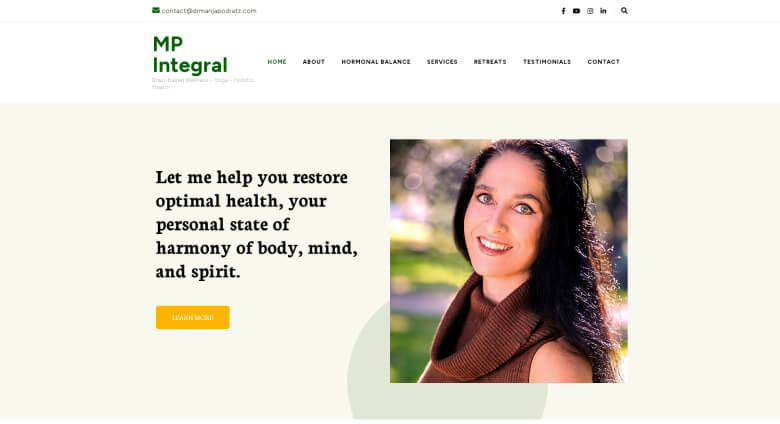 Dr. Manja Podratz is a highly qualified and compassionate holistic health practitioner specializing in cancer care, hormonal balancing coaching, and brain-based wellness. With a deep commitment to serving others and a belief in giving back to the community, Dr. Podratz brings a wealth of knowledge and experience to her practice.
Fluent in English, German, and Russian, she is also a certified and registered medical and legal interpreter. Dr. Podratz holds a Ph.D. from the Brandenburg University of Technology and the University of Potsdam and a Bachelor's degree from Quantum University and the University of Applied Sciences.
You can know more about her services and approach through her website MP Integral.
Methodology
Dr. Podratz's approach to holistic health and wellness combines her expertise in multiple disciplines, including her training as a board-certified holistic health practitioner and brain health coach.
Drawing from her journey of healing from uterine cancer, multiple spine fractures, and overcoming PTSD, she integrates plant-based eating, exercise, mental resilience, and spiritual connection into her methodology.
Dr. Podratz emphasizes the importance of implementation, guiding her clients to incorporate healthy practices and personal growth insights into their daily lives to achieve transformative results.
Awards and Recognition
As a respected practitioner and author, Dr. Manja Podratz has received recognition for her contributions to holistic health.
She has co-authored and contributed to notable publications, including "Wake Up. Miracles of Healing from Around the World," which became an Amazon bestseller.
Additionally, her participation in the peer-reviewed anthology "Rebel Wom!n: Words, Ways & Wonders" showcases her commitment to collaboration and bringing diverse voices together.
Client Testimonials
Clients who have worked with Dr. Podratz have shared their profound experiences and transformations under her guidance. Her compassionate coaching, extensive knowledge, and holistic approach have helped individuals overcome health challenges and emotional and mental blockages and navigate personal growth.
Clients appreciate Dr. Podratz's ability to create a safe and supportive environment while empowering them to achieve their unique health and wellness goals.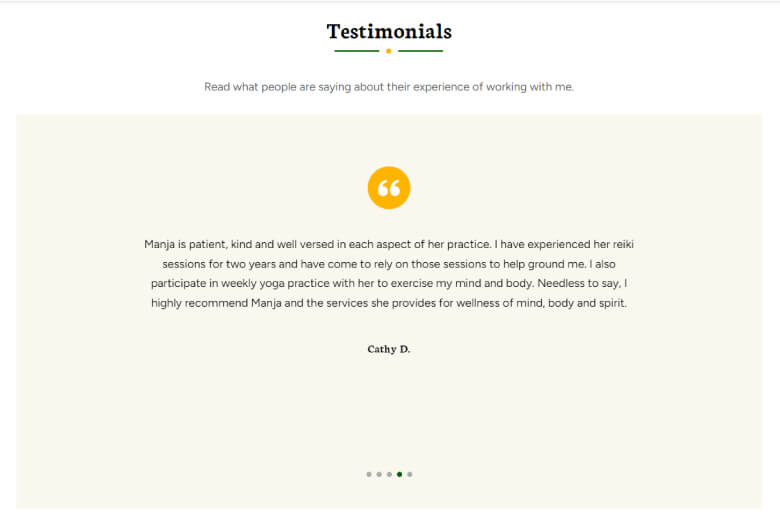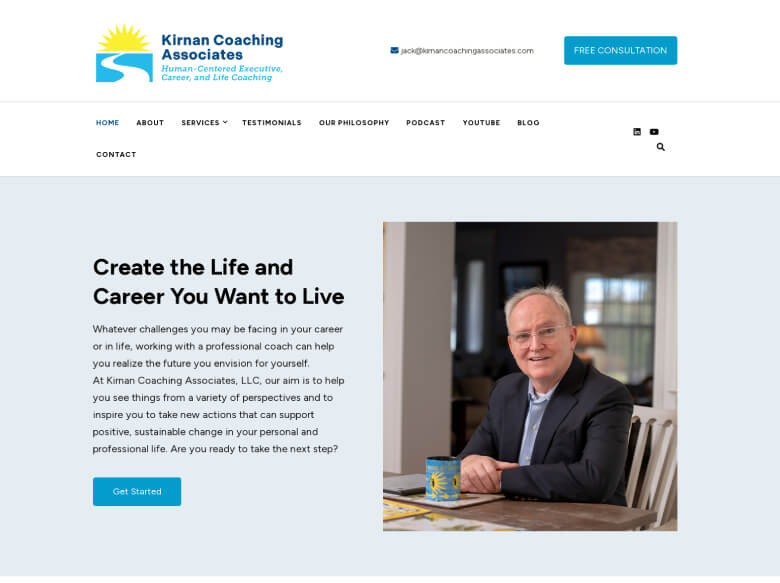 Jack Kirnan, a Certified Executive, Leadership, and Career Coach, is passionate about helping individuals find new life and career pathways. With experience spanning over 20 years, he assists hundreds of clients on their journey to success.
Drawing on his background as a highly successful analyst on Wall Street, a Managing Director of a renowned Equity Research Department, a Dean and MBA Program Director at three business schools, and an Advisory Board Trustee for various non-profits, he brings a unique perspective to coaching.
Methodology
His coaching methodology is rooted in a deep understanding of leadership, career development, and personal growth. He employs a holistic approach that integrates proven coaching techniques, practical strategies, and insightful guidance to empower his clients to unlock their full potential.
Through personalized coaching sessions, he collaborates with clients to identify their goals, address any obstacles, and develop actionable plans to propel them forward. As a result, he guarantees a safe and supportive environment where clients can explore new perspectives, enhance their skills, and embrace change.
You can learn more about his approach through his well-designed website.
Awards and Recognition
While the mention of specific awards and recognition Kirnan has received is off the record, the accurate measure of his success lies in his clients' positive transformations and achievements. Jack Kirnan is happy to see his clients undergo a positive shift and considers his reward.
Client Testimonials
According to Kirnan's clients, working with him is a privilege. His approach is practical, and consulting with him for life coaching services is brilliant.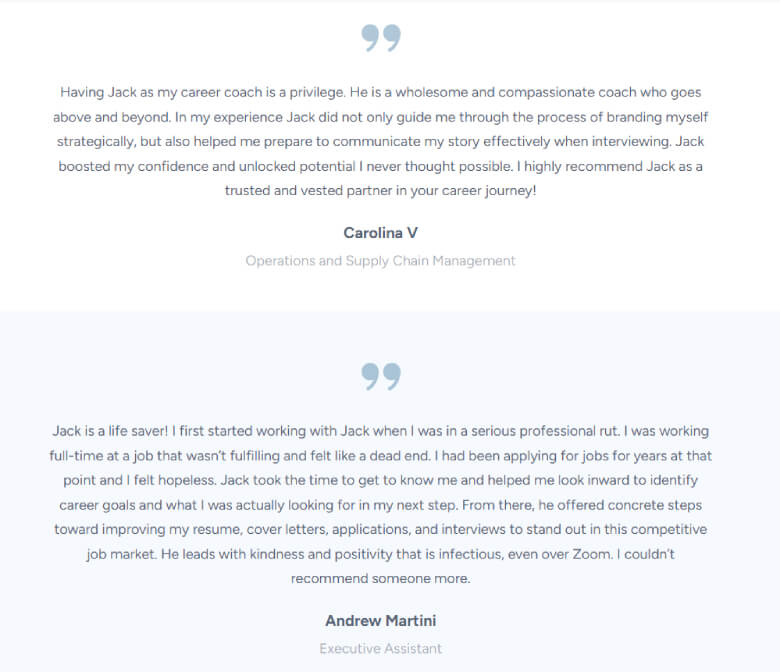 Lisa A. Romano, a Certified Life Coach specializing in codependency and narcissistic abuse is committed to changing lives with the help of her website. Through her struggles and experiences, Lisa has gained profound insights and developed effective methods to help individuals break free from the confusion of a codependent mind and reclaim their lives.
She provides online coaching services and audio meditation guides to help her clients resolve their issues. One of her most popular coaching services is the 12-week Breakthrough Coaching Program.
Methodologies
Unlike traditional approaches that may fall short, Lisa recognizes that true healing lies in addressing the subconscious mind and transforming deep-rooted beliefs.
By combining psychological techniques, spiritual principles, and her unique approach, Lisa helps her clients awaken their inner power and create lasting change. Her programs, meditations, and books offer transformative tools to unlock the sacred potential within.
She takes her clients through meditation and audio and video lessons. Her most popular approach to guiding her clients is "The 12 Week Breakthrough Program," an online intensive group coaching initiative.
The program consists of:
12 Video Lessons
12 Printable PDFs
12 Meditations
12 Facebook Live Events
Online Secret Forum
Lisa A. Romano's Masterclass
Awards and Recognition
Lisa A. Romano's work has earned widespread recognition and accolades. Her innovative coaching methods have touched the lives of countless individuals, empowering them to overcome codependency and narcissistic abuse. In addition, her dedication and expertise have garnered respect within personal development and therapy.
Clients Testimonials
Clients who have worked with Lisa A. Romano have experienced profound transformations. They have discovered newfound self-worth, released emotional burdens, and experienced true joy and fulfillment. Through her compassionate guidance and practical strategies, Lisa has helped individuals break free from toxic patterns and become empowered and authentic.
Here's what some of her clients have to say:
Petra says, "Lisa has helped me so much. First of all, she's helped me to recognize that I'm codependent, and then she's given me tools to come out of it. I felt so stuck until I took Lisa's 12 weeks course. It's a strategic and logical approach to come out of codependency, which I needed. Lisa's heart is in her work, and I appreciate her honesty and love."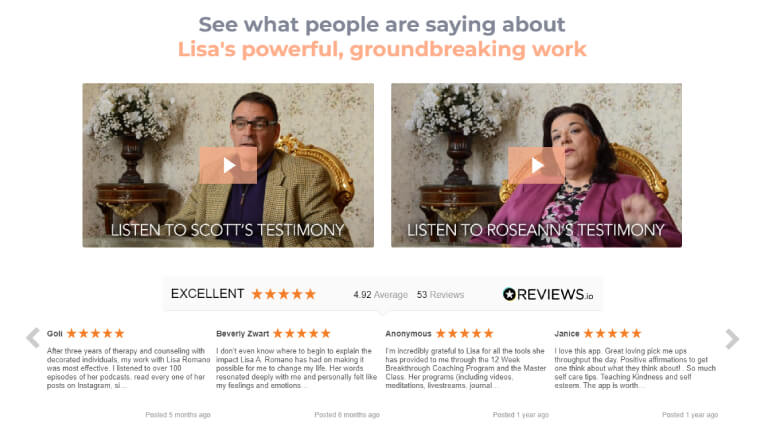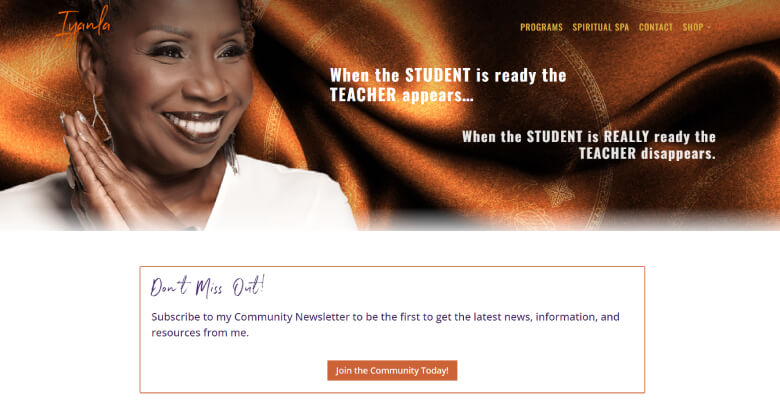 Iyanla Vanzant is an American inspirational speaker, lawyer, New Thought spiritual teacher, writer, life coach, and television personality. With her books, talk show, and appearances on The Oprah Winfrey Show, she has become a renowned figure in personal development and spiritual growth.
Currently, she also hosted her show Iyanla: Fix My Life on OWN: Oprah Winfrey Network.
Her experience as a life coach and popularity among help seekers makes her one of the best life coaches of 2023.
Methodology
Drawing from her life experiences and spiritual teachings, Iyanla Vanzant offers profound insights and practical guidance to help individuals navigate their struggles and transform their lives. She focuses on healing relationships and empowers her audience to take responsibility for their growth and embrace their authentic selves.
Her teachings encompass principles of forgiveness, self-love, and personal accountability, providing a roadmap for personal transformation.
Awards and Recognition
Iyanla Vanzant's impact on personal development and spirituality has earned her numerous accolades and recognition.
Some of them are listed below:
Listed on "100 most influential Black Americans" by Ebony Magazine, 2000
Watkins' Mind Body Spirit magazine named him one of the 100 most spiritually influential living individuals in 2012
honoured as a visionary and influential leader on Oprah Winfrey's SuperSoul100 list in 2016
honorary member of Alpha Kappa Alpha sorority
Testimonials
Iyanla Vanzant's teachings and guidance have touched and transformed countless individuals. Her ability to provide profound insights has garnered praise and appreciation from those who have experienced her work.
Through her program at the Inner Vision Institute, many clients have succeeded in transforming their lifestyles and are happy. 
"Iyanla's teachings have truly changed my life. Her wisdom and compassion have helped me navigate through difficult times and find healing within myself. I am forever grateful for her guidance." – Jennifer M.
"Iyanla's authenticity and vulnerability make her teachings so relatable. She has a way of speaking to the heart and inspiring personal growth. Her work has profoundly impacted my journey of self-discovery." – Michael P.
Besides the life mentioned above coaches, many are helping individuals set their goals and achieve their desired lifestyle. Some other life coaches you can look for in 2023 are Mel Robbins, Tara Whittaker, Carly Hill, Dr. Jackie Lau, and many more.
You can also look for the best life coaching websites to find the best life coaches who meet your requirements.
Criteria for Evaluating Life Coaches
As previously stated, choosing the most incredible life coach from the sea of options can be difficult. However, life coaches help shape your life standards, so you cannot afford to make mistakes there.
To simplify things, we have included some criteria that will enable you to select the top life coaches among the numerous accessible in 2023.
1. Expertise and Specialization
Before choosing a life coach, you should know about your goals-aligned specialized areas of skill and specialization. Life coaches frequently specialize in particular areas, such as relationship, wellness, or personal growth coaching. For a coach to be able to offer you specialized advice and support, make sure their area of expertise meets your unique demands.
2. Qualification and Credentials
It's critical to confirm a life coach's credentials and training. You can look for credentials from respected training programmes or organizations. It guarantees that the coach has received the necessary instruction and abides by ethical and professional norms.
3. Coaching Style and Approach
Every coach uses a different coaching style and methodology. For example, while some may concentrate on examining underlying ideas and emotions, some coaches may be more direct and action-oriented.
Therefore, you should find a coach whose approach resonates with you and is consistent with how you prefer to learn and develop by considering your chosen coaching style.
4. Compatibility and Rapport
A good coaching partnership depends on you and your coach developing a solid rapport. In a first consultation or discovery session, you can gauge whether the coach makes you feel at ease, listens, and supports you. It makes finding the right coach easier.
5. Track Record and Testimonials
You can examine the coach's track record and success stories for proof. Also, looking for client endorsements or evaluations that demonstrate the coach's capacity to promote growth and provide outcomes will be beneficial. Finally, you can gain insights into the coach's effectiveness and influence by hearing about previous customer experiences.
6. Cost and Availability
Most importantly, you should check about the coach's fees and your finances. Coaching is an investment in personal development, but ensuring it works with your budget is crucial. In addition, you can ask the coach about their availability and how often they hold sessions to ensure they meet your demands.
Emerging Trends and Developments in Life Coaching
As mentioned earlier, life coaching is an ever-evolving personal and professional development area. Hence, life coaches are ensuring they stay in demand with their services and updating them as per the trends.
1. Adapting To The Metaverse
Using avatars and virtual reality in coaching to achieve deep thinking and creative solutions in the real world is on trend these days.
The Metaverse is a new development in teamwork beneficial for studying and working. Metaverse coaching and learning advances this idea by utilizing immersive learning modalities like A.R. (Augmented Reality) and V.R. (Virtual Reality).
By interacting with their avatars in a 3D dynamic world, learners can learn, converse, or work together in real time. It resembles physical conversation more than verbal.
2. Personal And Business Branding 
It emphasizes the importance of strong personal and business brands for standing out in the crowd and building a presence on social media. With this trend in life coaching, clients can easily find the kind of coaches and services they require.
3. Being Authentic
Focusing on authenticity is a critical factor in successful coaching, building trust, and inspiring clients. When searching for life coaches, clients look for authenticity that unachievable promises.
4. Preventing And Recovering From Burnout
Addressing burnout prevention and recovery as a growing trend, with coaches playing a proactive role in raising awareness and supporting clients, has been very effective in 2023. This approach
5. Promoting True Mindfulness Techniques
Encouraging the practice of authentic introspection and proper mindfulness techniques to cultivate a more significant state of mind has become trendy in the approach of life coaching. Mindfulness techniques are effective as individuals are more concerned about fulfilling their lives by understanding their mental capabilities.
6. Individualized Digital Executive Coaching
This approach assists in solid growth in digital executive coaching, shifting toward individualized development plans based on coaching rather than traditional leadership courses.
7. Immersive Virtual Coaching
It uses virtual and immersive interaction styles in coaching, leveraging technologies like virtual reality and AI-powered chatbots.
8. Linking Leadership Coaching To Journaling
With this technique, life coaches encourage clients to keep a daily leadership journal to highlight deeper issues and facilitate resolution with their coach.
9. Assessing Psychometrics And Personality Styles
This approach focuses on increasing interest in psychometrics and personality styles to adapt leadership approaches and enhance collaboration in hybrid working environments.
10. More Accessible And Holistic Coaching
It refers to offering coaching to all organizational levels and adopting a holistic approach that addresses all aspects of clients' lives.
11. Team Coaching To Improve Execution And Relationships
It helps in utilizing team coaching to enhance execution and relationships within teams and serving as a consultative coach to provide new ways for clients to prioritize and succeed.
Final Thoughts
In conclusion, these best life coaches offer a unique blend of expertise, compassion, and guidance to help individuals navigate their personal and professional journeys. These exceptional coaches have honed their skills, earned certifications, and garnered recognition for their transformative work.
Whether seeking career advancement, personal growth, or improved well-being, these coaches can provide the support and tools needed to unlock your full potential. Finding an exemplary life coach is a personal journey, so take your time, trust your instincts, and embark on a transformative partnership that will empower you to live your best life.
Are you thinking of becoming a life coach? Learn how to start your own successful life coaching business by reading our helpful guide, ' How to Start a Life Coaching Business.' This article contains valuable insights, practical tips, and step-by-step instructions to help you establish a solid foundation for your new venture.