Are you exhausted by the effort required to expand your life coaching business to newer heights? If you are, buckle up because we're about to trip into the digital age, where online coaching tools have become game-changers.
Life coaches, you can revolutionize your coaching business with these incredible platforms. You can connect with a global audience, expand your impact, and empower clients all from the comfort of your cozy space.
These platforms will help you level up your coaching game and take the focus off those tedious admin tasks. In this article, you will learn about the best online coaching platforms and why they top the list.
What are Online Coaching Platforms?
As digitalization advances, online coaching platforms serve as tools or software, allowing life coaches to connect with their clients and provide coaching services remotely.
There are various platforms available that can assist in the coaching process. These platforms have multiple features and functionalities, including video conferencing, messaging systems, scheduling tools, file-sharing capabilities, and progress tracking.
If you're looking for a convenient and accessible way to reach a wider audience as a coach or seek coaching from the comfort of your own home as a client, online coaching platforms can be a great option.
So, without further ado, let's explore why and how the best online coaching platforms facilitate life coaches.
Top Features To Look For In an Online Coaching Platform
I'm sure running your life coaching business has been excruciating for you time and again. But have you wondered why?
What are your views on the platform you have chosen to highlight your website? It might have been your limitation. So, before you blame your potential and your effort, ensure you know the platform you rely on has all the qualities mentioned hereon.
1. User-Friendly Interface
While on the hunt for an online coaching platform, you should look for one with a super intuitive and user-friendly interface. It'll fructify your life coaching business. It is the ultimate hack for all you coaches out there. By ensuring ease of navigation for both you and your clients, you can create a seamless coaching experience.
2. Interactive Communication Tools
Does your online coaching platform have practical communication tools as it should? As a life coach, you should seek a platform that provides interactive communication tools like messaging, video conferencing, and audio calls. These features enable real-time interactions, fostering a solid coach-client relationship.
3. Secure and Confidential Environment
Privacy and confidentiality are paramount in coaching. Therefore, ensure that your chosen platform prioritizes security measures to protect sensitive client information. Looking for features like data encryption and secure access controls is necessary.
4. Scheduling and Calendar Integration
To be a successful coach, you should remember that time management is everything. To streamline your coaching sessions and stay on top of your appointments, you need a platform with scheduling and calendar integration. This feature is a total game-changer for your productivity and organization goals.
5. Content Sharing and Resource Library
A perfect online coaching platform ensures the content sharing and resource library game is on point. Sharing valuable materials like worksheets, exercises, and educational resources with your clients can enhance their coaching experience. Thus, your chosen platform must have an extensive content-sharing and resource library.
6. Progress Tracking and Goal Setting
To take your life coaching business to the top, you should look for a platform with tools to track client progress and set goals. This feature enables you to monitor your clients' development, celebrate milestones, and provide targeted guidance to help them achieve their desired outcomes.
7. Payment Processing
If you're running a coaching business, choosing a platform with built-in payment processing will be fantastic. It'll save you time and hassle and let you focus on what you do best – helping your clients crush their goals! Additionally, you can securely accept payments from your clients, making the financial aspect of coaching a breeze.
8. Analytics and Reporting
It's super important to keep track of your data and make informed decisions based on the insights you gather. Analytics and reporting features provide valuable insights into your coaching practice. So, if you want to up your coaching game and make boss moves, you should find a platform enabling these metrics. They'll help you evaluate your effectiveness and make data-driven decisions like a pro.
9. Integration with Other Tools
As a life coach, ensuring all your tools are working together seamlessly to maximize your productivity is crucial. Imagine how much easier your coaching practice would be if you could manage your CRM software, email marketing platforms, and project management tools all in one place. Hence, an online coaching platform with this integration is a top-notch tool for your workflow efficiency and coaching processes.
10. Mobile Accessibility
With the rise of mobile usage, it's crucial to choose a platform that offers mobile accessibility. It allows you and your clients to engage in coaching sessions, access resources, and communicate on the go, providing flexibility and convenience.
Best Online Coaching Platforms in 2023
Now that you know the features you need to search for in a great online coaching platform, it's time you know some of the best in the business.
We have gathered some great coaching platforms that continue to enhance the experience of life coaches. The top 10 lists below are based on their facilities and the experience clients had using these platforms.
1. CoachPodium
Best for enhancing coaching with interactive assessments and coach public profiles.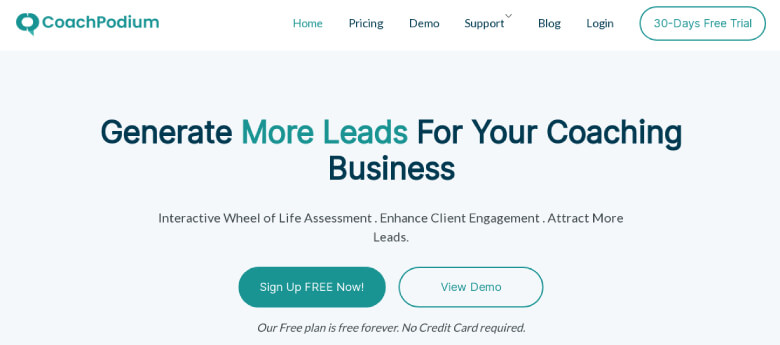 CoachPodium is a comprehensive online coaching platform designed to revolutionize your coaching practice and take it to new heights.
With CoachPodium, you can boost efficiency, enhance client relationships, and attract more leads, unlocking unprecedented growth and unleashing your true potential as a thriving coach.
When I say CoachPodium, it is hard not to talk about its interactive online assessment, Wheel of Life. Let's get going and learn a little more about this interface.
CoachPodium is slaying it with their interactive assessment, Wheel of Life, that helps coaches unlock their full potential.
This interactive assessment allows potential clients to take a test and determine where they stand in different aspects of their lives. In addition, the test lets users rate their physical, mental, financial, and relationship status all in one.
In addition, this resource improves user engagement by constantly inviting potential users to boost their work-life equilibrium. Therefore, putting this assessment on your home page or wherever you see fit will significantly boost your lead generation efforts.
You can create a public profile highlighting your coaching practice without the need of a separate website. This feature allows you to introduce yourself and your services and create and add your own Wheel of Life assessment, ensuring more trustworthiness among your prospects.
With a coach public profile, you can create a personalized and publicly accessible profile to showcase your coaching services. You can improve your visibility, build network and credibility, reflect professionalism, and maintain cost-effective marketing with this feature.
Top Features of CoachPodium
Interactive Online Assessment, Wheel of Life: With this assessment, coaches can enable their clients to take an interactive test determining their position in different aspects of life.
Strong Call-To-Action: This feature encourages the audience to take immediate action.
Resource Promotion: You can amplify your reach and boost engagement with powerful resource promotion tools that effortlessly showcase your content to your target audience.
Effortless Lead Generation: The innovative lead generation system lets your website grow effortlessly capturing qualified leads and growing your customer base.
Personalized Branding: It allows you to create a unique and memorable brand experience for your audience.
Email Integration with Zapier/MailChimp: You connect with your existing email marketing tools like Zapier or MailChimp, enabling automated email campaigns and efficient communication with your subscribers.
Hassle-free Payment Procedure: It is easy to streamline your payment process with the hassle-free payment system, providing a secure and convenient way for your customers to purchase your products or services.
Client Management: The comprehensive client management tools, empowers you to efficiently organize, track, and nurture your client base.
Easily Embedded on Website: This feature allows visitors to access your resources and engage with your brand seamlessly.
Pros of CoachPodium
Efficient client management with all client information in one place
Personalized experiences through insights and data tracking
User-friendly dashboard for clients to monitor progress and engage with assessments
Promotes continuous learning and client success through helpful resources
Free trial for a month without the requirement of credit card details
Available for customer support anytime
Cons of CoachPodium
Limited customization options for design and branding
Integration options may be limited compared to more extensive platforms
Pricing
You can access the free version of CoachPodium. Also, the premium version is available at $12 per month.
2. CoachAccountable
Best for empowering clients with coaching tools.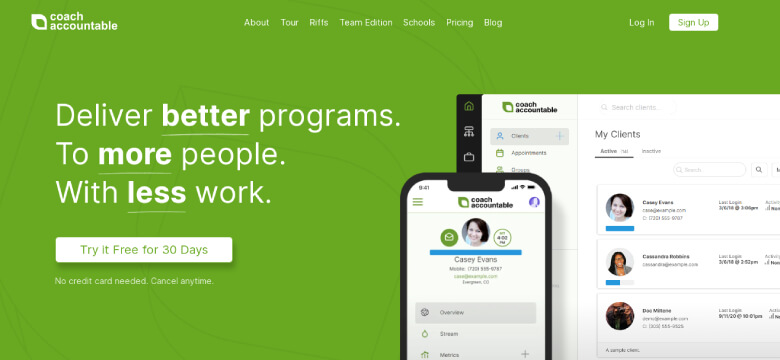 CoachAccountable is one of the best online coaching platforms that helps you maximize efficiency and client connections and leads to becoming a successful coach.
In addition, its results-based system enables you to close more business by demonstrating your skills. As a result, it attracts qualified clients and helps you grow your coaching business.
The platform lets you plan coaching programs, track progress, communicate with customers, and give a complete and supported coaching experience. As a result, you can witness your coaching practice grow with better client engagement and, consequently, a better result.
Additionally, if you have multiple coaches in your organization, CoachAccountable's Team Edition offers administrative oversight, coordinated team coaching, transparent records of coaching effectiveness, and shared resources for consistent program quality.
Pros
Efficient client management for motivation and engagement between sessions
Structured coaching programs for consistency and effectiveness in their coaching approach
Increased accountability with features like progress tracking and reminders
Professional and polished images of clients with the help of white-labeled platform
Enhanced communication channels like in-app messaging and notifications for better communication between coaches and clients
Comprehensive reporting and analytics for tracking client's progress.
Reliable customer support ensuring a smooth experience
Cons
Limited language support (only supports English language)
Lack of HIPAA compliance (could be a major drawback for health and wellness coaches
Limited integration options (may not integrate well with third-party applications)
Pricing structure (pricing structure varies according to the number of active clients, the higher the number of clients, the higher the cost)
Learning Curve (many new users might have problems with learning all features and functionalities)
Pricing
CoachAccountable offers monthly pricing based on the number of clients:
Starter Plan (2 clients): $20/month
Level 1 (5 clients): $40/month
Level 2 (10 clients): $70/month
Level 3 (20 clients): $120/month
Level 3.5 (35 clients): $200/month
Level 4 (50 clients): $250/month
Level 4.5 (75 clients): $340/month
Level 5 (100 clients): $400/month
3. Kajabi
Best for turning expertise into impactful online courses.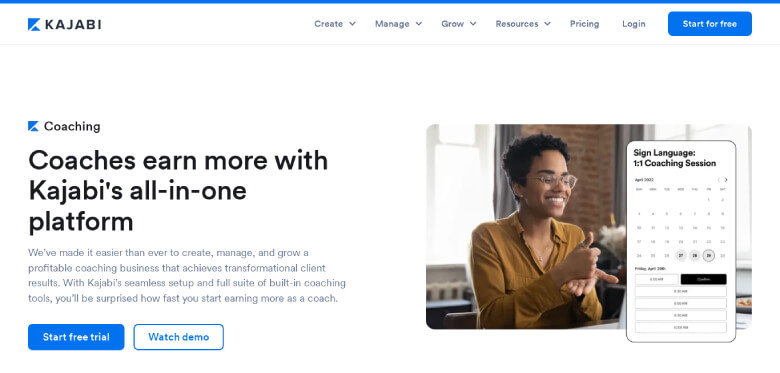 Kajabi is an exceptional platform that offers numerous advantages for entrepreneurs and experts looking to monetize their knowledge and build a successful online coaching business.
You get an all-in-one platform encompassing everything you need to run your online business. From website hosting to email marketing, payment processing, and more, Kajabi streamlines your operations and eliminates the need for multiple tools or platforms.
Pros
All-In-One platform for creating online courses, coaching programs, podcasts, memberships, and more
Easy to use for setting up and managing online businesses
High-quality course creation tools
Email integration through Zapier/MailChimp/Stripe/Segment
Community features for creating a community forum within your course, encouraging engagement and discussion among your learners
Cons
Comparatively more expensive than other platforms (can be inaccessible for beginners)
Limited customization options
Limited e-commerce capabilities if selling physical products is your thing
Limited assessment tool
Limitations on SEO features might obstruct optimizing your content for search engines
Pricing
Kajabi offers three plans:
Basic plan at $149/month
Growth plan at $199/month
Pro plan at $399/month

4. Satori
Best for optimizing coaching practices with personalized programs.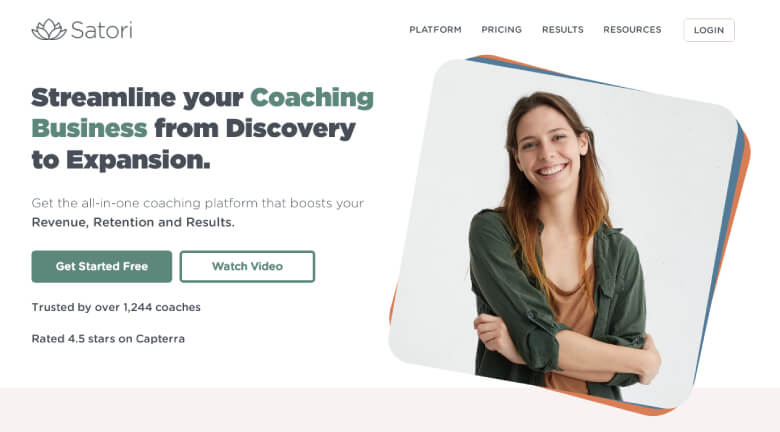 Satori is a robust platform that provides solutions for life coaches to manage their businesses more effectively. With a host of features designed to cater to the specific needs of life coaches, Satori takes your practice to new heights.
With Satori, you can easily manage coaching engagements and automated billing, schedule sessions, and create a professional client experience with minimal effort.
In addition, the website helps you grow your coaching business by delivering signature coaching packages to individuals and groups, streamlining client enrollment, and building predictable revenue streams with recurring billing.
Pros
Global reach and visibility to connect to more audiences
Showcasing expertise with advanced tools
Professional appearance for credibility
Valuable Blogs and Resources for Engagement and Education
Strategic Content for Attracting Ideal Clients
Clear Calls to Action for Streamlined Client Acquisition
Cons
The learning curve might be an issue for users
Dependent on third-party integrations might be problematic if those parties have problems in their system
Too many features might feel overwhelming for new users
Limited customization might be a turn-off for some users
It might be expensive for coaches with limited clients
Pricing
Satori offers the following pricing plans:
$39/month for monthly purchase
$390/year for annual purchase
5. Paperbell
Best for seamless coaching business management.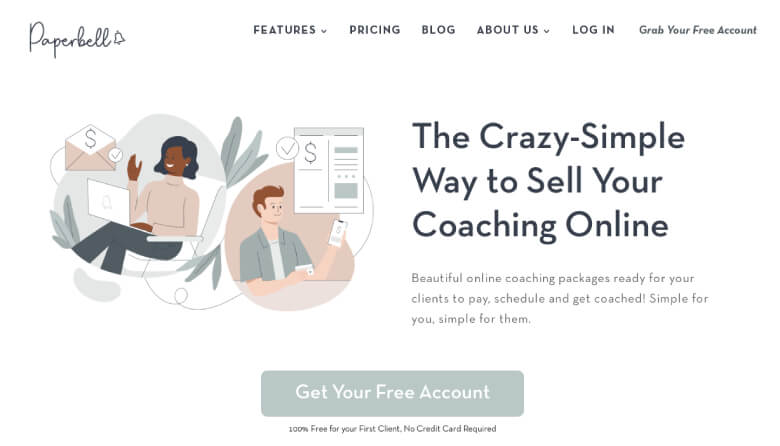 Paperbell is a powerful coaching platform developed to deliver valuable coaching management capabilities. With this uncomplicated system, you can roll out your programs quickly, increasing the accessibility of your coaching services.
You can get more done in less time with Paperbell's dynamic scheduling software. For example, using this feature, you may restrict how far in advance appointments can be scheduled and how often clients can reach you. Additionally, it integrates with your calendar for fuss-free scheduling.
Paperbell is a powerful yet simple coaching management tool that deserves serious consideration if you're in the market for one.
Pros
Easy navigation with a user-friendly interface
Allows customizing your availability and scheduling needs
Allows creating attractive landing pages
Enables you to offer group coaching practice
Simplifies the contract signing process with E-sign (HelloSign)
Provides an all-in-one place for client management
Unlimited access to all features
Cons
Limited customization might not cater to unique coaching needs outside its built-in features
One-size-fits-all pricing might not favour all the coaches, especially starters
Lack of advanced marketing tools might limit growth strategies
Pricing
Paperbell offers the following pricing options:
$57 per month when billed monthly
$47.50 per month when billed annually (which gives you 2 months free)
6. Coaching Loft
Best for intuitive coaching management.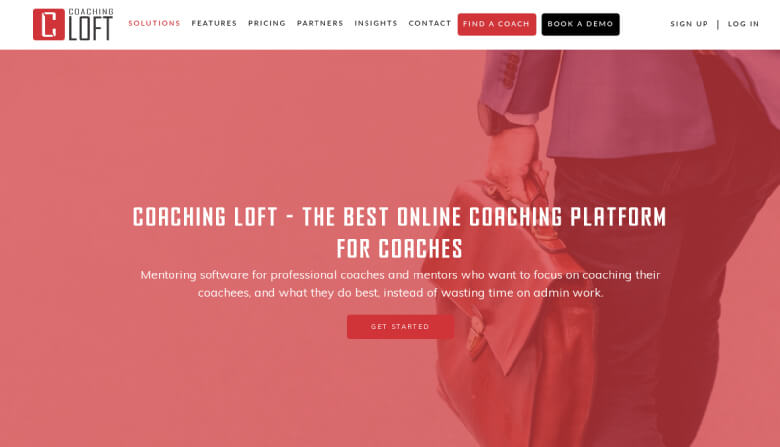 Coaching Loft, established in 2018, is a versatile, cloud-based coaching management software designed to accommodate professional coaches, coaching firms, and organizations. Its core function is to facilitate the management, growth, and tracking of coaching programs, making them accessible from anywhere globally.
As a mobile-friendly platform, Coaching Loft provides a seamless user experience across all devices and platforms. In addition, it offers various features that make it an ideal choice for small to medium-sized enterprises and professional coaches.
With a global reach spanning 117 countries, 45,781 subscribers, 3,694 members, and 230 enterprise accounts, Coaching Loft has established itself as a powerful tool in the coaching industry. It's about managing your coaching practice and starting the coaching journey confidently and conveniently.
Pros
Simplifies management of coaching programs with all the necessary tools in one place
Provides an accessible and secure space for all coaching resources
Offers a wide range of materials for coaches to utilize, enhancing coaching strategies
Facilitates real-time communication, improving collaboration between coaches and clients
The software can be used across all devices and platforms, providing flexibility for users
Helps set clear coaching objectives and monitor progress effectively
Streamlines the booking process, reducing scheduling conflicts.
Cons
The lack of advanced built-in marketing tools is a drawback for users who want advanced tools
Limited customization may not cater to unique coaching needs beyond the built-in features
The single pricing plan might not cater to those requiring fewer features or seeking a more affordable option
A cloud-based platform requires a stable internet connection to access and use the features
Depending on a user's tech savviness, there might be a learning curve to utilize the platform's features fully
Pricing
Following is the pricing information of Coaching Loft:
| Individual plan | Business Plan |
| --- | --- |
| Basic: $1 per month | $95 per month |
| Core: $25 per month | |
| Premium: $55 per month | |
| Master: $95 per month | |
7. UpCoach
Best for all-in-one coaching management.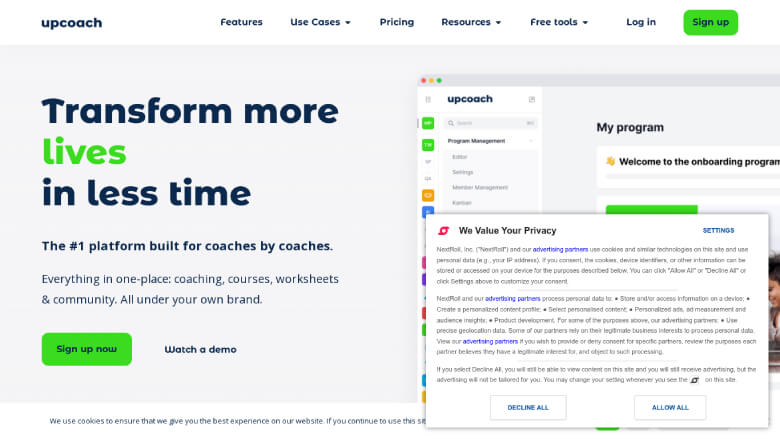 UpCoach is a unique platform designed to meet the sophisticated requirements of coaching practitioners. It's not just a simple tool but a comprehensive suite that supports the creation of one-on-one, group, and cohort coaching products, delivering an integrated experience for coaches and clients.
One unique aspect of UpCoach that sets it apart is its arsenal of engagement tools. These include an intuitive habit tracker, interactive worksheets, intelligent documents, accountability groups, and a to-do list function.
Furthermore, it allows for creating a client forum where you can post updates, answer queries, engage in chat, and share important announcements.
Pros
All-in-One Platform for a comprehensive solution for coaches
Customization option to create customized coaching programs with an intuitive drag-and-drop program builder
Outstanding client management to manage all your clients in one place
Helpful and supportive customer support
Cons
Learning curves might be created due to a multitude of advanced features
Integration with a limited third-party apps or platforms
No free plan for new users
Non-flexible price plan
Limited customization can be a drawback.
Pricing
Here's the pricing plan of UpCoach:
Free Plan
Pro plan at $20 per month
Business plan at $50 per month
8. Delenta
Best for enhanced client engagement.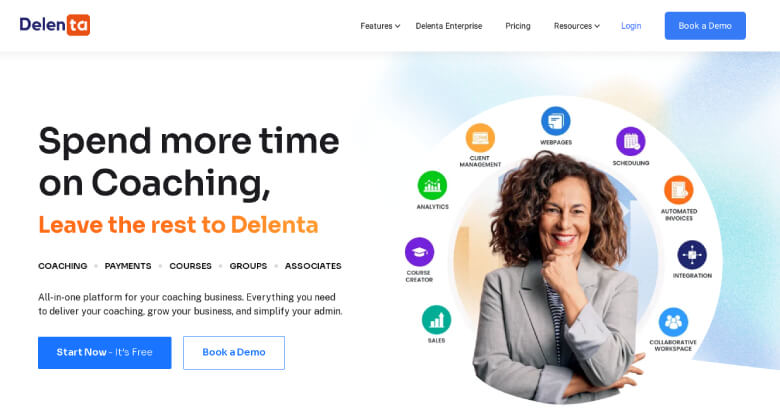 Founded to provide a one-stop solution for coaches, Delenta is a technological platform that integrates various coaching requirements into one unified system.
With a user-friendly interface and cutting-edge technology, Delenta streamlines coaching processes, thereby ensuring a flawless customer experience.
The platform is an all-in-one solution for appointment scheduling, note management, client tracking, and other coaching-specific needs.
Pros
Comprehensive platform for integrating all aspects of a coaching business into one platform
Ease of use with a user-friendly interface
CRM and session management, offering robust client relationship management and session tracking tools, making client management efficient
Simplified payment processes to ensure ease of transaction for clients, enhancing their overall experience
Customizable landing page to attract leads and establish a professional online presence.
Cons
Learning curve
Some users may initially find the platform overwhelming with so many integrated features.
Depending on the size and scope of a coach's practice, the pricing structure may only be suitable for some.
Lack of certain integrations
Pricing
Here's the pricing plan for Delenta:
Starter Plan: $19 per user/month or $229 yearly
Pro Plan: $39 per user/month or $469 yearly
Premium Plan: $59 per user/month or $699 yearly
Team Plan: Starting at $990 yearly
9. Nudge Coach
Best for personalized coaching through dynamic app integration.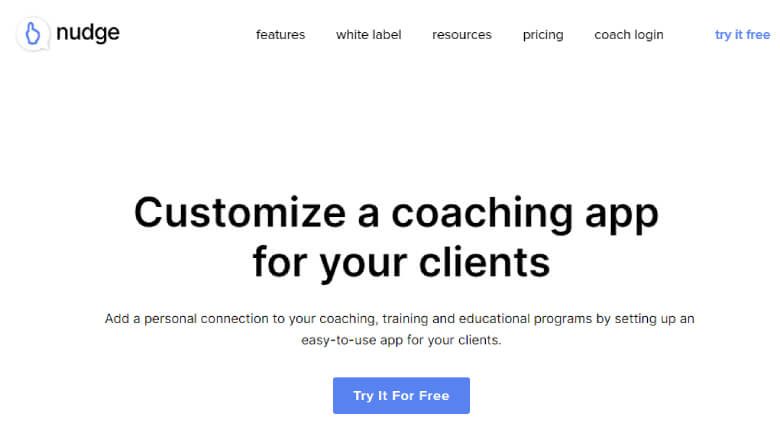 Nudge Coach is a unique mobile-oriented coaching platform that provides a seamless, interactive coaching experience through iOS and Android apps.
With its innovative approach to online coaching, Nudge Coach offers a range of robust features that make it one of the best platforms in the coaching industry, particularly for health and fitness coaches.
Pros
This platform offers a unique mobile-oriented coaching approach, allowing convenient access and easy navigation for clients.
The tracking cards and goal-setting features in Nudge Coach facilitate progress tracking and foster client accountability.
Nudge Coach supports creating communities and accountability groups, encouraging client interaction and motivation.
The direct messaging feature allows for seamless communication between coaches and clients.
Cons
Limited web interface
No native payment processor
High cost for branded apps
Lack of Advanced Features
No native live session support
Pricing
Here is the pricing information of Nudge Coach:
Free Plan
Grow Plan: $60 per month
Scale Plan: $100 per month

10. Thinkific
Best for creating and selling impactful online courses.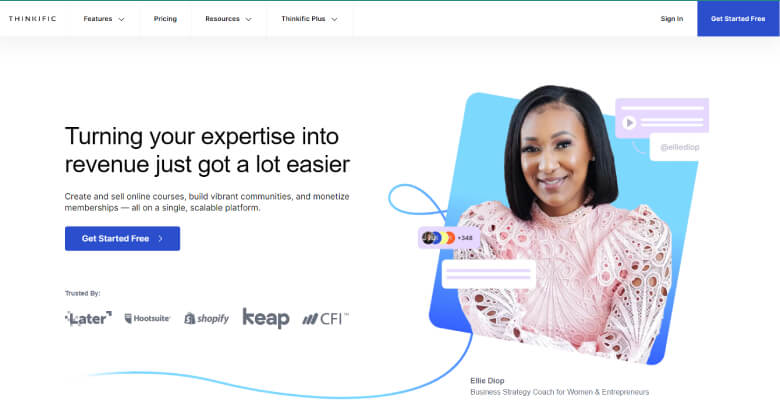 Thinkific is a robust platform designed to assist creators in monetizing their expertise by creating and selling online courses, building vibrant communities, and offering meaningful memberships.
It provides many features, including course creation, community engagement tools, a mobile app, and detailed analytics.
High customization options let you tailor the look and feel of your courses and the overall learning environment to align with your brand. Moreover, Thinkific integrates with numerous trusted tools to enhance its functionality.
Thinkific grows with your business, offering flexible pricing plans and advanced features as your business scales. However, to leverage the full potential of Thinkific, a certain level of tech-savviness may be required.
Pros
Diverse learning products and formats provide flexibility in sharing your knowledge.
High customizability allows you to create a unique brand experience across your courses and learning materials.
The platform integrates with various tools you already use, further enhancing its functionalities.
Thinkific offers best-in-class support, a creator community, and free academy courses for first-time creators.
As your business grows, you can seamlessly transition with Thinkific's flexible pricing plans and advanced features.
Cons
Requires tech savviness
No built-in email marketing
Limited course design options
No personalized learner paths
Limited payment gateways
Pricing
The pricing information of Thinkific is as follows:
Free plan
Basic plan: $36/month
Start plan: $74/month
Grow plan: $149/month
Remember, the best life coaching platform for you may depend on your specific needs, preferences, and business requirements. Therefore, it's important to explore each forum and consider its features, pricing, and user reviews to find the one that aligns with your coaching style and goals.
Benefits of Online Coaching Platforms
Your intention as a life coach should always reflect on your website so clients know they get what they desire from your service.
Therefore, I encourage you to embrace the digital era and take advantage of its global opportunities to connect with clients. By doing so, you can enhance the coaching experience for both you and your clients.
Moreover, you may capitalize on the following benefits to advance your coaching practice by adopting online coaching platforms:
Thanks to some of the best online coaching platforms, you can reach a global audience and connect with clients from anywhere.
Online coaching platforms offer convenience and flexibility for both coaches and clients.
Online coaching platforms solve the nuisance of renting physical office space, thus facilitating cost-effectiveness.
These platforms provide various communication tools to connect with clients effectively.
Several online coaching platforms offer valuable data and analytics to monitor your progress, assess your goals, and measure the effectiveness of your coaching experience.
Online coaching platforms have various features available for sharing resources. These can include valuable materials like worksheets, videos, and articles.
Online coaching solutions provide features for managing client data, session notes, and progress monitoring.
Several online coaching platforms offer a welcoming environment where coaches can exchange knowledge and share experiences.
Scalability for expansion of your coaching business without being constrained by physical limitations.
Integration with softwares and digital technologies for simpler scheduling appointments, automating procedures, and organizing administrative responsibilities simpler.
Conclusion
In conclusion, the right online coaching platform can empower coaches to provide high-quality, personalized services to their clients while simplifying administrative tasks and streamlining their business processes.
Whether CoachPodium with its interactive assessment, CoachAccountable with its client-centred approach, Nudge Coach with its innovative mobile app, Delenta with its cutting-edge AI insights, or Thinkific with its comprehensive learning experience, each platform brings something unique.
The best choice will depend on your specific needs, budget, and comfort level with technology. Regardless of your decision, these platforms reflect the increasing sophistication and power of online coaching tools, and they are poised to help coaches transform their practices in this increasingly digital age.