Hey there! Are you someone trying to enhance your personal and professional development? Or are you attempting to launch a profession as a life coach? Well, if you are, it's gotten simple now that you have access to some of the best life coaching blogs online through this article.
Several life coaching blogs offer support to anybody interested in following the life coaching route.
In this post, we've assembled a list of the best life coaching blogs to help you on your transforming journey. Whether you're looking for suggestions for your career development, personal development guidance, or inspiration, these blogs will educate and motivate you along the way.
But first, let's understand the basics of life coaching blogs.
What Are Life Coaching Blogs?
Life coaching blogs offer direction, motivation, and valuable personal development and self-improvement tools. These blogs discuss various subjects, including goal-setting, relationships, professional progression, and stress reduction.
For aspiring life coaches, some blogs help them set up their websites and blogs. In addition, these blogs can give insight into what consumers want from their life coaches. Also, knowing what experienced life coaches offer will be helpful for newcomers.
These blogs are a handy resource that can be accessed anytime, anyplace, due to their accessibility and convenience. Life coaching blogs provide a variety of information to help your development journey, whether you're looking for direction, new insights, or to learn new skills.
Benefits of Having Life Coaching Blogs on Your Website
Creating the best blogs is crucial for life coaches for several reasons. From attracting clients to offering people the ideas that the coach believes in, blogs help in many ways. Mostly, it is the blogs that the clients analyze before associating with the coaches.
Here are some of the reasons illustrating the importance of having live coaching blogs on your website.
1. Sharing Insights
Firstly, blogs allow coaches to share their knowledge, insights, and expertise with a wide audience. By providing valuable and relevant content, coaches can establish themselves as thought leaders in their respective fields and build credibility among their target audience.
2. Engaging and Building Connection With Potential Clients
Blogs also serve as a platform for engaging with readers, fostering connections, and initiating meaningful conversations. Moreover, well-crafted blog posts can attract organic traffic to the coach's website, increasing visibility and expanding the reach of their message.
3. Addressing Reader's Queries
The blogs on your website enable you to address common questions, challenges, and concerns that potential clients may have, demonstrating their understanding and providing valuable solutions.
4. Attracting Clients
Ultimately, creating the best blogs is a powerful tool for life coaches to establish their authority, connect with their audience, and attract clients seeking their expertise.
Best Life Coaching Websites of 2023
As said earlier, there are many life coaching blogs on the internet. While some blogs focus on helping life coaches, others help people needing life coaching.
No matter what area the blogs cover, the best blogs ensure their readers gain inspiration from their posts.
Here are some of the best life coaching blogs that have helped and continue to help life coaches and those seeking life coaching consultation.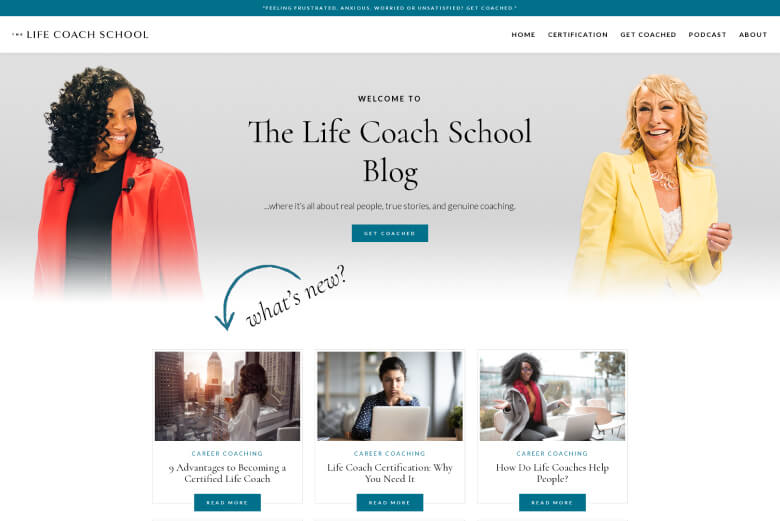 Brooke Castillo developed the well-known online coaching and training program, The Life Coach School. It provides comprehensive programs and tools for those looking to become licensed life coaches or advance their coaching abilities.
The Life Coach School offers a systematic curriculum and includes a range of coaching topics, such as mentality, cognitive processes, emotional control, and goal planning.
Students can master the concepts and methods of efficient coaching through online courses, live coaching sessions, and a supportive community. Helping customers transform their lives, make significant changes, and accomplish their objectives is the main focus of the blogs on this online coaching platform.
Individuals can become successful life coaches or further their personal growth journeys with the help of the Life Coach School's results-driven, hands-on approach.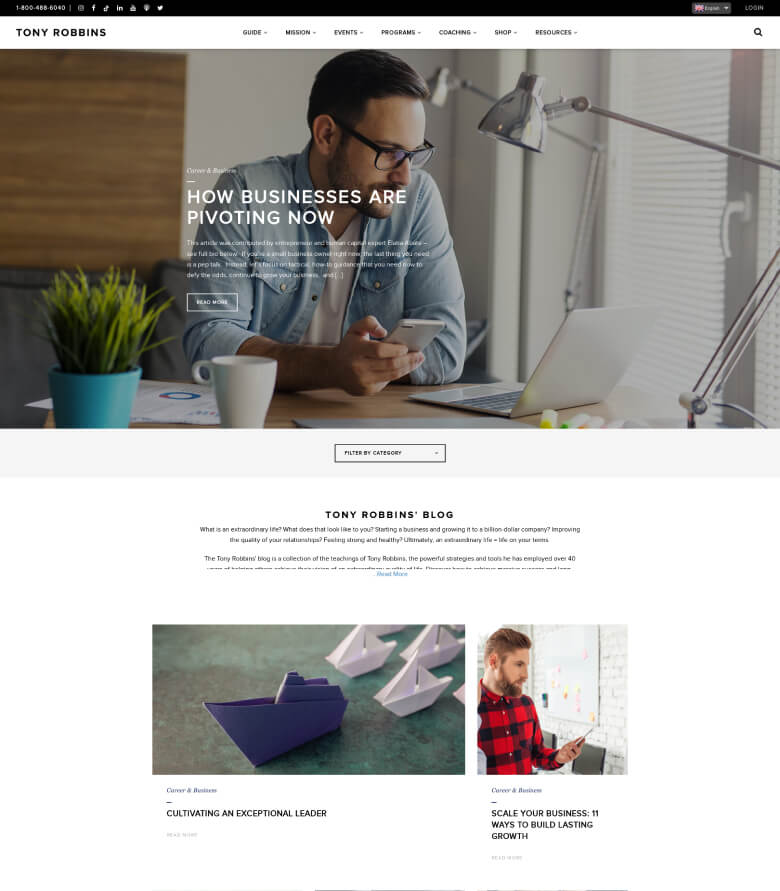 Tony Robbins brings decades of experience and expertise as a renowned life coach and motivational speaker.
His blogs are grounded in his extensive knowledge and practical insights gained from working with millions of individuals across the globe. This wealth of experience provides a solid foundation for his content and makes it highly relevant and valuable for aspiring and seasoned life coaches alike.
One of the key strengths of Tony Robbins' blogs is their ability to inspire and motivate readers. His writing style is dynamic and engaging, delivering powerful messages that resonate with individuals seeking personal growth and transformation. Through his words, he ignites a sense of possibility and empowers readers to take action and overcome obstacles in their lives and coaching practices.
Tony Robbins' blogs also stand out for their comprehensive coverage of various aspects of personal development and coaching. He addresses a wide range of topics, including mindset, goal setting, relationships, health, and wealth.
Another reason why Tony Robbins' blogs are considered the best for life coaches is their practicality. He offers actionable advice, exercises, and techniques that coaches can implement immediately with their clients. His blogs provide step-by-step guidance, enabling life coaches to apply proven strategies in their coaching sessions and help their clients create lasting positive change.
Out of the many blog posts you can find on Tony's website, How To Inspire Your Team is a great read.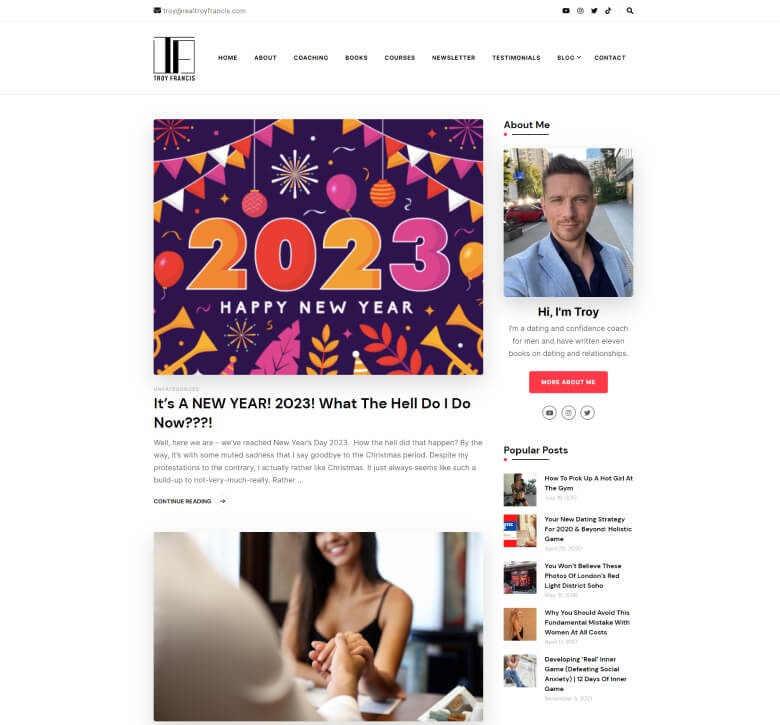 As a relationship coach and advisor, Troy Francis offers advice for those seeking fulfilling relationship goals through his blogs. He has made a difference in people's lives with blogs related to dating, relationships, mindset, and modern life.
Insightful blogs are available on his website. In addition, his website is aesthetically pleasing and informative. Once you go to his website, you can easily find the "Blog" section, where you can find posts related to dating and relationships.
An easy and effective website is equally crucial for engaging readers and helping them with the life coaching website they need. And Francis has done well in this area too. He uses Blossom Themes to enhance his website.
If you are someone who wants relationship coaching or someone who wants to become an expert in relationship coaching, surfing through his blogs on the website is a great idea.
"The Uncaged Life" is a platform and resource for aspiring and experienced business owners who wish to start and expand their companies while embracing a mobile lifestyle.
The main goal of "The Uncaged Life" is to offer advice and support to people who want to quit their regular 9-5 occupations and start their enterprises on their terms.
The website provides a variety of materials, such as articles, courses, coaching programs, and workshops on subjects like business strategy, marketing, branding, mentality, and lifestyle design. In addition, the blogs on this website are helpful for those who want to succeed as life coaches.
Entrepreneurs can learn important lessons and valuable suggestions from "The Uncaged Life" to help them deal with the difficulties of being an entrepreneur, build a long-lasting company, and lead a free and happy life.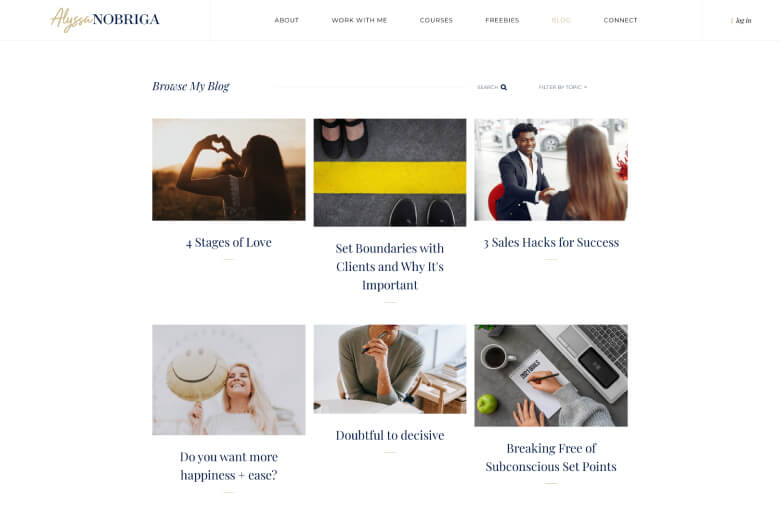 Alyssa Nobriga's blogs stand out as some of the best in the industry for several compelling reasons. Firstly, Alyssa brings a wealth of expertise and experience to her writing. As a 7-figure business owner, licensed clinical somatic psychotherapist, and coach, she combines her deep understanding of psychology, spirituality, and business to provide valuable insights and guidance.
One of the key strengths of Alyssa's blogs is their practicality. She has a remarkable ability to distill complex concepts into actionable steps that readers can implement in their own lives.
Whether she's discussing meditation techniques for stress reduction or strategies for finding your purpose, Alyssa provides clear, concise, and practical advice that resonates with her audience.
Another reason why Alyssa's blogs are highly regarded is her ability to tackle a wide range of topics. She covers areas such as personal growth, business expansion, mindset, and overcoming challenges.
Lastly, Alyssa's blogs stand out due to their consistent quality and frequency of publication. She regularly shares new articles, keeping her audience engaged and eager for more. This dedication to consistently delivering valuable content demonstrates her commitment to supporting her readers' growth and transformation.
One of her most-read blogs is 3 Sales Hack for Success.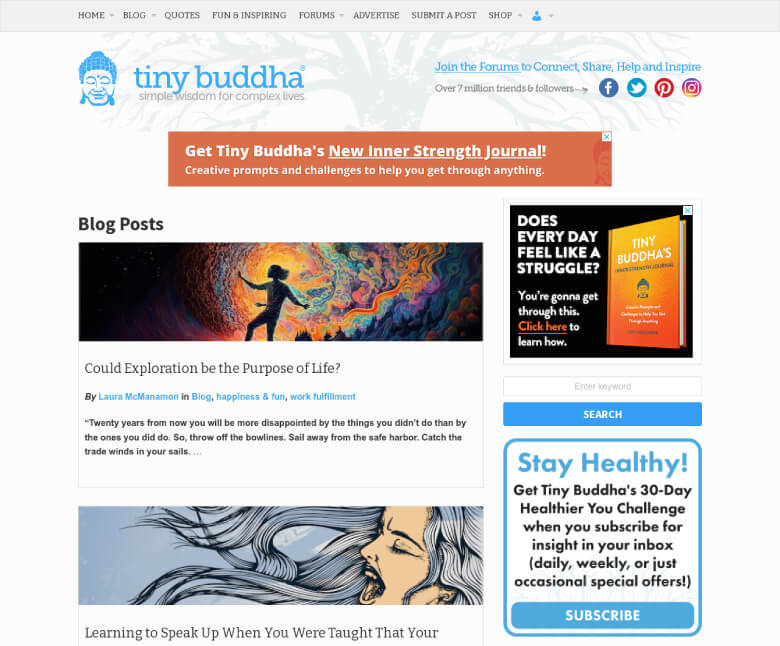 With tools for inspiration and direction for self-improvement, mindfulness, and spiritual development, Tiny Buddha has been able to help people wanting to enhance their lifestyle. The blogs on the website are inspiring.
When Lori Deschene started this website, he must not have realized that many people would rely on his blogs to get started with their life-changing journey. The blogs on the website feature a variety of essays, proverbs, tales, and helpful tips from many writers. In addition, the blogs focus on assisting readers in overcoming obstacles and discovering peace, joy, and fulfillment in life.
The platform addresses a variety of subjects, including gratitude, self-love, relationships, and mindfulness. Thanks to its welcoming and encouraging community, Tiny Buddha has established itself as a dependable resource for people looking for knowledge and methods to live a more purposeful and balanced life. Aspiring life coaches also can take information on creating successful blog posts.
One of the most popular blogs on his website is One Thing We Need To Survive Crisis, Loss, and Trauma.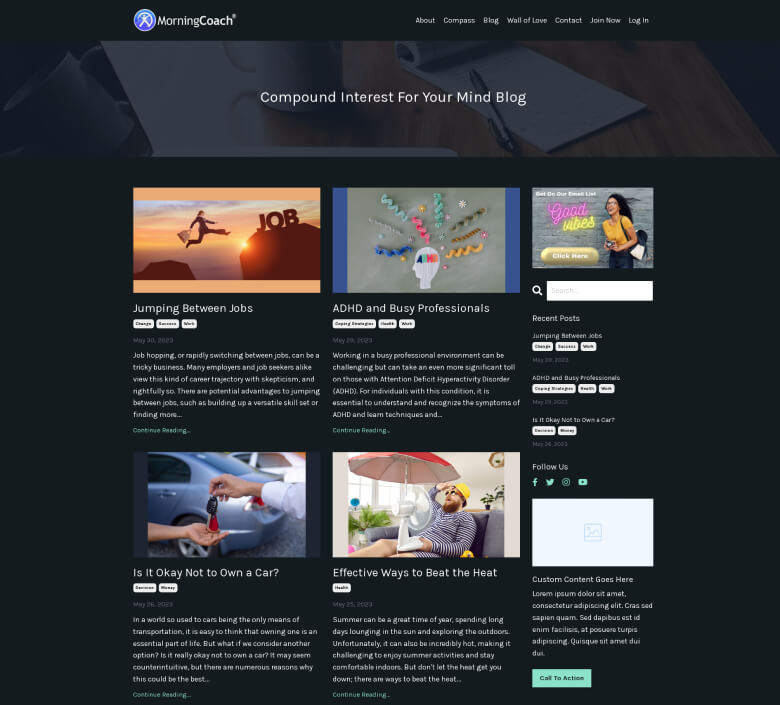 JB Glossinger developed the personal development platform Morning Coach, which provides daily podcasts, essays, and materials to assist people in beginning their days with intention and purpose. To increase productivity and general well-being, Morning Coach highlights the value of forming healthy routines and habits, such as gratitude, goal-setting, meditation, and self-reflection.
As a businessperson himself, Glossinger also includes insightful blogs to help people grow their businesses. One of his recent blogs is Setting Up a Successful Business.
The platform offers inspiration, encouragement, and useful advice to assist users in achieving their professional and personal objectives. Morning Coach strives to enable people to have more satisfying and successful lives by utilizing the power of mornings through its emphasis on personal growth and mindset.
Life coaches can take away insightful information about attracting clients through this blog.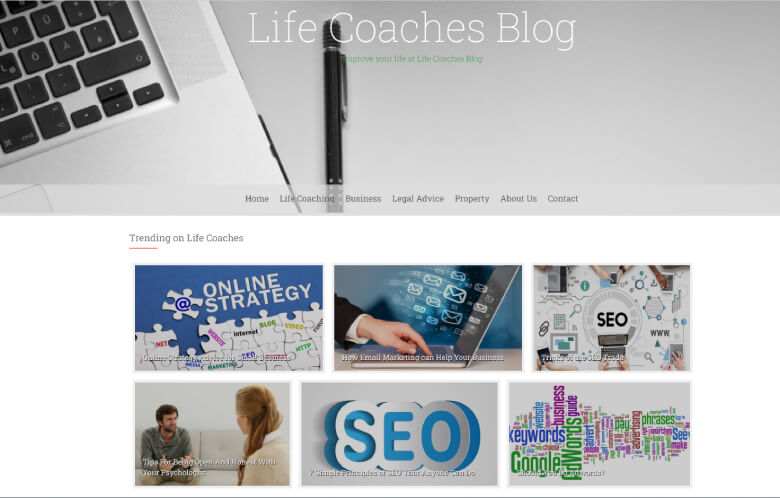 Life Coaches Blog has been helping life coaches, whether aspiring or experienced with crucial information, tools, and advice to enhance their journey as life coaches. With a range of tips on life coaching topics including methodology, planning, and valuable resources, the blogs have been assisting to improve people's personal and professional development.
Goal-setting, mindset changes, effective communication, confidence-building, conquering obstacles, and cultivating healthy relationships may be covered on the site.
The Life Coaches Blog is an excellent resource for people looking for direction and inspiration as they begin their coaching journey. It provides helpful tips and thought-provoking articles to promote personal development and career success in the coaching industry.
"How Email Marketing Can Help Your Business" is one of the most informative blogs on this website.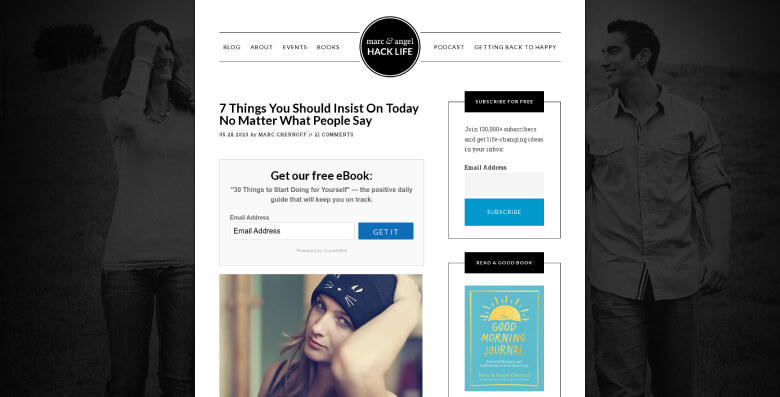 Mark and Angel Hack Life is a popular personal development blog created by husband and wife team Mark and Angel Chernoff. The blog offers practical advice, inspirational stories, and actionable tips for living a more fulfilling and meaningful life.
It covers many topics, including self-improvement, relationships, happiness, productivity, and mindfulness. In addition, Mark and Angel share their experiences and insights, providing readers with valuable strategies and perspectives to overcome challenges, achieve personal growth, and find happiness. The blog has gained a large following due to its relatable content and positive approach to life's ups and downs.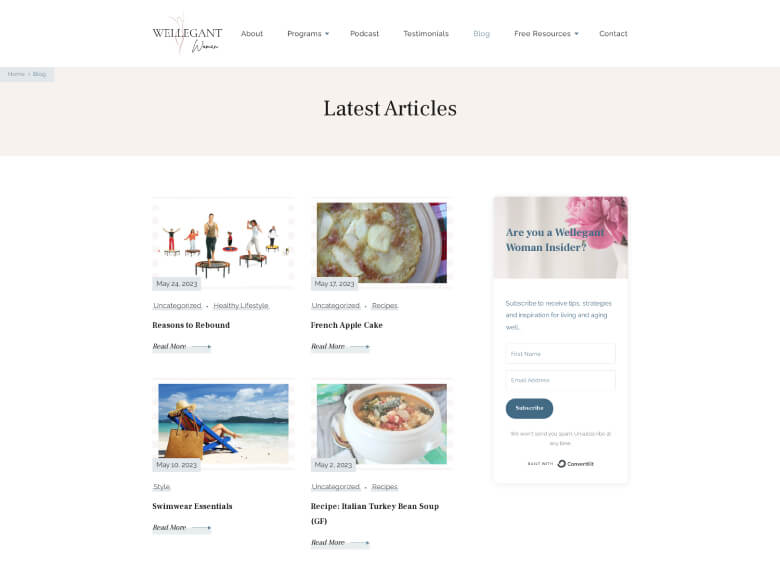 The blog on Wellegant Woman, started by Karen Viesta, is committed to helping women with empowerment and inspiration to live elegant and fulfilling lives.
With an emphasis on elegance, grace, and sophistication, the website offers guidance on enhancing one's self-image, developing emotional intelligence, and fostering healthy relationships. It also provides practical tips on wardrobe styling, etiquette, and self-care rituals contributing to overall well-being.
Also, for individuals wanting to start their blog on different niches, Karen's blog posts on her website are a great way to learn an affirmative approach. In addition, one can learn about successful blogs and how a great website plays a significant role in gaining clients.
Before starting any blog, one important thing to learn is to set up an attractive and informative website. Wellegant Woman proves how using an extraordinary theme like Blossom Themes contributes to delivering the blogs to mass. 
Tips to Elevate Your Life Coaching Blog
The best life coaching blogs should offer a wealth of information and resources to support individuals in their personal growth and self-improvement journeys. Here are some tips to elevate your life coaching blogs:
1. Feature Inspirational and Motivational Articles
Life coaching blogs should feature articles that inspire and motivate readers to take action and pursue their goals. These articles may include personal stories, success stories, and uplifting messages to encourage readers on their journey of self-discovery and growth.
2. Provide Practical Tips and Strategies
Life coaching blogs should provide practical tips, techniques, and strategies for personal development. They should offer actionable advice on mindset shifts, goal setting, time management, communication skills, stress management, and self-care. These tips empower readers to implement positive changes in their lives.
3. Expert Advice and Guidance
Many life coaching blogs are authored by certified life coaches or experts in the field. They share their knowledge and expertise to guide readers in areas like self-reflection, overcoming challenges, improving relationships, enhancing productivity, and achieving personal and professional success. This helps in forming trust among the clients.
4. Include Personal Growth Exercises and Worksheets
Blogs should provide exercises and worksheets that readers can utilize for self-reflection, goal-setting, and personal growth. These resources offer structured activities to help individuals gain clarity, identify their values, define their goals, and track their progress.
5. Book Recommendations and Reviews
It is important to recommend books that are relevant to personal growth and self-improvement in blogs created to inspire and motivate other individuals. In addition, they may provide reviews and summaries of these books, guiding readers toward valuable resources for further exploration.
6. Q&A and Reader Engagement
Some blogs offer Q&A sessions or engage with readers through comments and emails. It allows readers to seek advice, ask questions, and receive guidance directly from the blog's author or the community of readers.
Best Coaching WordPress Themes for Your Coaching Website
A good website does most of the work when it comes to being a life coach. A great website is where you connect with your potential clients.
Using the best kind of theme is equally crucial for a profitable website. Moreover, a suitable theme makes your website perfect for your potential clients.
Most of the best life coaching blogs rely on their website to reach a mass audience. An aesthetic homepage that leads the readers to any section they want to go through is the foundation of a great website.
You can ask anyone with a successful website about the importance of a perfect theme for greater reachability.
And if you are wondering how to enhance your website, look no further. Here are some of the outstanding themes for your website.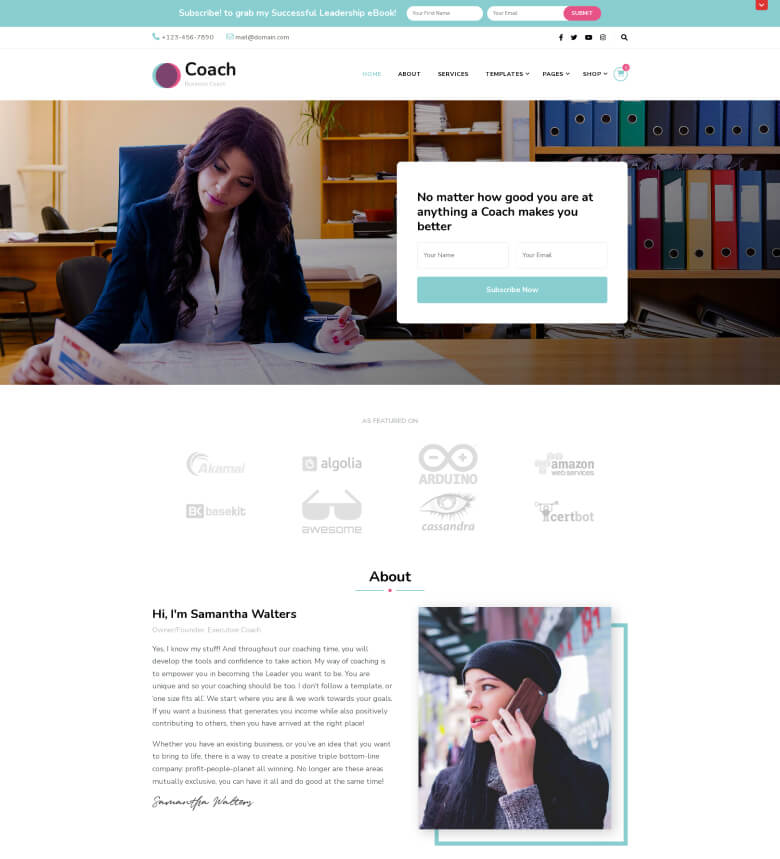 If setting up a professional website without any hassle is your priority, Blossom Coach Pro is right there for you. 
Blossom Coach Pro is a comprehensive coaching theme designed to empower coaches and streamline their coaching business. With its wide range of features and intuitive interface, it provides coaches with the tools they need to effectively manage their clients, sessions, and resources.
This all-in-one platform allows coaches to create and schedule coaching sessions, track client progress, and securely store client information. Additionally, Blossom Coach Pro offers customizable templates for creating coaching packages, contracts, and invoices, making it easier for coaches to streamline their administrative tasks.
The platform also includes a client portal, where clients can access resources, submit assignments, and communicate with their coach. With its user-friendly design and robust functionality, Blossom Coach Pro enables coaches to focus on what they do best.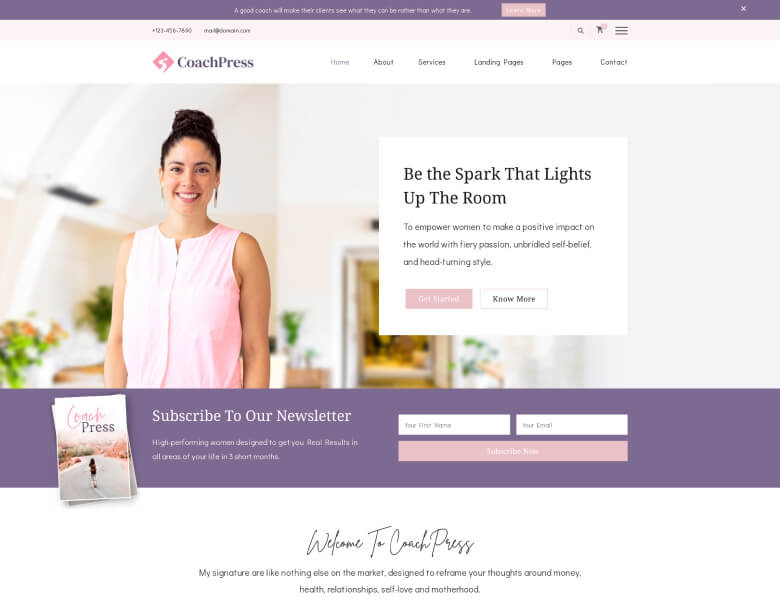 Coachpress is a powerful and versatile coaching theme specifically designed for coaches to establish a strong online presence and effectively engage with their clients. With Coachpress, coaches can easily create and customize their professional coaching website without any technical expertise.
The platform offers a wide range of professionally designed templates and intuitive drag-and-drop tools, allowing coaches to showcase their expertise, services, and testimonials in a visually appealing and user-friendly manner.
Moreover, the platform offers search engine optimization (SEO) tools to enhance online visibility, blog functionality to share valuable insights and content, and social media integration to expand the reach and connect with a broader audience. With its comprehensive features and user-friendly interface, Coachpress empowers coaches to establish a professional online presence, attract clients, and effectively grow their coaching business.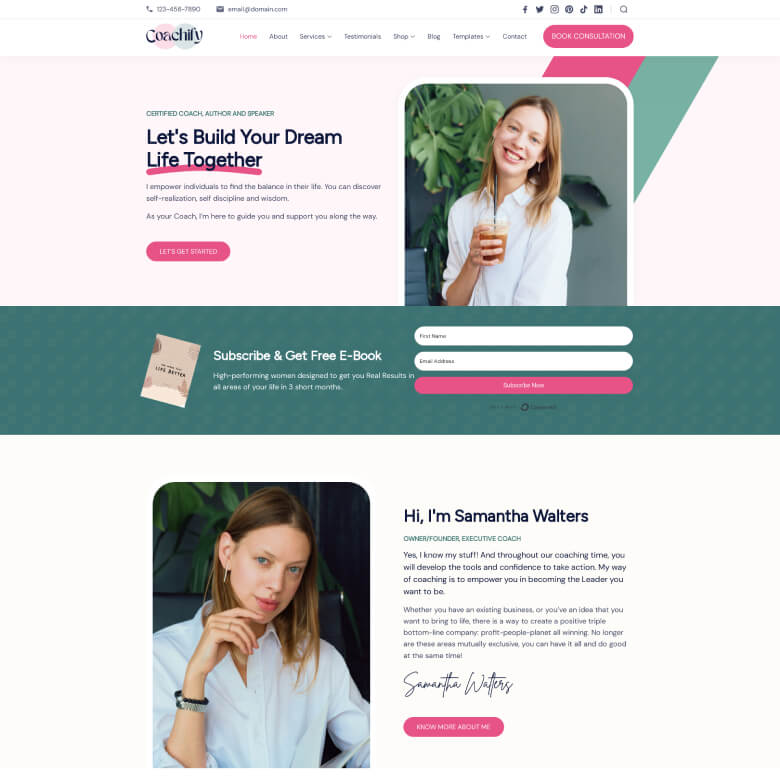 Coachify is the ultimate WordPress theme designed specifically for coaches, mentors, entrepreneurs, and consultants. With its powerful features and user-friendly interface, Coachify allows you to showcase your expertise, connect with your audience, and convert visitors into clients.
The theme is optimized for SEO and Core Web Vitals, ensuring your website performs well in search engine rankings.
Coachify also prioritizes the best customer experience, offering beginner-friendly guides and comprehensive documentation to support you in building your website step by step.
With Coachify, building a professional and impactful coaching website has never been easier.
CoachPodium
CoachPodium is a comprehensive platform designed to revolutionize your coaching practice. With CoachPodium, you can boost efficiency, enhance client relationships, and attract more leads, unlocking unprecedented growth and unleashing your true potential as a thriving coach.
You can manage all your clients in one place, systematically tracking their progress, activities, and profile. By understanding your clients better, you can deliver personalized experiences and retain their loyalty. CoachPodium also streamlines client management, assessments, and marketing efforts for a seamless coaching experience.
The platform helps you generate more leads, manage your clients more effectively, and promote helpful resources for client success and continuous learning.
Conclusion
In conclusion, as life coaches, you should understand the power of continuous learning, personal growth, and staying connected with your field's latest insights and strategies. Life coaching is ever-evolving, and the best way to stay at the forefront is by tapping into the wealth of knowledge provided by the best life coaching blogs.
These blogs are invaluable resources, offering guidance, inspiration, and practical tools for personal and professional development.
By exploring these blogs, you can access a treasure trove of wisdom from experienced coaches, experts, and individuals who have undergone transformational journeys. In addition, the blogs provide fresh perspectives, innovative techniques, and proven strategies to support your clients on their paths to success, fulfillment, and self-discovery.
Moreover, life coaching blogs foster community, allowing coaches to connect with like-minded individuals and engage in meaningful discussions. The opportunities for interaction, asking questions, and sharing experiences create a supportive environment that strengthens the coaching skills and expands the network of fellow coaches.
The importance of reading life coaching blogs cannot be overstated. They provide the knowledge, inspiration, and motivation to continually improve life coaches' coaching practice, deepen their understanding of human behavior, and adapt to clients' changing needs. In addition, these blogs provide guidance, encouragement, and insights that empower us to be the best coaches we can be.
As life coaches, you should embrace the power of these blogs and continue to learn, grow, and inspire together.