We are excited to announce the release of CoachPodium Version 2.0, packed with new features and enhancements.
The first thing you will notice in this new version is the revamped design. We have made customization of fonts and colors easier.
Also, there are some notable changes in the Wheel of Life assessment tool.
So, let's explore what's more for you.
1. Email integration with Brevo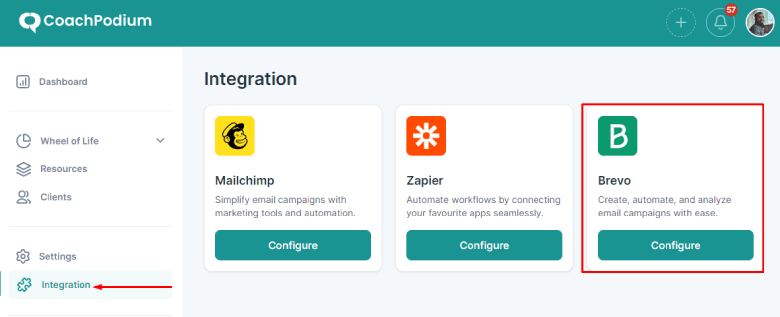 CoachPodium now integrates with Brevo along with MailChimp and Zapier, allowing you to run effective email campaigns, track user engagements, and optimize communication.
Brevo helps you build client relationships across various channels, including email, SMS, and chat.
2. Footer text customization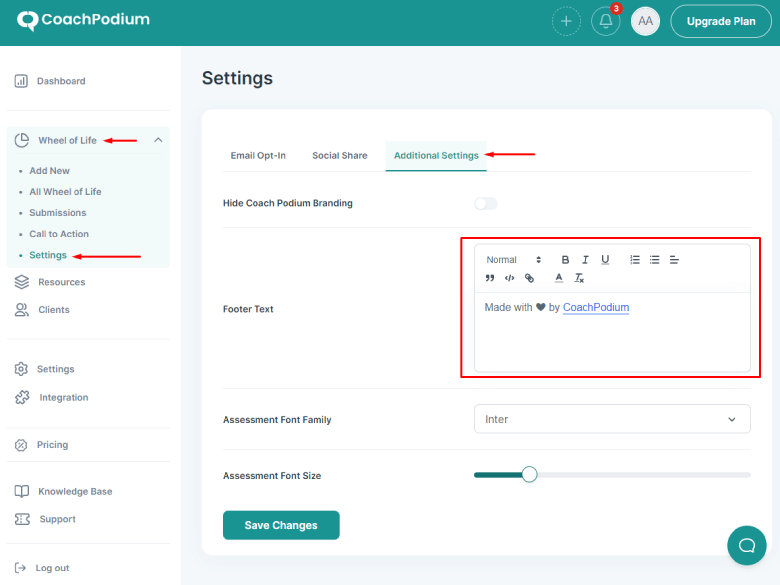 With the new feature, you can now easily customize the text displayed in the footer section of the Wheel of Life assessment.
You can edit the footer text and add your own. For example, you can add your website link, your brand name, or any other information.
3. Dynamic font family and font size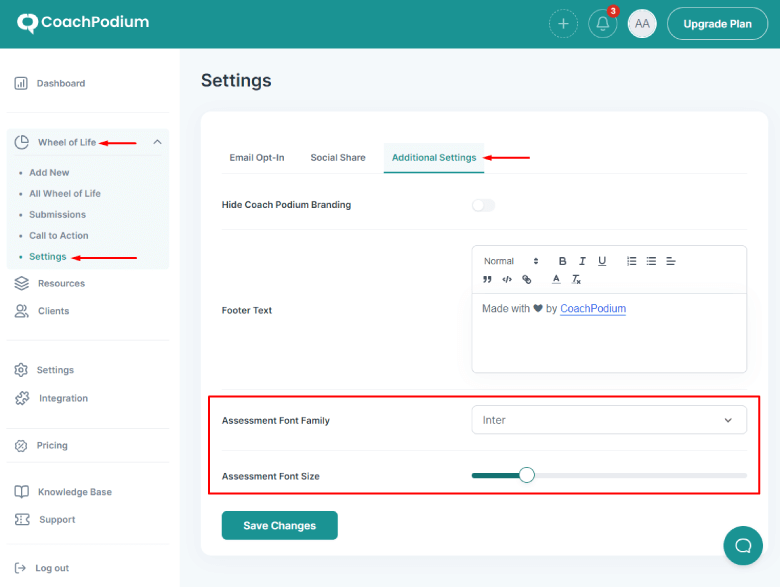 CoachPodium's latest update brings you an enhanced text customization experience. You can now choose from over 1400 fonts available in Google Fonts Library.
Choose the font type and size that best suits your website branding.
4. Changes on the Wheel of Life assessment page
We have revamped the Wheel of Life Assessment page to provide you with enhanced functionality and improved user-experience.
Here are the noteworthy updates:
Client testimonial on email opt-in page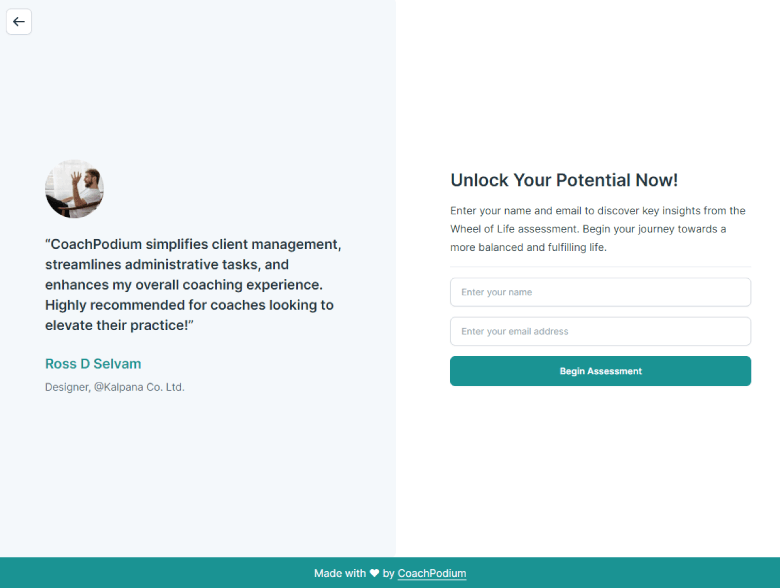 The new feature lets you showcase a client testimonial on the left side of your email opt-in page. It will add more credibility to your services.
This addition enables your prospects to see the benefits and value of your coaching services, helping them make an informed decision to buy your services.
Go back to the previous page

We have added a new button on the top left of the Wheel of Life assessment page so the prospects can conveniently view their previous answers and change them if required.
Labels on the Wheel Meter
To enhance clarity, we have introduced anchor labels on the left and right sides just below the rating scale on the question page.
Customize these labels by following these simple steps:
Go to Wheel of Life> Add New > Settings > General. Then, you can select Right Anchor Label and Left Anchor Label.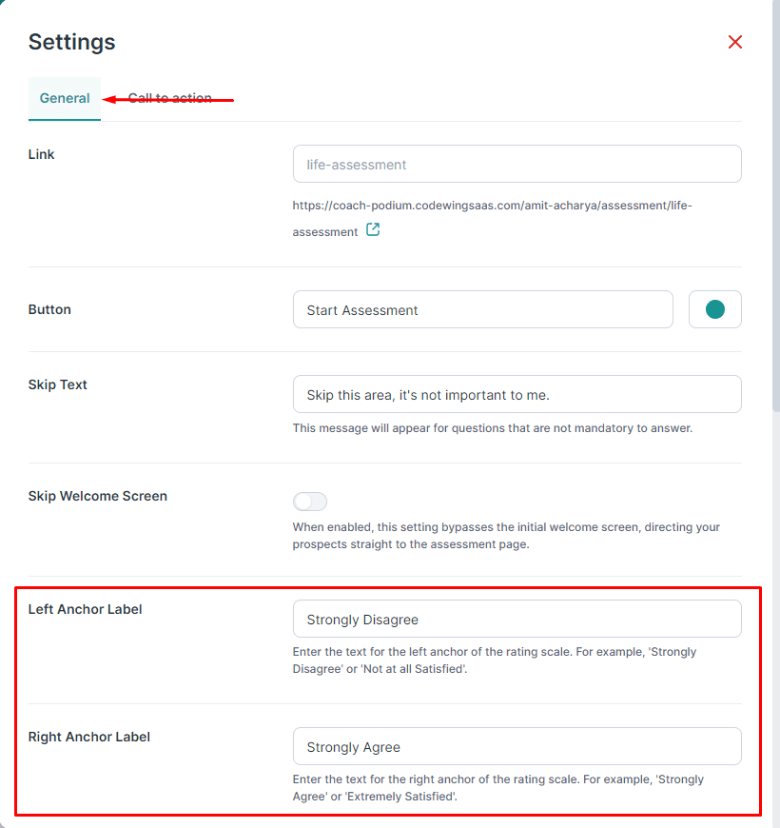 You can describe the levels of the ratings using these anchor labels. For example, you can use labels like "Strongly Disagree" or "Extremely Unsatisfied" for expressing disagreement. Similarly, you can use labels like "Strongly Agree" or "Extremely Satisfied" for expressing agreement.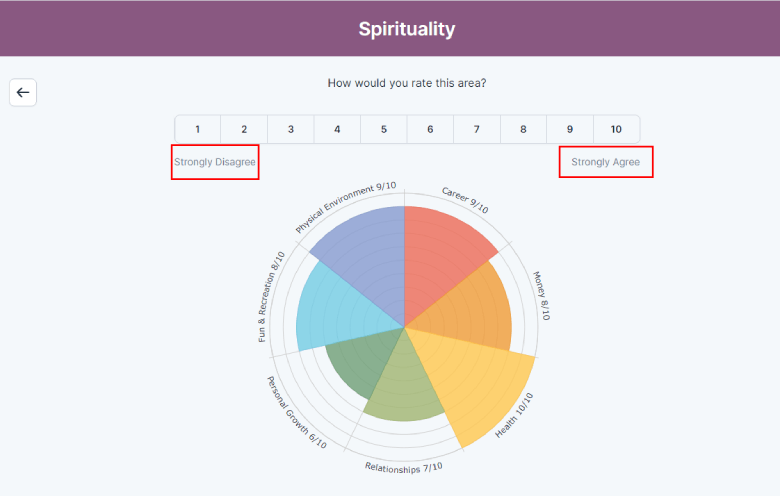 Header and Footer Color Customization
We have enhanced color customization features for the background of header and footer on the Wheel of Life assessment.
The color of the assessment changes according to the color set in the wheel, providing better user experience to the prospects.
What are we building next?
We're committed to enhancing your experience with CoachPodium. Here's a sneak peek of the exciting new features we're building next.
Your public profile on CoachPodium
You can create your public profile on CoachPodium with this feature. You can display your Wheel of Life assessment, your expertise, certification, qualification, services, and more on your profile.
The best thing about this feature is that people can discover more about you through your profile on CoachPodium.
Email sequence feature
We are building email sequence features so you can automate email communication for lead nurturing and selling your services.
With this feature, you can send sequential emails to your prospects according to their activities.
For example, if you want to email a prospect after he/she takes the assessment, you can do so automatically with the help of this feature. Similarly, you can set a timing for follow-up emails too. You will not have to write the emails manually after every action.
Your suggestions empower our progress
We want to make CoachPodium better for you, and your feedback will help us.
So, what additional features would you want us to add in CoachPodium?