Do you want to empower and guide individuals to help them find their abilities and achieve their dreams? If so, starting a life coaching business might be your perfect path.
As a life coach, you have the incredible opportunity to positively impact people's lives, helping them overcome obstacles, set meaningful goals, and create a life they love. And, if being a life coach is your goal, you must have wondered, "How to start a life coaching business?"
So, here is what you need to know about your quest to become a life coach.
Before that, let's find out what the life coaching business is and why it is trending these days.
Unlocking Path To Empowerment With Life Coaching Business
With everyone so focused on growing, the number of people searching for someone who can guide them through their personal and professional lives has grown remarkably. That's how life coaching came into practice and turned out to be demanding in no time.
Hence, the life coaching business is a prominent way to unlock empowerment. People with the potential and talent to make a difference in people's lives can do great in the life coaching business.
Life coaching can cover issues related to different categories, from mental health to relationships, finance, career, health and wellness, etc.
With conversations and questions with people who need coaching, life coaches contribute to changing people's lives. And being a life coach is financially rewarding. So, it's no wonder aspiring life coaches want to know how to start a life coaching business.
How Profitable is Life Coaching Business?
Over a decade, seeking and providing professional help for people to enhance their lifestyle has become hugely popular. Call it merely a trend or a crucial necessity; people want life coaching. It solely makes life coaching businesses high in demand and profitable.
To understand the popularity of this business, we can scroll through any social media platform. For example, at least three out of ten posts on my Instagram recommendations come from life coaches.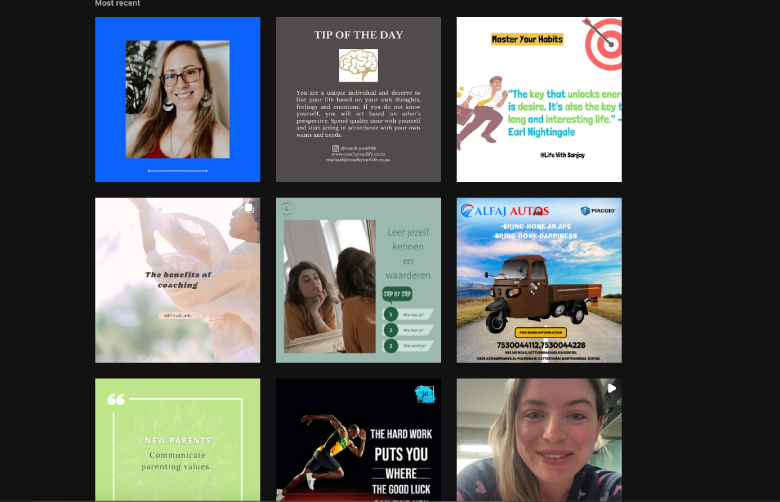 With that said, the profitability of a life coaching business will depend on some variables, such as your level of skill, your target market, your pricing policy, and your marketing tactics. Therefore, giving a precise number is challenging, although many life coaches successfully grow their businesses.
As a skilled and qualified life coach, you can offer insightful advice, understand clients' needs, and create individualized plans to help them reach their objectives and enhance their lives. As a result, you may draw a consistent stream of customers and command higher rates by producing outstanding results and developing a solid reputation.
Additionally, you can differentiate yourself in the crowded coaching market by consistently improving your skills and keeping up with trends and practices.
Doesn't knowing the merits make you more curious to know how to start a life coaching business?
Hang on a little until we learn the skills one needs to become a life coach.
Skills You Need To Own a Life Coaching Business
Though the profession might sound exciting and glamorous, it has its challenges. For example, only some people can become a life coach. Since a life coach does not just advise people but also becomes an entrepreneur, marketer, and salesperson, you need skills to become one.
A great life coach will listen to their client. Then comes the challenges along. Possessing some essential skills will make you an effective life coach. The critical skills you should have as a life coach are: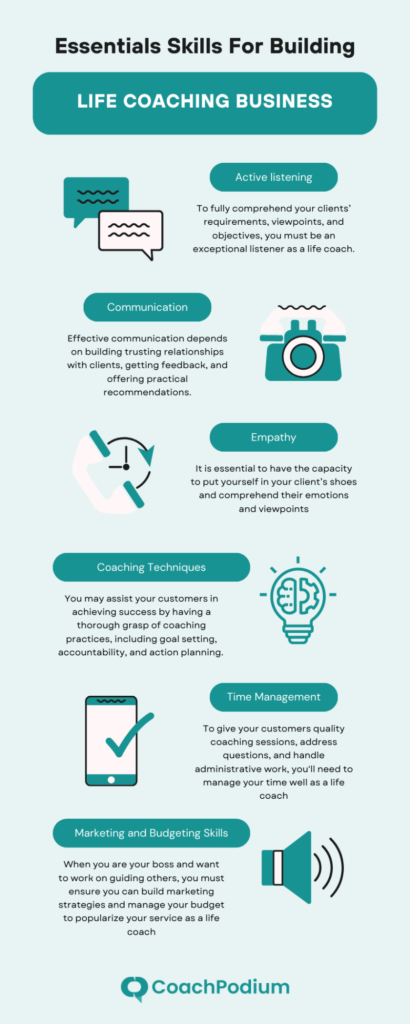 Active listening
To fully comprehend your clients' requirements, viewpoints, and objectives, you must be an exceptional listener as a life coach. Being present in the moment and giving your clients your undivided attention will help your clients be comfortable with you.
Communication
Effective communication depends on building trusting relationships with clients, getting feedback, and offering practical recommendations. In addition, you should communicate your views, show empathy, and give clients helpful criticism if you want to succeed as a life coach.
Empathy
It is essential to have the capacity to put yourself in your client's shoes and comprehend their emotions and viewpoints. To establish a secure and encouraging coaching environment. Empathy can establish rapport, trust, and deeper connections with your clients.
Coaching Techniques
You may assist your customers in achieving success by having a thorough grasp of coaching practices, including goal setting, accountability, and action planning. In addition, understanding different coaching models and approaches will help you better adapt your coaching style to fit each client's particular requirements.
Time Management
To give your customers quality coaching sessions, address questions, and handle administrative work, you'll need to manage your time well as a life coach. You can maintain your business's organization, productivity, and efficiency by developing strong time management abilities.
Marketing and Budgeting Skills
When you are your boss and want to work on guiding others, you must ensure you can build marketing strategies and manage your budget to popularize your service as a life coach. There are some excellent service providers to help you enhance your business as a life coach. CoachPodium is one trustworthy software to get you started.
Emotional intelligence
Understanding and controlling your emotions and those of your clients is a component of emotional intelligence. This ability can assist you in fostering a supportive coaching atmosphere, handling disagreements skillfully, and providing individualized coaching solutions that meet the emotional requirements of your clients.
How To Start a Life Coaching Business?
With the demand for life coaches growing daily, it is no wonder that people are leaving their corporate jobs to become one using their expertise.
However, you might need more than just dreaming to reach your goals. Therefore, planning and executing correctly to become a trustworthy life coach is essential.
We have prepared a step-by-step guide for aspiring life coaches to understand how to start a life coaching business.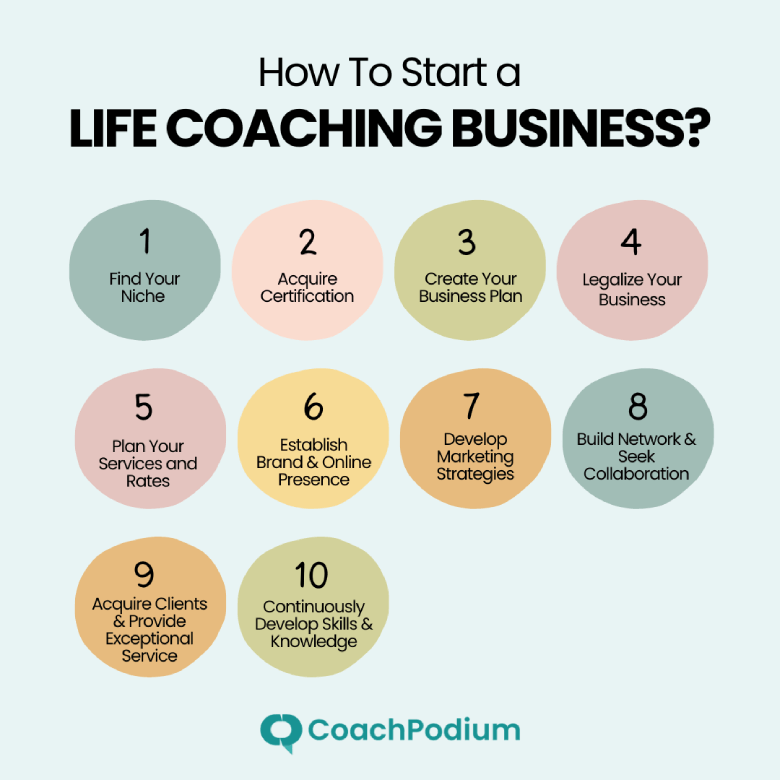 Find Your Niche
Identifying your niche, where your experience and passion collide, is crucial before starting a life coaching business. Here's the fun part: by identifying your specialty, you gain the ability to have a significant influence on a specific audience. You can modify your coaching services to meet their particular demands and objectives. But how can you identify your niche?
The secret is to have an understanding of your abilities, life experiences, and interests. Then, finding your specific coaching superpower will enable you to boldly carve out a niche in the coaching industry and draw in clients who value your specialized knowledge.
Life coaches provide their services under different niches depending on their expertise. Some of them are: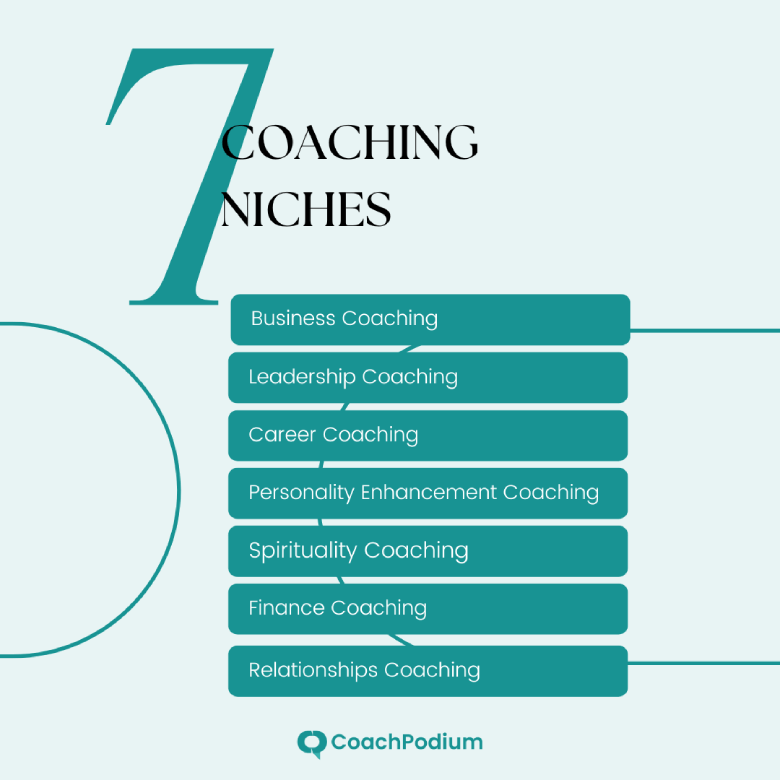 Business
Leadership
Career
Personality Enhancement
Spirituality
Relationships
Finance
And So on!
To understand where your expertise lies, you should inspect the abilities you might have polished through your experiences and qualifications. Then, as a life coach with brilliant financial skills, you can help others with financial advice and skills to manage where their money goes.
Acquire Certification
Getting certified can become a game changer if you are stuck somewhere in the process of becoming a life coach. Clients want coaches with certified licenses. And rightly so. I wouldn't take the advice of just anyone when it comes to crucial decisions in my life.
The benefit of being a certified life coach is that accreditation increases your credibility, improves your talents, and inspires trust in you and your clients. But how exactly do you become certified?
Though the process might appear daunting, do not worry! There are numerous trustworthy institutions and education programs that provide certification. As a result, you'll gain a competitive advantage, establish yourself as a recognized authority, and open up a new universe of prospects by investing in your professional development and obtaining that desired certification.
Create Your Business Plan
If you are wondering how to start a life coaching business, having a proper business plan will lead the way.
A business strategy is similar to a map showing your path to success as a life coach. It's an essential step that enables you to articulate your growth methods, identify your target market, and clarify your ambitions.
But don't worry. It needn't be frightening! Instead, consider it a road plan that leads you toward your goals. You will go into great detail in your business plan, including your specific value proposition, pricing, marketing, and financial projections. Making an effort to create a thoughtful plan can position you for a successful and fulfilling coaching company.
Legalize Your Business
Legalizing your business before starting a life coaching practice is crucial to building a solid foundation. Although it may seem nerve-wracking, the procedure is easier than you imagine!
You can start by registering your company and acquiring any licenses or permits necessary in your jurisdiction. Being a certified life coach comes in handy when obtaining legal permission to start your life coaching business.
To ensure compliance with legal and financial requirements, speaking with an accountant or lawyer can be wise. Taking these actions will give you the satisfaction of having your own business and make you credible and trustworthy among the service-seekers. Therefore, legalizing your life coaching business will take you a step forward to becoming a successful life coach.
Plan Your Life Coaching Services and Your Rates
Planning your services and determining your fees before establishing a life coaching business is essential if you want to give your clients memorable experiences. Think for a moment about the journey you want to lead them on while taking into account the particular objectives, difficulties, and results they desire.
You can provide a complete and transformative experience by creating customized coaching packages depending on the niche of your expertise.
While determining charges for the service you provide, consider your experience, competence, and the value you offer when choosing your charges. Remember that the enormous difference you'll make in your consumers' lives should be reflected in your services and prices.
Generally, depending on the packages, the rates of a life coach can vary. For instance, per session from a client can help you make between $75-$250 as a life coach. Similarly, you can charge around $500 for your personal coaching service and $1500 for executive service. Also, for long-term services, you can charge from $2000-$5000. The expensive packages should include services relevant to the price your clients pay.
Establish Your Brand and Online Presence.
A solid brand and online presence are essential for any life coaching business in the current digital era. You may engage with potential customers and present your distinctive brand with the help of the digitalization of your business.
For this, you can create a strong brand that embodies your values, personality, and expertise. You can start by creating a website that is simple to use and displays your professionalism. In addition, an eye-catching logo will define your business.
For example, we have Tara Whitaker, Freelance Editing Coach: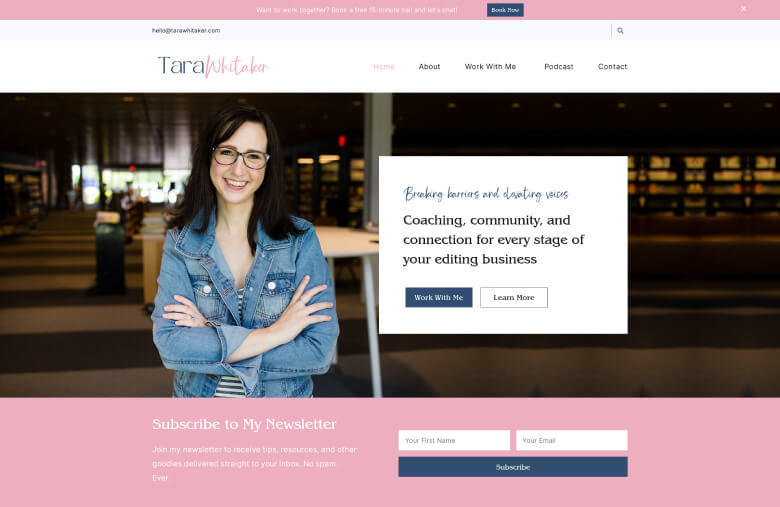 Furthermore, utilizing social media channels to inspire and engage your audience with insightful material is an intelligent way to gain popularity for your business. Finally, keep in mind that your online presence and brand serve as your virtual storefront, enticing customers to go with you on their transformative journey.
To help you establish your brand and enhance your lead, we have CoachPodium with excellent services.
Develop Marketing Strategies
Effective marketing tactics are your secret weapon for success when beginning a life coaching business. When it's time to spread the word about your coaching genius, you should first determine your target audience and learn about their requirements and goals.
While marketing for your business, creating engaging content that highlights your expertise and appeals to your ideal customers is crucial. Embracing social media sites, networking opportunities, and partnerships can be beneficial to increase your reach. Also, to prove your worth, it is better for you as a life coach to hold workshops or provide free consultations. By putting honest, imaginative marketing methods into practice, you'll draw in a constant stream of customers willing to travel on a transforming journey with you.
Therefore, to meet your marketing goals, get the word out, and pique people's interest in your fantastic coaching services, you should try CoachPodium as your marketing solution.
Build a Network and Seek Collaborations
A solid network and the openness to collaborate might be a game-changer when you start your life coaching business journey. Spending time with professionals who share your enthusiasm for personal development and advancement can be a great start. To widen your network, you should be open to participating in online groups, industry events, and coaching organizations.
Working together fosters learning and support while also providing access to intriguing opportunities. Collaborating with similar service providers or guest blogging on appropriate venues can be meritorious to reach new audiences. Collaboration with others providing services like life coaches will help you enhance your brand and business.
Acquire Clients and Provide Exceptional Service
Your ultimate objective as a life coach is to positively influence your clients and give them the tools they need to realize their full potential. On this path, gaining clients and offering top-notch service go hand in hand.
To gain clients, you can use interesting content to demonstrate your competence, provide free consultations, and utilize testimonials. As soon as you have customers, you can ensure their experience is nothing less than extraordinary. To achieve excellence in your service, you can pay close attention, provide direction and encouragement, and acknowledge your clients' accomplishments.
Delivering revolutionary results and going above and beyond will help you keep satisfied customers while bringing in new ones through word-of-mouth advertising.
Continuously Develop Your Skills and Knowledge.
Knowing how to start a life coaching business and starting one won't guarantee your success as a life coach. To be successful, you should continuously polish your skills.
It's crucial to consistently advance your knowledge and build your abilities in the dynamic field of life coaching. You should accept the growth process and remember there is always more to learn and understand.
You can keep up with the most recent coaching methods and market trends by attending workshops, conferences, and training sessions. In addition, making connections with other coaches, taking part in peer-to-peer learning, and looking for seasoned professionals to mentor you can be advantageous to enhance your life coaching skills.
By investing in your personal growth, you not only improve your coaching skills but also give your clients a sense of security.
How Much Should You Spend To Become a Life Coach?
Now that you know how to start a life coaching business, you might wonder how much it takes to get your business up and running.
The cost of becoming a life coach could differ based on several variables. Affordable online courses to more in-depth programs are all options for training programs and certificates. While spending money on high-quality training is essential, there are solutions that fit various schedules and budgets.
Continual costs like marketing, website creation, and professional memberships should also be considered. However, the wonder of the journey is that you may begin small and eventually invest in your growth as your coaching practice takes off.
The cost required to become a licensed life coach can vary from $169.99 to $11,950. The price entirely depends on which platform you choose and the duration of your course. For example, Udemy provides the course at approximately $169.99.
How Much Do You Make As a Life Coach?
A life coach's earning potential might vary greatly depending on criteria, including experience, specialty, clientele, and location. Although giving a precise amount is challenging, skilled life coaches can make a good living.
While some coaches charge an hourly fee, others provide group coaching programs or package discounts. As a result, you can raise your prices and make a good living as you develop your reputation and experience and increase the number of clients.
Nevertheless, the value you offer and the difference you make in your customers' lives are directly related to your ability to make money as a life coach. You may build a successful career as a life coach with hard work, innovative marketing, and a desire to assist people.
As per Payscale, the average rate of a life coach is approximately $35.71 per hour.
How Long Does It Take To Become a Life Coach?
The time it takes to become a life coach varies depending on the person's circumstances and level of commitment. While some individuals might decide to finish a short certification program and start their coaching career within a few months, others might want more in-depth training that takes several years.
It takes between 6 and 12 months to earn ICF certification.
The duration depends on the degree of specialization and competence you hope to attain. Keep in mind that learning and developing is a constant process in becoming a life coach. It's about developing your abilities, accumulating real-world experience, and being current with market trends.
Conclusion
A life coaching business can be fulfilling and financially rewarding. It provides the chance to support people in achieving their objectives, overcoming difficulties, and leading more rewarding lives.
However, building a profitable coaching practice demands perseverance, commitment, and a constant desire to improve. The initial complexities might make you question how to start a life coaching business.
Nevertheless, following the instructions above, you may build a solid foundation for your company and design a successful plan. Keep in mind that creating a profitable coaching practice requires patience, perseverance, and effort. But with the appropriate attitude, knowledge, and tactics, you can transform your love of coaching into a successful business that enhances your customers' lives and advances your own personal and professional development.
Additionally, to flourish your life coaching business, there's no harm in taking help from softwares like CoachPodium.