We are excited to announce the release of our latest feature, the Coach Public Profile.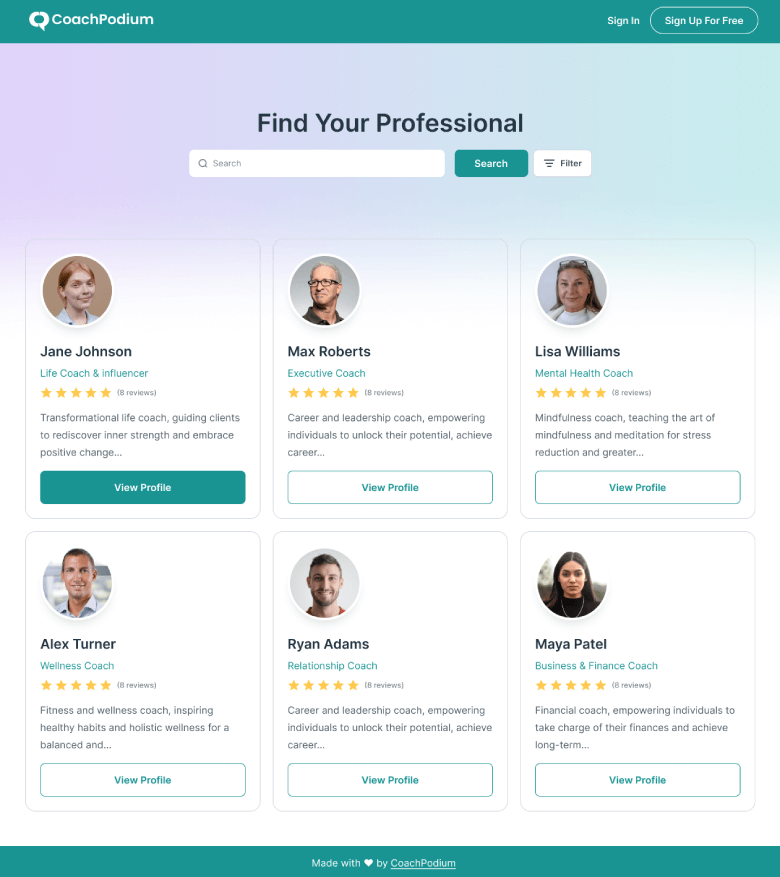 You can establish a professional presence without needing a separate website with the help of this feature.
This update enables you to showcase your expertise, experience, and coaching services all in one place. It provides your prospects with an in-depth view of your background, coaching philosophy, and testimonials from satisfied clients.
Additionally, you can reach a wider audience by adding your social media profile. Your prospects and clients can easily follow you on social media.
Furthermore, your public profile will be visible on the coach profile listing page.
Benefits of Coach Public Profile
The Coach Public Profile feature offers several benefits:
You can establish your profile and show your expertise without needing a separate website.
You can showcase your expertise, experience, and qualifications, positioning you as a credible and trustworthy coach.
You can display testimonials from previous clients, highlighting your success stories and the positive impact of your coaching services.
You can attract potential clients who resonate with your coaching style and approach.
You can save time, effort, and costs associated with website development and maintenance, allowing you to focus more on coaching and client relationships.
Feature of Coach Public Profile
This update is for you to create a personalized and publicly accessible profile to showcase your coaching services, whether you are a new coach or an established one.
Now, let's take a sneak peek at the features of this update:
1. Your Profile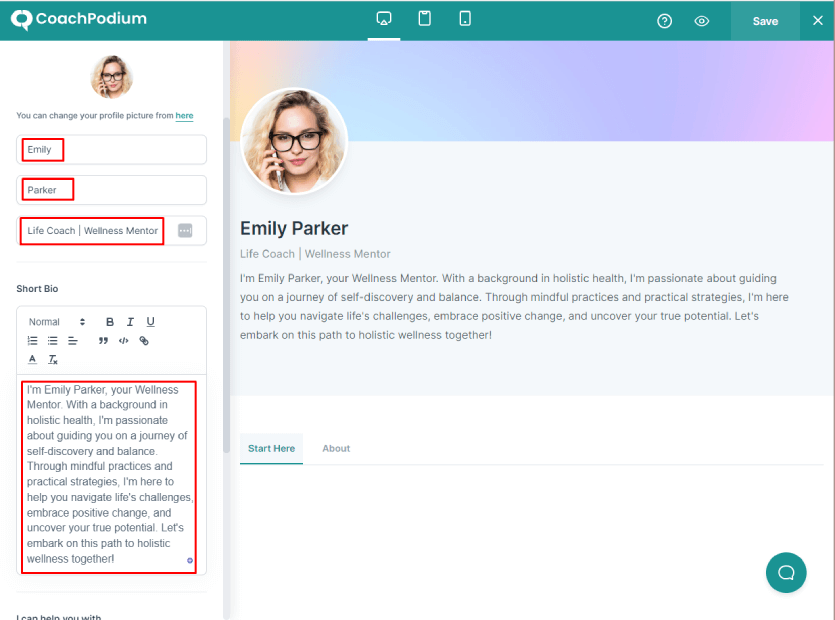 You can choose a cover picture, your name, professional title, your bio, services, experience, languages in which you can deliver your services, and your personal or professional location.
It gives a general overview of your coaching profile. Your prospects find your basic information through this section.
2. Links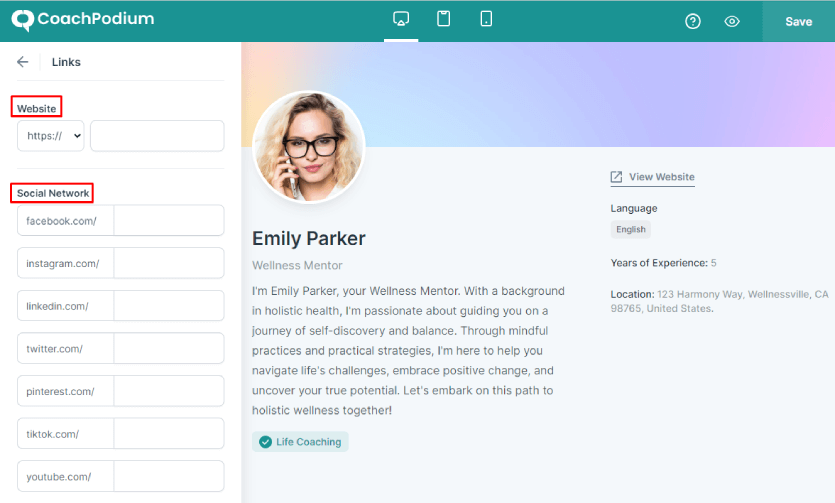 You can add links to your coaching website (if you have any). Similarly, you can connect your social media platforms like Facebook, Instagram, Twitter, LinkedIn, YouTube, TikTok, and Pinterest.
With its help, you can connect with your prospects or clients on different social media platforms. After all, a lot of things happen on social media these days.
3. Wheel of Life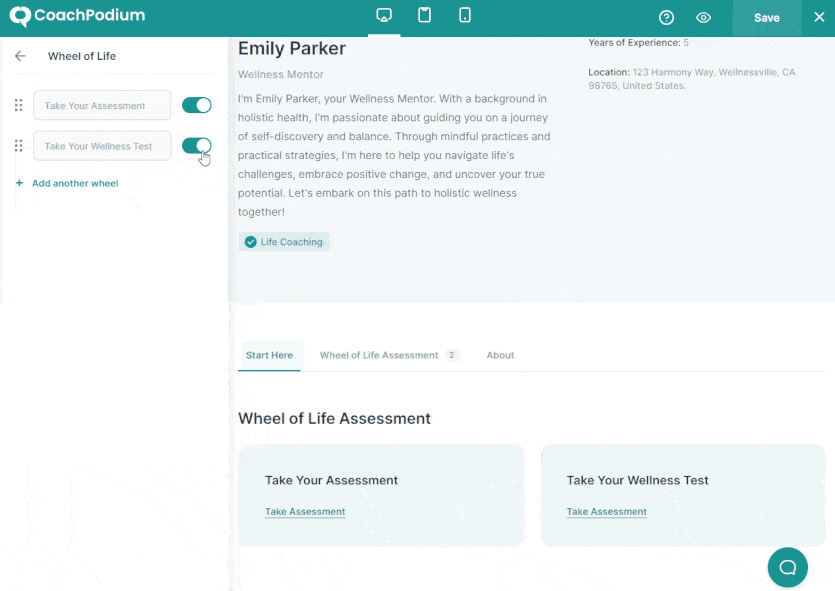 You can add a Wheel of Life assessment to your coaching profile. You can refer to "How to create a customizable wheel of life" to understand more about creating the wheel of life assessment or go through this video.
You can use the Wheel of Life assessment on your public profile with your prospects and clients to understand them better. Furthermore, you can plan a coaching strategy appropriate for each client. Also, you will be able to track each client's progress and empower them.
4. About Me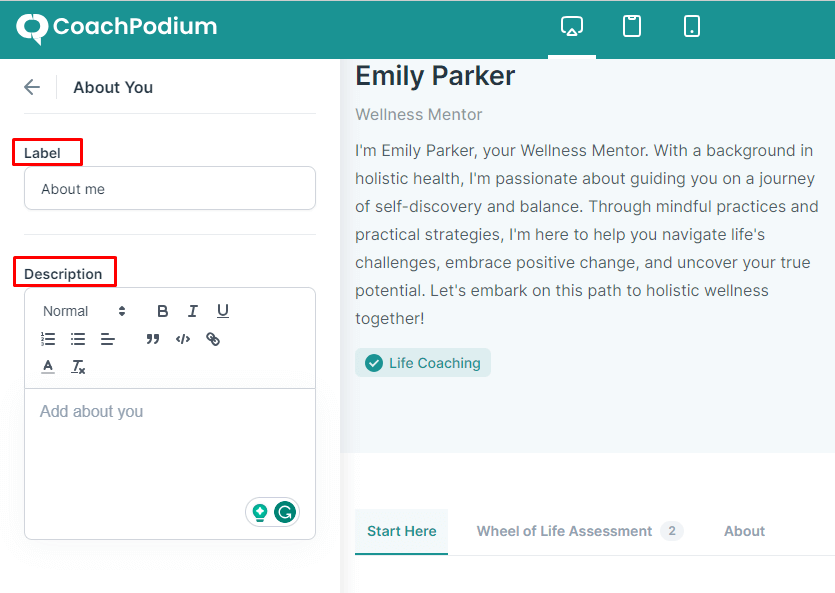 You can write a description of yourself. In the description, you can include your coaching journey, experiences, success, values as a coach, and many more.
You can let your prospects know more about you as a coach and your service by adding information about you. It is one crucial area determining whether a prospect will become a client.
5. Certifications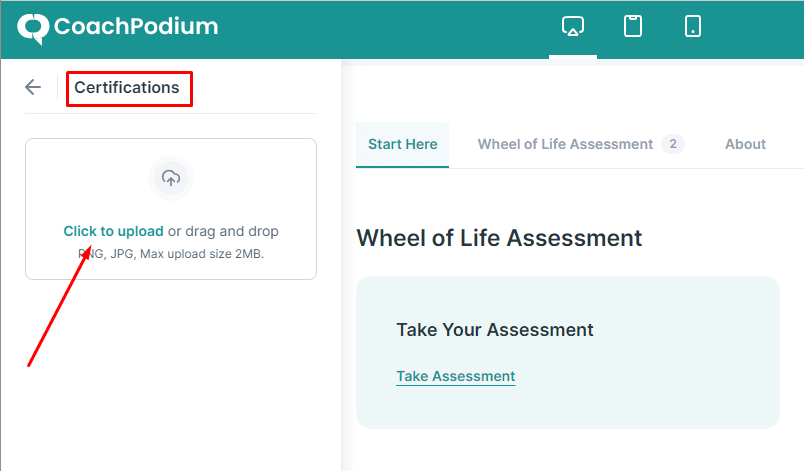 You can include the certifications you have taken. You can upload photos of the certificates you own.
With its help, you can build trust and credibility among your prospects.
6. Extra Information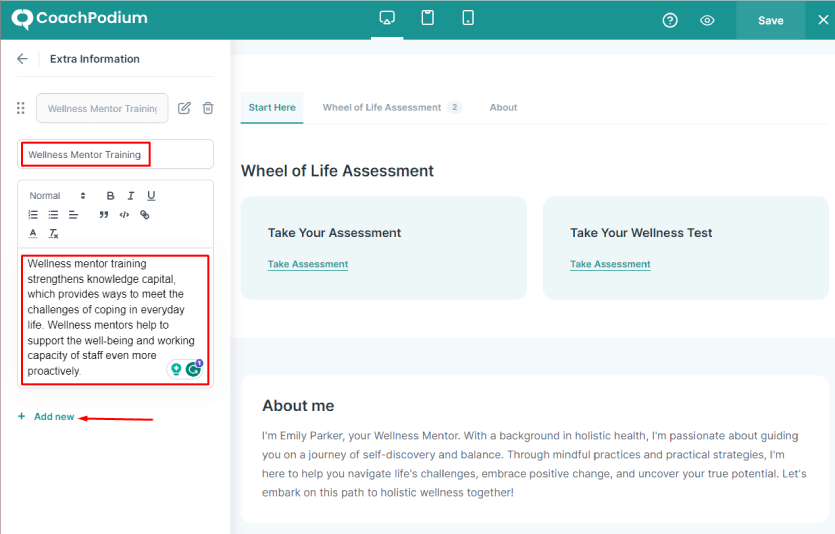 You can include any extra information you want to show in your coaching profile about your coaching expertise. You can include your area of expertise, awards and credentials, and the services you provide to your prospects.
This feature will add credibility to your coaching service. Also, you can let your prospects know what they can expect from you by adding your service offerings.
7. Testimonials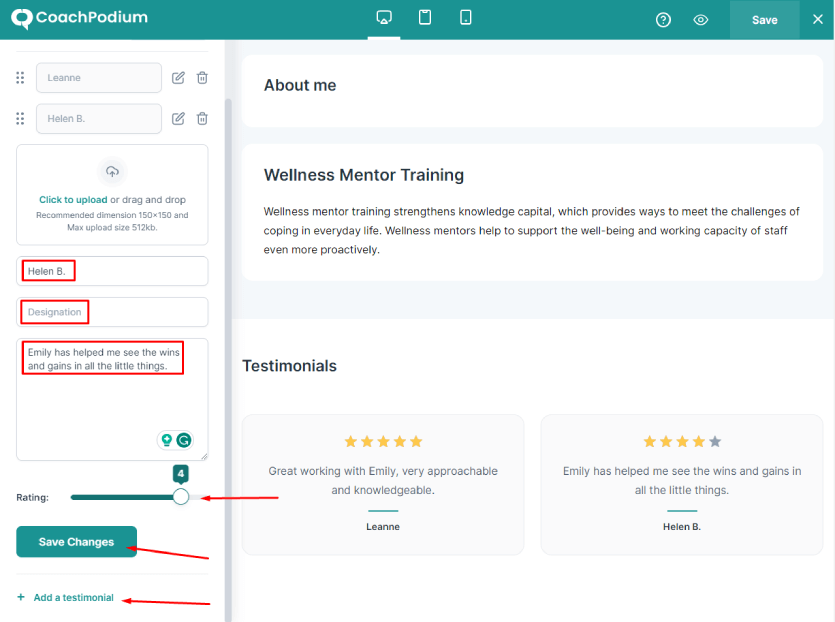 It is where you include the reviews from your past clients.
You can build trust among your prospects. You will be able to maintain a good image of your coaching service by adding good reviews from your past clients.
8. FAQs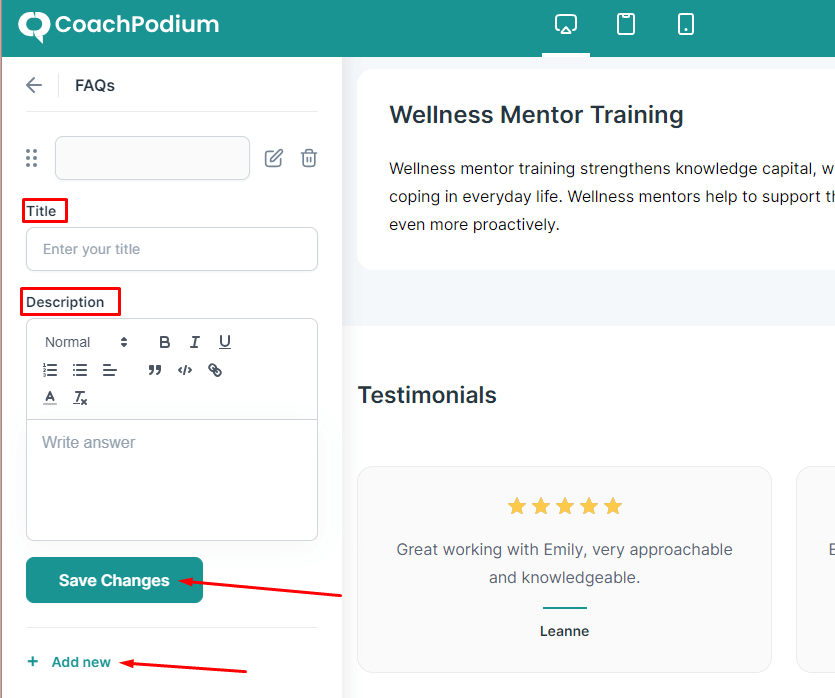 In this section, you can include frequently asked questions about your coaching practice.
It will let your prospects find out about important questions without having to browse for them separately. You can address the issues and most-wanted information in the FAQS. That way, you can let your prospects know about the information they need without having to contact you.
9. Labels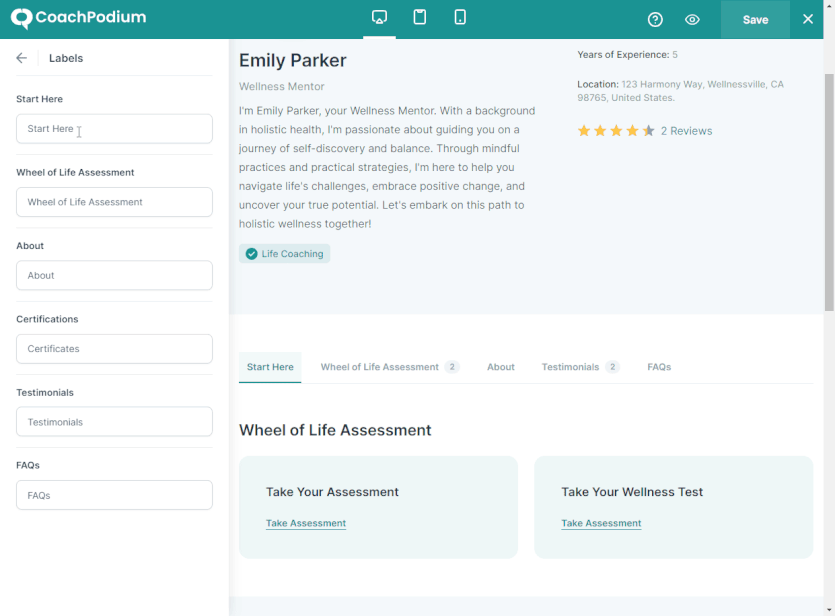 You can give different names to each section of your public coach profile. For example, if you want to change the label of the testimonial section, you can do it from here.
You can create a profile that suits your needs.
10. Public Profile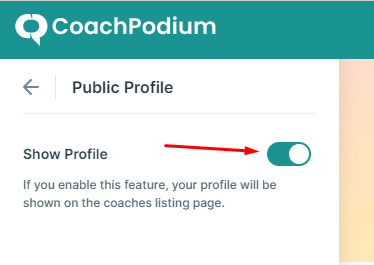 You can also display your profile on the coach profile listing page. While this option is disabled by default, you can toggle on to make your profile visible to your audiences on the coach profile listing page.
With this feature, you can boost your visibility and attract more clients.
Video Tutorial and Documentation
You can refer to the documentation on "How to Create a Coach Public Profile" for a step-by-step guide to create your public profile.
And if you want a visual guide, you can watch the following video tutorial.
Final Thoughts
You can showcase your unique expertise, nurture leads, and sell your services with this new feature. Also, you can establish an interactive online presence and grow your coaching business.
As we innovate and progress, we're excited to see you utilizing this feature to elevate your coaching career.
The CoachPodium family is here to support you every step of the way. We warmly welcome your feedback and suggestions.