Have you always wanted to help people grow personally and professionally?
If yes, you need insights into their lives to achieve this.
The Wheel of Life assessment tools give you that insight.
This tool visually represents various aspects of a person's life. These aspects include career, health, relationships, and more. You are giving power to your clients to rate part of their life. The wheel represents this part as different segments.
With the help of this tool, you're identifying your client's strengths and weaknesses in different aspects. As a result, you can set meaningful goals and track their progress.
So, let's explore how you can implement the Wheel of Life assessment tools in your coaching career. Here are the 6 best Wheel of Life assessment tools for you to consider incorporating in your practice.
Let's begin.
Explore our guide on the Best Online Coaching Platforms and elevate your coaching practice today!
How to Choose the Right Tool?
Selecting the right tool becomes paramount as you go through your coaching practice. With numerous options, making an informed decision is often difficult. We're here to make it easier for you.
Here are some factors you should look into before choosing.
1. User-Friendly Interface
A tool's intuitive interface allows you and your clients to navigate effortlessly. Thus encouraging engagement and participation.
2. Comprehensive Insights
Look for an assessment tool that provides a comprehensive life dimensions view. The more insightful and well-rounded the assessment, the more you'll guide your clients on their growth journey.
3. Integration Capabilities
If you're seeking seamless integration into your coaching practice, prioritize tools that offer integration with your existing systems. Integration makes the whole process easier for your website.
4. Flexibility and Customization
Each client is unique, and their coaching journey should reflect that. You can tailor assessments to individual needs and goals by choosing a tool that allows customization.
5. Trial Period
Many tools offer trial periods. Use these opportunities to explore the tool's functionalities and observe its effectiveness and compatibility with your coaching practice.
Remember, coaches, your role is to guide clients and select tools that amplify your coaching strength. By choosing the right tools accordingly, you're setting the stage for a transformative coaching experience.
Now that we've explored how to select the perfect tool that aligns with your coaching method and client's needs. Let's dive into a list of the best Wheel of Life assessment tools available.
1. CoachPodium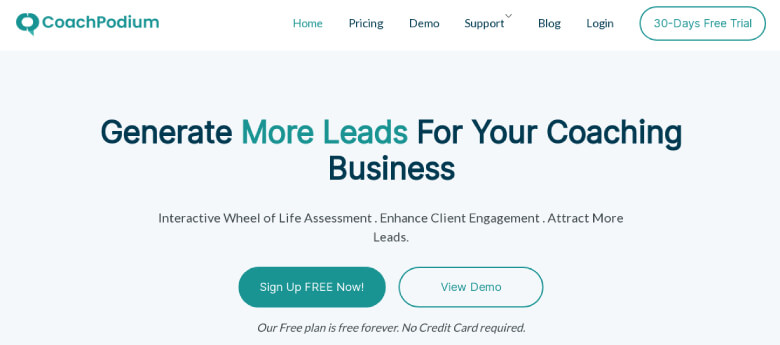 CoachPodium is an all-in-one coaching platform that aids you in your coaching journey. It helps you convert your potential clients to actual clients by utilizing leads.
Plus, it seamlessly integrates with different email marketing tools, allowing you to nurture those leads effectively.
Besides, you can create interactive Wheel of Life tests easily on CoachPodium. This interactive Wheel of Life assessment provides a seamless client-centric experience.
The tests will let your clients explore their life balance in minutes. Furthermore, you can make appropriate strategies based on the tests your clients have taken.
Moreover, this platform takes care of mundane administrative tasks, freeing up your time to focus on what truly matters. It's your trustworthy sidekick in automation. You can set it up once, and then sit back and relax while it handles the rest.
Here is an example of a Wheel of Life Assessment tool integrated into the CoachPodium coaching platform.
Key Features of CoachPodium
Interactive Online Assessment
Enrich your coaching process with interactive Wheel of Life assessments. You can create as many assessments as you want. Also, you can easily customize the assessments you created.
Customization options
With CoachPodium, you can easily make things your own. You can change the colors and design of your Wheel to match your brand. It's all about personalizing your coaching experience.
Lead Generation
During the assessment, people will provide valuable contact information that helps generate leads and change visitors into your clients. This process helps expand your coaching contacts.
Easy Integration
You can seamlessly integrate the Wheel of Life assessment tool into your website in three ways. You can do it by creating a Pop-Up, adding the direct link, or embedding code directly in your website pages.
Free Assessments
CoachPodium offers the Wheel of Life assessment for free. This means you can create an assessment as you wish and publish it. This assessment converts your potential client into an actual client with free engagement.
Strong Calls To Action (CTAs)
With the help of strategically placed calls to action on the results page of the Wheel of Life assessment tool, you can compel your clients to click on the links you want.
Sharing Made Easy
You can enable social sharing platforms for the Wheel of Life assessment. You will get exposure when your clients share their Wheel of Life results on platforms such as Facebook, Twitter, LinkedIn, and Reddit.
Other Notable Features
Coach Public Profile
The Coach Public Profile feature acts as your personal website where you can highlight your experiences and skills. In addition, you can showcase your coaching certification and put testimonials to build trust. You can also add an FAQ section to inform potential clients about you and your services.
Free Trial
CoachPodium provides a free trial without the need to give credit card details. Because of that, you'll be able to learn the workings of the platform before committing to it.
Email Marketing Integrations
With the integration of leading email marketing tools, such as Brevo and MailChimp, you can efficiently nurture clients through tailored email campaigns. Also, integration with Zapier helps you to automate these campaigns.
Troubleshooting and Support
CoachPodium comes with user-friendly documentation, making it easy for you to understand and use its features. And if you ever feel confused or stuck, their helpful support team is always ready to assist you.
Pricing:
Free or $9 /month billed annually
2. Wheel of Life Plugin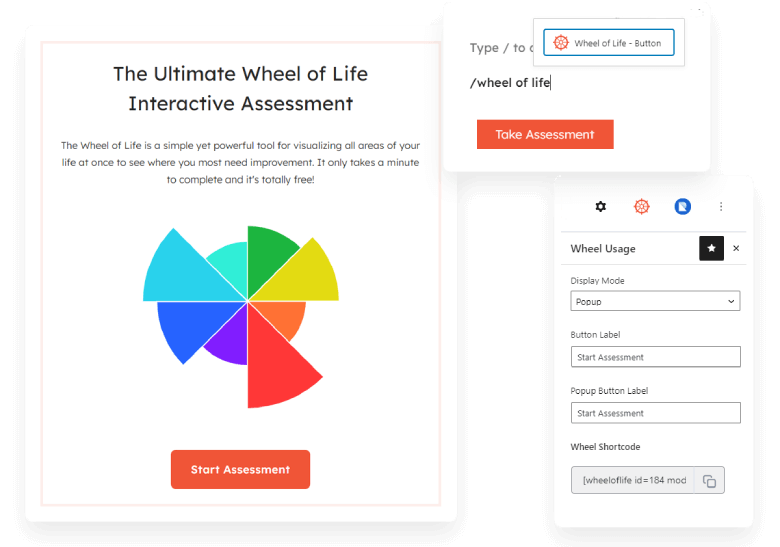 The Wheel of Life plugin can become a valuable asset if you own a WordPress website. With the integration of this plugin, you can create a personalized assessment to attract potential clients.
Such assessments promote engagement and hence capture valuable leads.
This plugin offers an interactive view of the client's life, which gives you the knowledge to make necessary strategies to help the client.
With this powerful and easy plugin, you can transform your coaching website into a powerful business.
Key Features of Wheel of Life Plugin
Endless Assessments
Create tailored Wheel of Life assessments to engage and inspire your clients. This plugin lets you create multiple assessments to explore various life dimensions. As a result, you can analyze different aspects of your client's life for a better perspective.
Tailored Customization
You can easily customize the wheel as per your requirements. For example, you have the flexibility to include numerous quiz details and modify its appearance.
Strategic Call to Action
This feature is to manage Calls To Action (CTAs). Strategically placed CTAs help to generate more leads when you put this on the result page.
Convenient Email Report
This feature allows clients to receive their assessment results via email. It builds easy reference and establishes a relationship between you and your client.
Works With Any Theme
The Wheel of Life plugin is compatible with any theme. So, you can use your favorite theme without risking the operation of this plugin.
Pricing:
Free, Basic plan – $99/year, Lifetime plan – $199
3. Quenza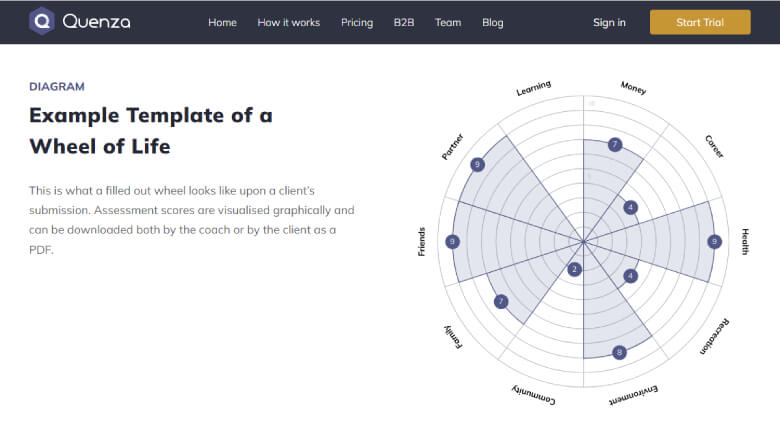 Quenza is a dynamic platform that empowers you to create personalized coaching activities and assessments to enhance client engagement. By embracing Quenza's versatile features, you can deliver tailored experiences that resonate with clients' unique goals and aspirations.
The Quenza tool works in 4 steps. The first step is to add clients, and the second is to create activities. The third step is sending those activities and pathways; the last is getting real-time results.
Key Features
Contains a rich library of pre-made content, including a wheel of life assessment tool.
Ability to send direct notifications for assigned activities, to-do lists, and reminders for overdue tasks.
Ability to track client's responses to activities and assessments.
Quenza empowers coaches with a versatile toolkit to create personalized coaching experiences that drive success. You can guide your clients according to their individual needs and aspirations.
Pricing:
Lite – $49/month, Standard – $89/month, Unlimited – $149/month
4. Evalinator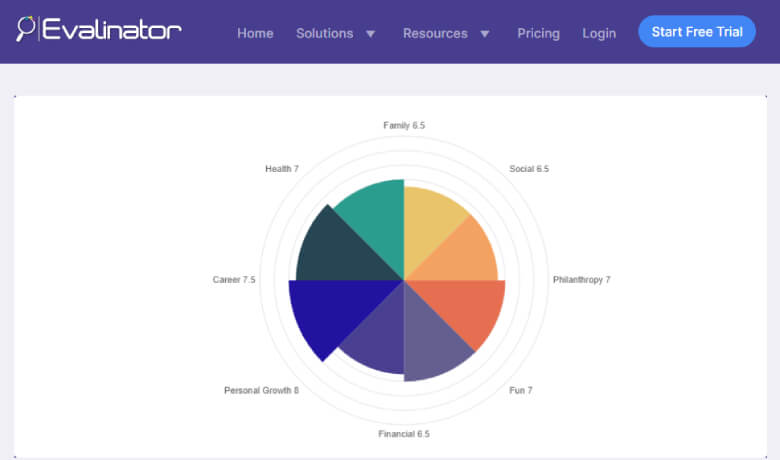 Evalinator is a robust platform for conducting in-depth assessments. This powerful tool empowers you to create custom assessments and track progress. Moreover, Evalinator's meaningful insights drive your clients' personal and professional growth.
Furthermore, you can segment your clients by age, industry, role, and many more. This segmentation provides a deeper assessment of different categories. In addition, you can create different question types for those assessments like multiple choice, sliding scale, and many more.
Key Features
Ability to create a single or multi-dimensional wheel of life assessment per your requirement.
Contains an intuitive dashboard to track results, analyze responses and uncover challenges and opportunities.
Ability to provide feedback text concerning user input rating.
Evalinator helps you to conduct insightful assessments to guide clients toward transformative growth. Elevate your coaching practice with these features and help your clients realize their full potential in life and business.
Pricing:
Starter – $6.95, essentials – $11.95, Advanced – $29.95
5. Up-Coach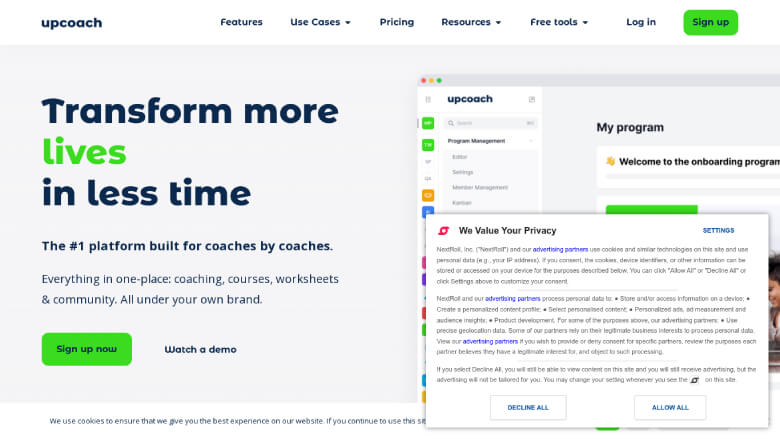 As a dedicated coach, you understand the significance of helping your clients achieve balance and fulfillment in various aspects of their lives. UpCoach's Wheel of Life assessment is a powerful tool that enables you to evaluate a client's life for growth and transformation.
Apart from this powerful tool, the design is also an attractive aspect of this platform. Its intuitive drag-and-drop builder makes it easier for you to create programs for your clients.
Key Features
Provides a well-rounded view of a client's life covering career, finance, health, family, friends, romance, fun, and personal growth.
Pinpoint areas that need improvement and develop action plans accordingly.
Analyze assessment results to customize coaching sessions and set target goals accordingly.
UpCoach's Wheel of Life assessment integrates seamlessly into your coaching approach, empowering you to guide clients toward a more balanced and fulfilling life journey.
Pricing:
Free, Basic – $29/month, Pro – $79/month
6. Goal-Life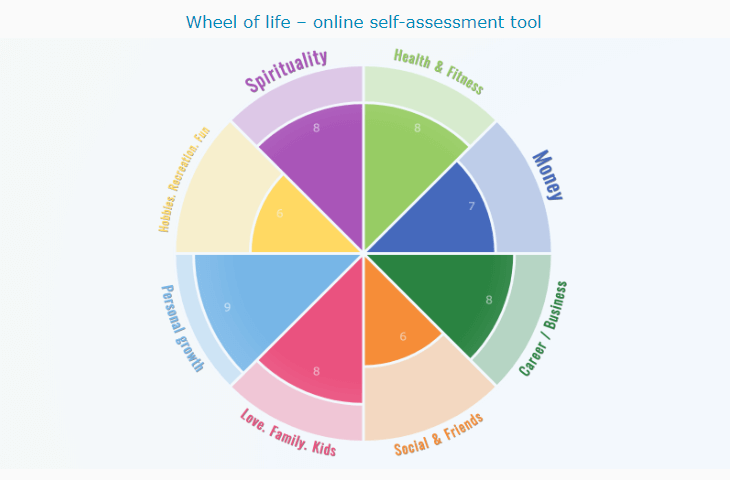 Goal-Life is an online app that can generate the wheel of life chart, which you can use for your coaching sessions. It also provides the worksheets to make the wheel of life assessment chart offline.
It is ideal if you already use a coaching platform that lacks the Wheel of Life assessment tool. This is because it provides a Wheel of Life assessment tool without complexities. You can use it with ease.
Key Features
Provides a holistic view of your client's well-being, laying the foundation for goal-setting.
Provides customizable options so that you can use it in health, career advancement, or personal growth.
Provides you with a visual representation of the strengths and weaknesses of your client.
Goal-Life, a Wheel of Life online app, can uplift the coaching journey by guiding your clients toward their goals. According to the result, this comprehensive tool helps you create an effective plan for your client.
Pricing
Free of cost.
Preferred Picks for You
If you're still having trouble selecting, we recommend you use the CoachPodium or the Wheel of Life plugin.
CoachPodium offers an interactive assessment platform that enhances the client's experience while generating leads for your coaching business. A seamless integration of email marketing tools and customizable features make CoachPodium a versatile option.
On the other hand, the Wheel of Life Plugin enhances your wordpress website to assess various life areas of your clients and helps capture leads effortlessly.
Ready to Take Your Coaching to the Next Level?
While the Wheel of Life assessment is a powerful tool, it's just the beginning. To excel in your coaching journey, you need the right platform. Explore our guide on the Best Online Coaching Platforms and elevate your coaching practice today!
Conclusion
In coaching, connection and guidance are essential aspects. The Wheel of Life tool can become the cause for it, to inspire transformation. As a coach, you're entrusted with clients' personal and professional growth, and the right tools can amplify your impact.
Furthermore, this tool helps in attracting new clients. So, take this opportunity to boost your client's growth, ultimately enabling you to grow.