Are you thinking of taking your coaching practice to the next level? If you are, building a great website can be your goal.
Building a strong online presence is an absolute game-changer for connecting with potential clients. Just imagine owning one of the best life coaching websites that not only represents your brand flawlessly but also captivates your target audience from the very first click.
A great life coaching website goes beyond just aesthetics. It effortlessly showcases your expertise, credibility, and professionalism. With user-friendly navigation and visually stunning layouts, it creates an immersive experience for visitors, ensuring they stay engaged and eager to explore. In addition, you'll love how the best life coaching websites highlight your services, testimonials, and success stories, giving your potential clients a glimpse into the transformative impact you can have on their lives.
So, for your convenience, we present to you some of the best life coaching websites that you can take inspiration from.
But first, let's know briefly about why creating a great life coaching website is necessary.
Benefits of Building A Strong Life Coaching Website
If you are ready to unleash the power of your coaching business, building a strong life coaching website can be a game-changer for your success. Let's dive into the incredible benefits that await you:
Global Reach and Visibility
Showcase of Expertise through Advanced Tools
Credibility through Professional Appearance
Engagement and Education via Valuable Blogs and Resources
Attracting Ideal Clients with Strategic Content
Streamlined Client Acquisition through Clear Calls to Action
Deeper Digital Connection with Clients
24/7 Accessibility and Client Convenience
Distinctive Branding to Stand Out from Competition
Empowering Business Growth in the Digital Age
Captivating Life Coaching Websites in 2023
In the ocean of options you can get, we have picked some well-regarded websites based on their reputation, user reviews, and areas of expertise. These websites can guide both consumers and life coaches.
Business Coaching Websites
The business-coaching websites work to provide people wanting business advice and guidance with qualified coaches to enhance their business. Various websites have proven their excellencies.
With the help of this advice, entrepreneurs and successful businesspersons have excelled in their respective fields.
Here are some popular business-coaching websites that can help you if you want to grow your business.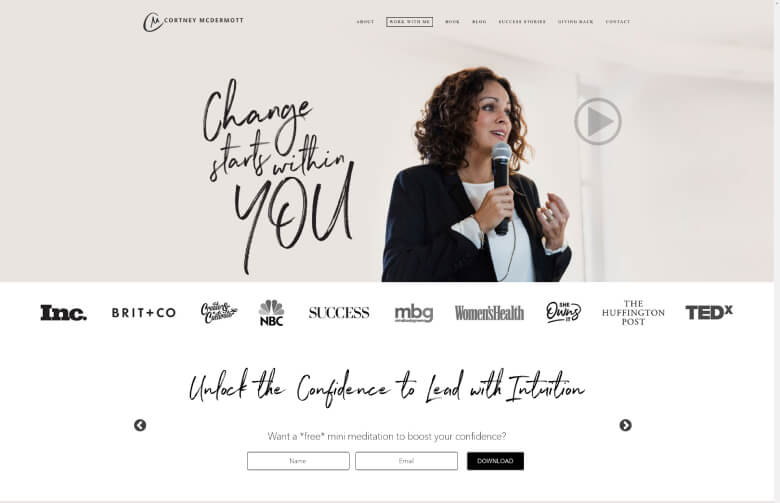 It is an esteemed business-coaching website that empowers individuals and organizations to reach new heights of success. Led by the renowned coach and author Cortney McDermott, this platform offers a wealth of resources and guidance for those seeking to transform their business and personal lives.
The website offers choices of keynote speaking, C-Suite training, one-on-one training, and press and promotion.
Cortney McDermott's website has abundant materials to help you on your journey, whether you're an experienced business professional, an aspiring entrepreneur, or looking for personal growth.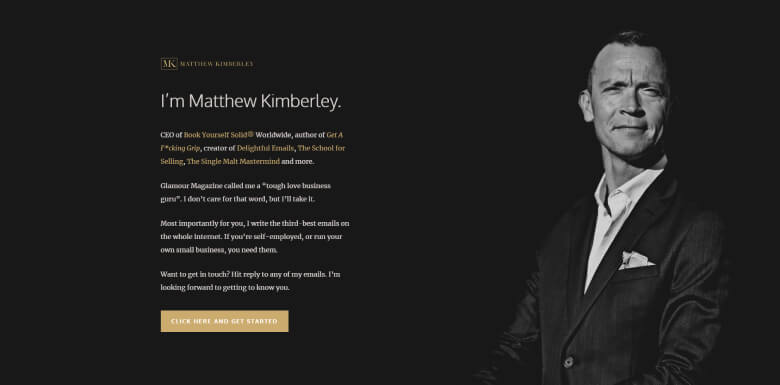 The website is a hub of knowledge and resources for business owners and salespeople wishing to advance their professional abilities. Matthew Kimberley offers helpful thoughts, techniques, and resources to support people in expanding their businesses and improving their sales effectiveness, with a focus on sales and marketing.
When you visit the website, you may anticipate discovering a lot of helpful content, such as blog entries, articles, and resources that address a variety of subjects.
In addition, through the website, Matthew Kimberley might provide programs or coaching services to help entrepreneurs on their business path. These coaching services may include private coaching, group programs, or workshops to assist people in enhancing their sales abilities, streamlining their business operations, and overcoming obstacles.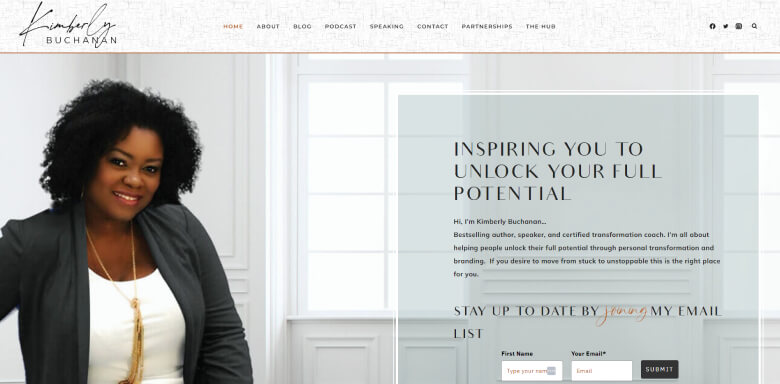 The business-coaching website of Kimberly Buchanan is like entering a mine of chances to shine. You'll come across a surprising feature, an interactive quiz that, absolutely free of charge, reveals your hidden talents and gifts. This enjoyable and educational event prepares you for your transforming journey.
But there's more! Each article on the website has a wealth of knowledge that will stoke your enthusiasm, motivate you, and help you succeed. In addition, through the integrated social network icons, you may quickly contact Kimberly by clicking, making contact simple.
You'll come across an expertly designed About page as you browse the website, which gives you a close-up look into Kimberly's dynamic personality. In addition, the website provides profound insights into her coaching methodology, making you desire to travel the path of growth and success with her.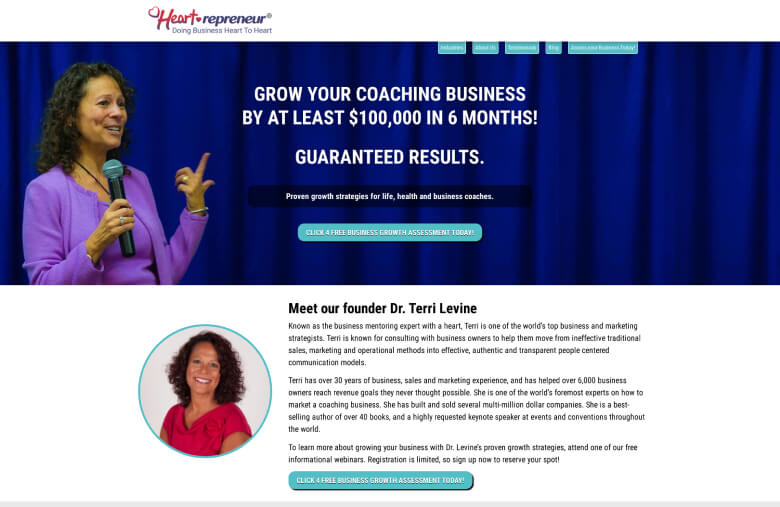 The website for business coaching from Heartrepreneur, owned by Terri Levine, is a doorway to revealing your company's full potential. You'll be given a clear understanding of how Terri and her team can empower you and take your company to new heights of success as you browse the website. You are reassured that you are at the proper spot by the message's clarity.
A glance at the event calendar will keep you informed of the most current opportunities. You'll be in the front row for Terri's engaging events, whether workshops, webinars, or speaking engagements.
You can explore the vast menu to uncover a wealth of information to support the expansion of your business. Also, you can immerse yourself in the blog, radio shows, and magazine articles, all of which have been carefully chosen to offer insightful information, practical advice, and motivation. Case studies and video testimonials that highlight the actual results Terri has assisted businesses with further bolstering Terri's reputation.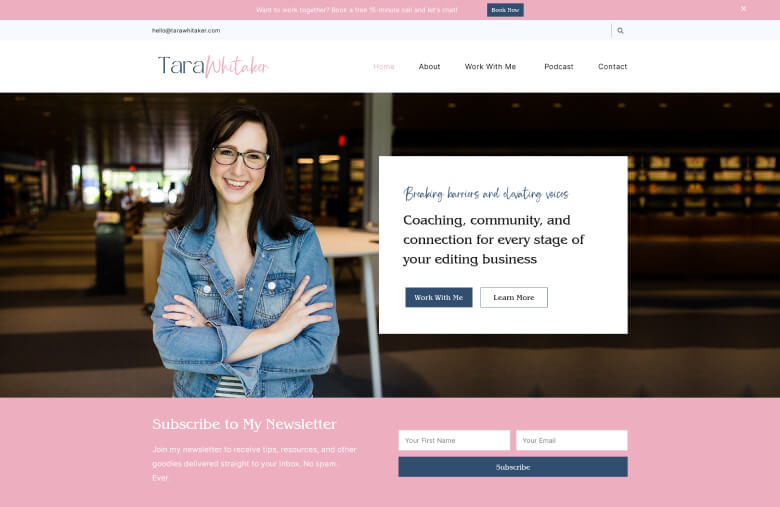 Book editor and business coach Tara Whitaker chose to bring changes in the lives of many freelance business owners with her extraordinary website. After getting tired of her regular 9-5 job, she became a writer and editor. Furthermore, with experience, she decided she could become a medium for change for many.
Her website is a blend of aesthetic vision to informative content. If you go through the website, you will get an insight into her expertise, values, and morals.
Whittaker believes in giving and taking help to enhance one's living standards. And her association with a unique WP theme like Blossom Theme is proof of it.
Aside from the websites mentioned above, plenty of other business-coaching websites offer you excellent services. Some are EMyth, Score, Vistage, Jamie Mason Cohen, etc.
Health Coaching Websites
Whether it is your mental health or physical, health-coaching websites assist you with necessary guidance, blogs, books, and many other facilities. There are plenty of these websites running in the market.
The following are some tremendous health-coaching websites to get you through the issues related to your physical and mental well-being.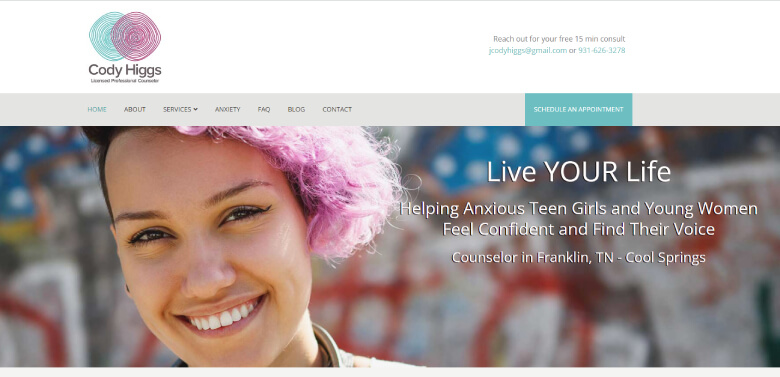 Cody Higgs' website welcomes you with a friendly image that reflects his sensitive approach to his office from when you arrive. The website's great FAQ section stands out since it responds thoughtfully to the most pressing inquiries, ensuring clarity and peace of mind.
Cody Higgs is a superb therapist who guides teenagers and young adults through anxiety. A secure and open environment for growth is fostered by Cody's important counseling services, which are customized to youth and the LGBTQ+ community.
Since the contact email and phone number are prominently on the homepage, getting support is simple. A handy connection to Google Maps also makes navigation simple, removing any needless worry when locating the therapeutic place.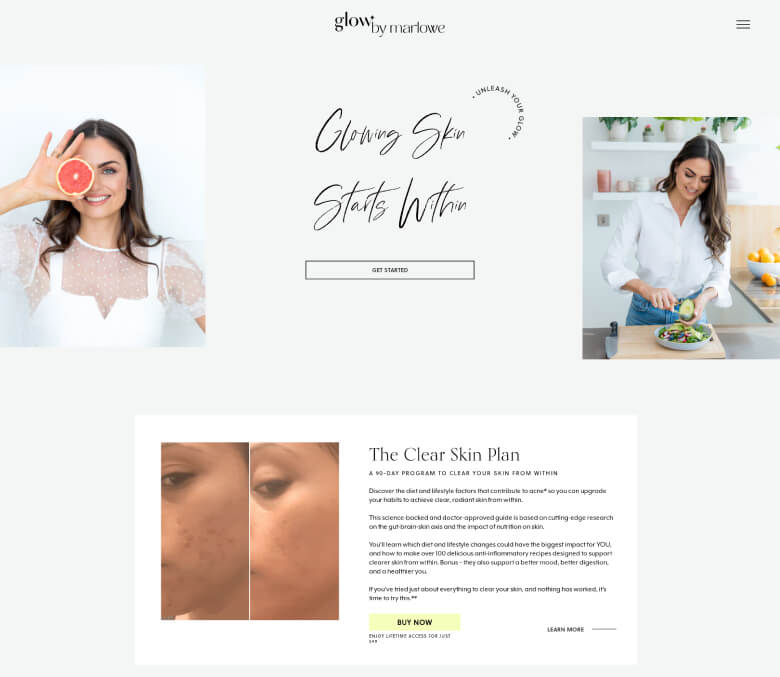 Maria Marlowe's website radiates beauty and elegance from when you land, reflecting the enriching journey ahead. The lengthy menu entices you to peruse its abundance of options. You can enjoy a variety of delectable blends on the recipe page specifically dedicated to satisfying your appetite. But it goes further than that! You can also discover a kitchen shopping and grocery guide that will give you the knowledge you need to make wise decisions and build a healthy environment.
These priceless tools are accessible to you for free and act as virtual companions to help you find answers to your most critical issues.
But Maria's knowledge goes beyond just health coaching. She provides coaching and mentorship, assisting people in realizing their full potential. She has also created a well-known health coach training program, imparting her expertise and fostering the next generation of wellness leaders.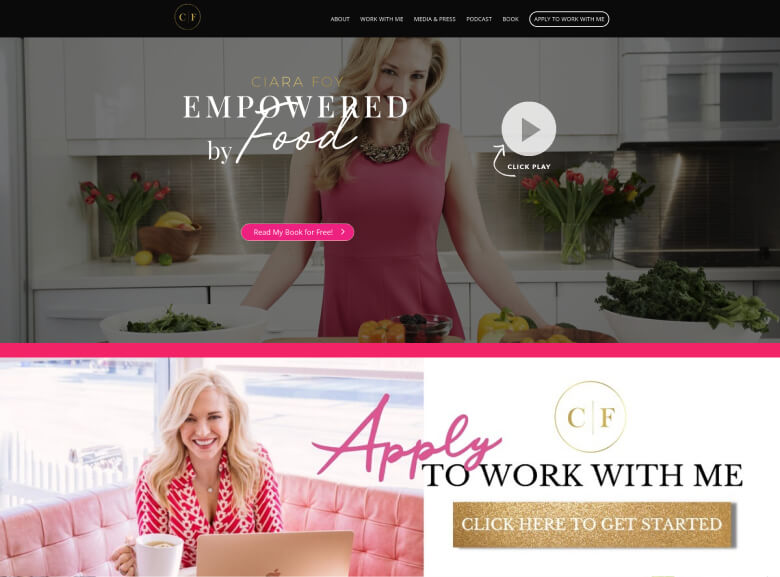 With a profound understanding of the vital connection between well-being and performance, Ciara Foy uses her website to guide individuals to unlock their full potential across all areas of life.
As you delve into Ciara Foy's website, you'll discover an array of offerings designed to empower and uplift. Whether you prefer the camaraderie of group coaching or the personalized attention of individual programs, Ciara caters to your unique needs, ensuring a transformative experience.
On the homepage, you'll find a collection of heartfelt testimonials, a testament to Ciara's transformative impact on others' lives. These testimonials serve as beacons of trust, allowing you to take a leap of faith and confidently embrace the journey.
You can also experience the abundance of free health tips and resources Ciara offers. In addition, she generously shares her expertise and wisdom, from engaging articles to captivating podcasts, ensuring you have the tools and knowledge to embark on your path toward optimal health.
This certified health coach specializes in helping people with ADHD. Through her website, she has brought changes in people's lives significantly. The website is a perfect fit for high-achieving ADHDers.
The website is informative and lets you know what the coach offers. Moreover, with the contact details on the website, reaching out is remarkably more accessible.
The theme used in creating the website is commendable too, as the consumers can find any information they require on the homepage.
Besides these, many other websites can help your health and wellness. Some are Prime Health Coach, Motherhood Unstressed, Beating Trauma, Precision Nutrition, etc.
Career Coaching Websites
With many options to pursue your career, you might need clarification as to which career path to choose. Moreover, even after choosing something you might want to work on, deciding how to excel might be difficult.
In those times, career-coaching websites come in handy with their approach to helping people make wise decisions regarding their careers.
We have listed some of the best career-coaching websites to help you with issues related to your career.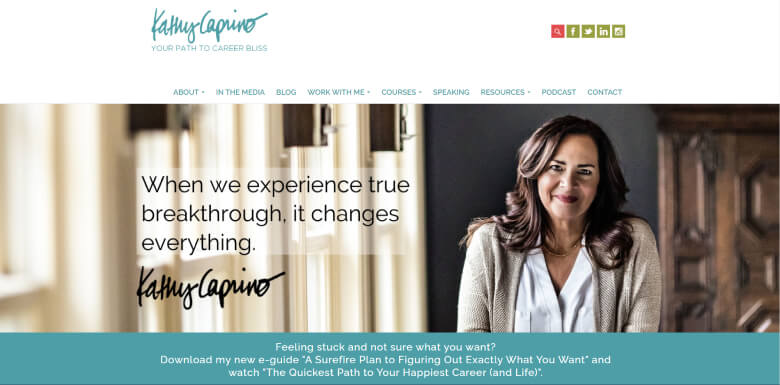 When you first visit Kathy Caprino's career counseling website, her friendly and welcoming profile welcomes you and immediately fosters a sense of connection. In addition, you can find a dedicated page where she explores the various ways she can help you succeed while giving you a thorough rundown of her experience and services.
With social networking buttons at the top of the menu bar, getting in touch with Kathy and benefiting from her revolutionary coaching is simple. The days of having difficulty locating contact information are long gone; today, you may quickly get in touch and start your path to success.
A quiet call to action persists, encouraging you to continue your plans. It's an invitation to realize your potential, take advantage of chances, and discover the incredible potential that resides inside.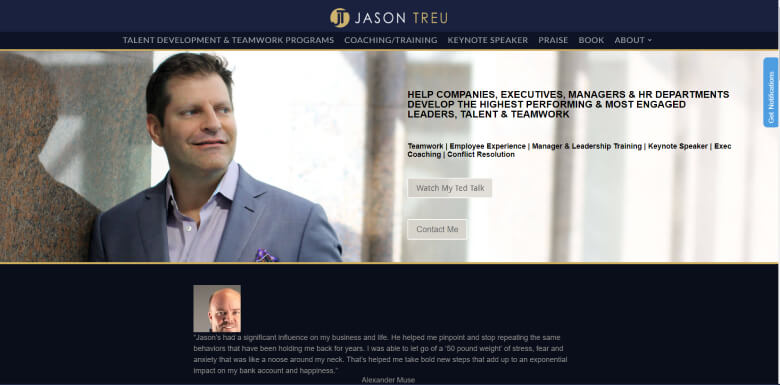 Jason Treu, a leading career coach with a wealth of experience, has helped companies like Apple, Amazon, and Google with career coaching. With an impressive track record of training CEOs, executives, and managers, Jason brings his expertise to life through his unique coaching website.
You can explore the website and uncover a captivating introduction that encapsulates his purpose and provides easy access to contact him. In addition, the well-structured menu ensures effortless navigation, allowing you to explore a wealth of resources and services.
Real-life client stories on Jason's website serve as powerful testimonials, instilling trust and curiosity in you. As a result, you'll realize the potential for your growth and success.
You can unlock your true potential, overcome obstacles, and achieve unprecedented career success with the help of this website. Jason Treu's coaching website is your gateway to a future filled with growth, fulfillment, and meaningful accomplishments.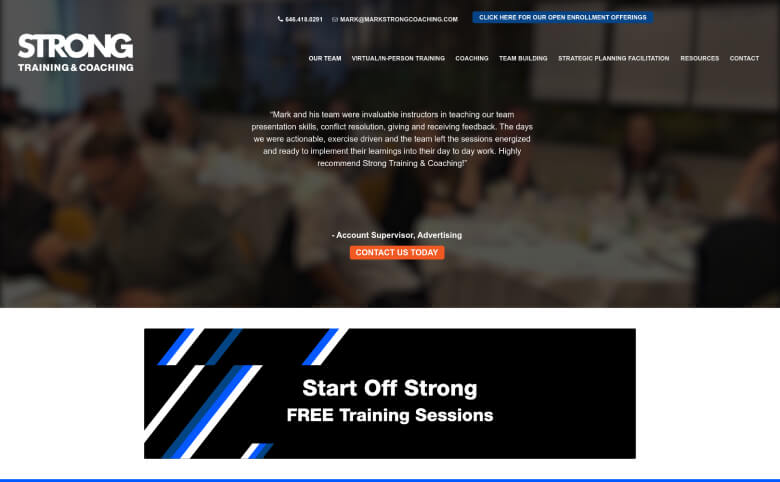 Through his website, Strong Training and Connection, CEO Mark Strong is working to enable people to reach their best potential at work.
The career counseling website provides essential tools that make it simple to start your professional development journey. Contact information, including phone numbers and email addresses, is immediately available when you visit the website, allowing accessible communication.
The homepage gives you a clear picture of their extensive programs and a taste of the opportunities waiting for you. In addition, you may quickly check the profiles of the team's 12+ qualified coaches to find the best match for your coaching requirements.
The website has an eye-catching slideshow of clients they have worked with successfully, giving visitors hope in their capacity to affect positive change. Their resource page is also a gold mine of priceless information, with anything from enlightening blogs to instructive news stories and fascinating movies.
You will receive professional direction and assistance from Mark Strong and his passionate team at Strong Training to improve your work performance and succeed in your career.
Apart from these websites, many others are dedicated to uplifting people's lifestyles. These websites have their niches leaving consumers to decide what they want.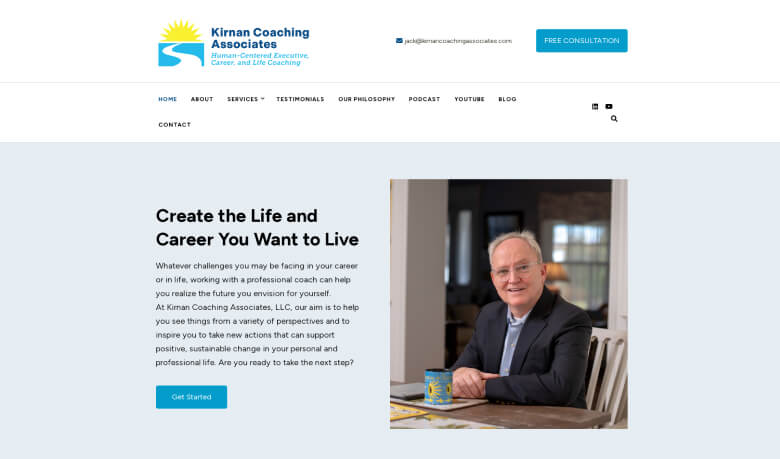 Jack Kirnan, a certified executive, leadership, and career coach, uses his website to help consumers with the need to climb the ladder in their careers.
On the homepage of his website, you can see why one should choose him as a career coach. Moreover, one of the best parts of his website is that he has a video mentioning a great theme to enhance their website for anyone wanting to get into the coaching business.
It shows the confidence of this person and why he is trustworthy. You should go through his website to find out more about him. For your ease, there are blogs, videos, podcasts, and contact information.
Other popular websites working on empowering people's lives are Optify, Building Champions, SmartTribes Institute, and so on.
Factors To Consider When Building The Best Life Coaching Website
As you know the benefits of building a strong life coaching website, you should now know that including certain things make your website a great catch. Following are some of the great factors to consider when setting up a great website.
1. Qualifications and Credentials
In this unregulated industry, one with the credentials to become a life coach and impact someone else's life is very important.
Therefore, as a life coach, you should understand that your client's search for websites that include certified coaches that have undergone the necessary training and gained certification from respected coaching organizations. You can include your credentials to make sure that your clients find who they are looking for.
2. Coaching Approach and Specialties
As someone providing professional help, you can ensure that the area in the lives of your clients that they need to improve must align with the life coach you are delivering.
The creation of the best life coaching website can be facilitated by disclosing the coaching methodology and approach employed by the website and its coaches. Then, help seekers assess whether your strategy fits with theirs and whether you have expertise in fields related to their objectives (such as job coaching, relationship counseling, or personal development).
3. Experience and Track Record
After being satisfied with the credentials and the specialties of the life coaches consumers find on the best websites, the next thing they look into is your experience and track record.
They can do that by evaluating the experience level of the life coaches connected to the website.
So, it is wise to display your track record and success stories so that consumers can judge your capacity to provide effective coaching and generate favorable results.
4. Client Feedback and Reviews
Well, I am sure you analyze the user reviews even for buying a simple accessory. So, deciding on the proper life coach and life coaching website without carefully analyzing their reviews is out of the question.
Using the website's coaching services, clients can check client testimonials and reviews to learn more about other people's experiences. For this, as a website owner, you can include positive feedback highlighting your achievements as successful life coaches. Feedback can reveal essential details regarding the caliber and success of coaching services.
5. Available Services and Programs
In the process of building a strong website, it is the best step to include the range of services and programs the website offers and determine if they provide the specific type of coaching or support your clients are seeking: one-on-one coaching sessions, group programs, workshops, or online courses.
6. Cost and Value
Everything has a price in this generation. Services related to life coaching have their rates. And, you, as a life coach, should get the value of the time and expertise you invest.
You can make the pricing structure of a website's coaching services transparent and let your users decide if it fits their budget before selecting the best website. Then, considering the coaches' experience and the tools offered, the right clients will choose to get associated with you.
7. Accessibility and Communication
The next important thing to remember is if you and your potential clients can agree on the means of communication.
So, you can be clear about your availability on the website and determine the preferred communication methods (e.g., phone calls, video calls, email). This will help your clients get clarity and decide if your availability aligns with their preference.
8. Ethics and Professionalism
Your moral principles and professionalism are what serious clients look for when searching for the best-life coaching websites for them.
You should ensure your clients can easily look into the website's commitment to moral principles and professionalism. To ensure high integrity and client confidentiality, websites that abide by the rules of ethics of recognized coaching associations are considered ideal.
9. Informative and Attractive Theme
While all the above-mentioned factors are extremely important when building a great life coaching website, using a great theme should be prioritized. It is because a good theme keeps coaches away from having to worry about tedious tasks of managing the website. A great theme does most of the work for you.
Hence, here are some great coaching themes that can help you along your journey of creating a great website.
Best Coaching Themes For the Best Life Coaching Websites
When it comes to life coaching, a good website handles most of the heavy lifting. Your website is the first point of contact with potential customers.
Equally important for a successful website is using the right kind of theme. And with the right design, it will suit visitors and potential customers.
The finest life coaching websites attract thousands of visitors every day. The cornerstone of any excellent website is an attractive home page that efficiently directs visitors to any other part of the site they might be interested in exploring.
Just about anybody with a popular website will tell how important it is that you have a well-designed theme. And if you're attempting to work out to improve your website, hold on.
Here are a few of the best options for your website's theme.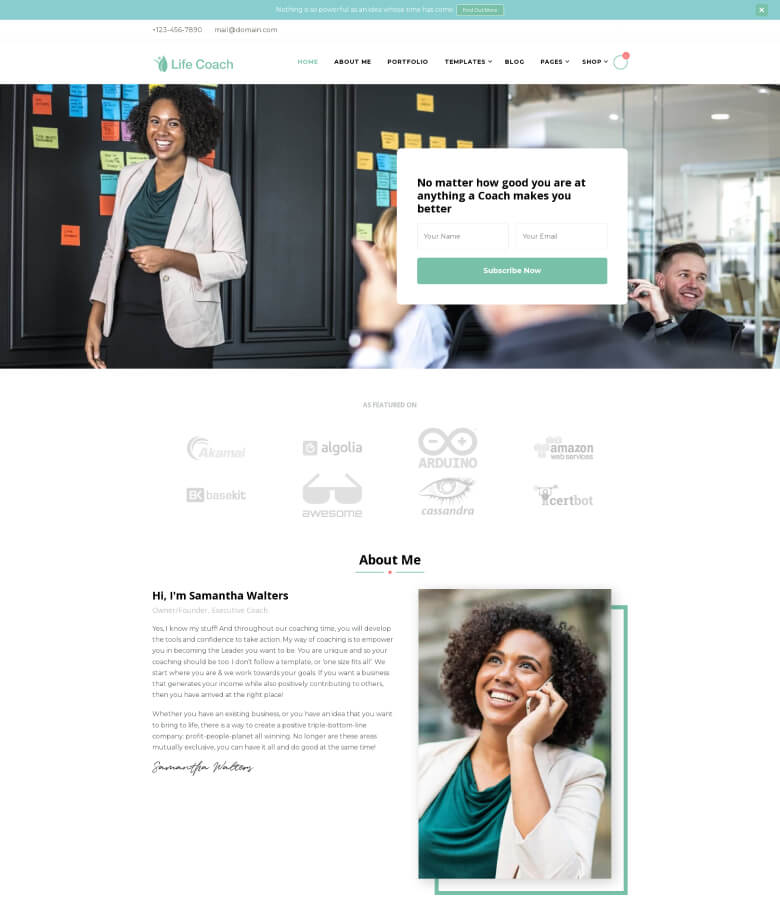 Blossom Coach Pro is there for you if you want to quickly and easily create a high-quality website. It is an all-inclusive coaching theme to help coaches grow and manage their businesses more efficiently. It gives coaches all the tools they need to keep track of their clients, sessions, and resources with ease, thanks to its comprehensive set of features and user-friendly design.
Coaching sessions, client progress, and client data can all be managed within this centralized system. Blossom Coach Pro also allows coaches to save time on paperwork by providing editable examples of coaching packages, contracts, and invoices.
The platform also features a client site where users can log in to submit work, contact their coach, and have access to the platform's many features. Blossom Coach Pro's intuitive interface and powerful features accessible up coaches to do what they do best.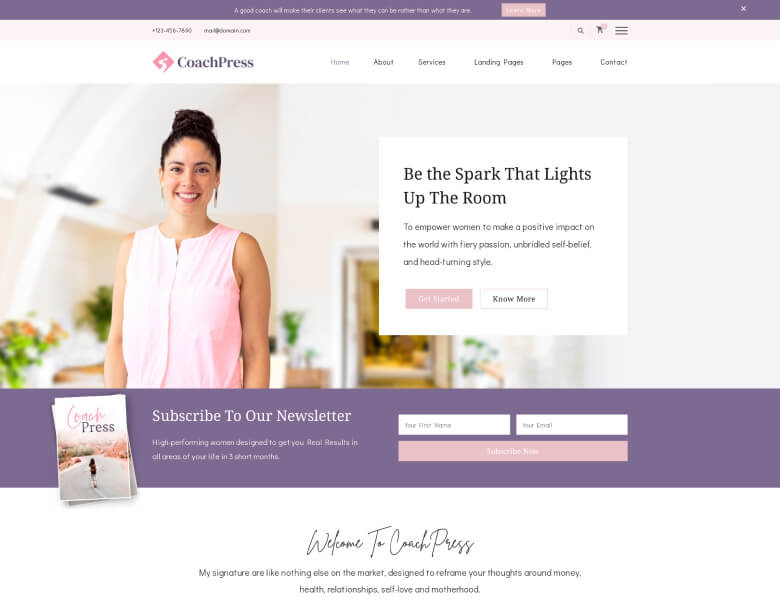 If you're a coach looking to build a robust online presence and connect with your clients, look no further than Coachpress, a flexible and powerful coaching theme. With Coachpress, coaches don't need coding skills to make a beautiful, fully functional website for their coaching business.
The platform provides coaches with a wide variety of professionally designed templates and easy-to-use drag-and-drop capabilities, allowing them to present their skills, offerings, and client feedback in an engaging and accessible way.
The platform also includes:
Search engine optimization (SEO) capabilities to increase exposure online.
Blog features to disseminate ideas and material.
Social media integration to reach and engage a wider audience.
Coachpress's robust capabilities and intuitive design allow coaches to build a strong brand online, attract new clients, and expand their businesses quickly and easily.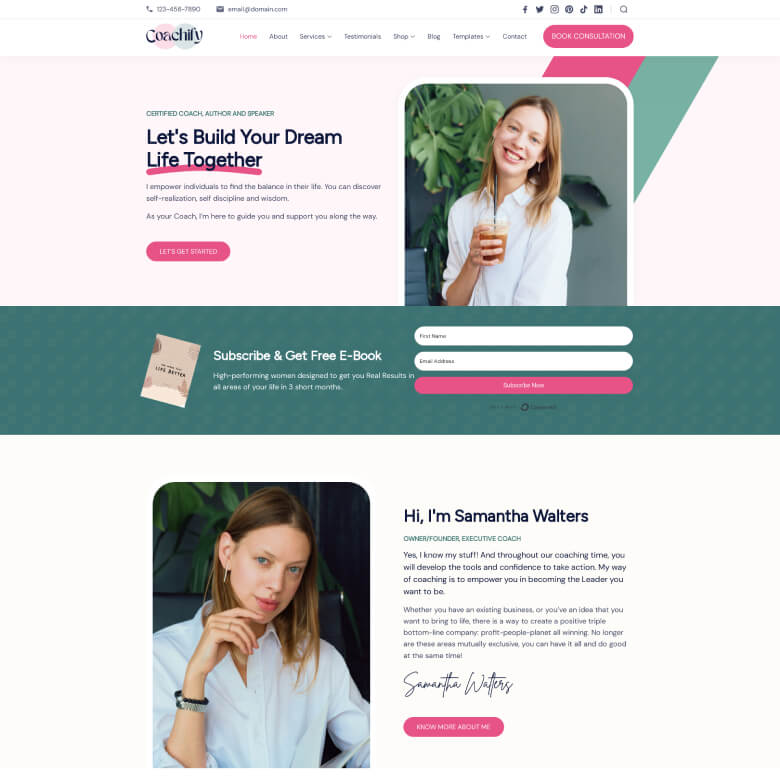 For coaches, mentors, business owners, and consultants, there is no better WordPress theme than Coachify. Coachify's robust capabilities and intuitive design make promoting your services easy, building rapport with your target audience, and turning site visitors into paying customers.
Your site will do well in search engine rankings thanks to the theme's attention to SEO and other fundamentals of a well-designed website.
Coachify also focuses on providing the best possible customer service by delivering user-friendly tutorials and thorough documentation to help you create a professional website from the ground up.
Coachify simplifies the process of creating a high-quality coaching website.
CoachPodium
CoachPodium is an all-inclusive system that completely alters how you conduct your coaching business. Increased productivity, strengthened client connections, and an influx of new leads is how CoachPodium may help you become the most successful coach you can be.
Your clients can be managed in one location, and their profiles, actions, and progress can be monitored and streamlined. If you take the time to get to know your customers, you can provide them with more tailored service and win and keep their loyalty. In addition, the coaching process is simplified with CoachPodium's help because it automates client management, evaluations, and promotion.
You may increase your lead generation, improve your client management, and provide valuable resources for your client's success and professional development all through the platform.
Conclusion
In conclusion, the best life coaching websites cater to various requirements and interests, whether someone is looking for advice on relationships, professional success, attitude, or general well-being. Thanks to the diverse coaching styles, specialties, and approaches available, you, as a life coach, can create a great website highlighting your particular speciality and procedure to help your clients.
When creating the best life coaching website for you, keep in mind to take into account elements like your reputation as a coach, customer testimonials, available resources, and user-friendly interfaces. The top life coaching websites will enable help seekers to unlock their inner powers, overcome obstacles, and live a more meaningful and rewarding life.
Finally, since people needing life coaching surf through the best life coaching websites, identify the advice that speaks to them, and take advantage of their encouragement and inspiration, you, as a life coach, should ensure they find every information they need on your website.