Do you want to start your career in life coaching or upgrade your existing career?
Life coach certification programs help you to achieve that goal. Having certification gives you a competitive advantage in the life coaching market.
You may be curious about how this program helps you excel in your career or what programs you should enroll in for better outcomes. Enhancing your credibility is one of many such reasons to get certification.
This article helps you to choose a suitable certification program to advance your practice.
Let's start with briefly listing why life coach certification is essential.
Reasons for the Life Coach Certification Program
Here are some reasons why you should go for life coach certification programs.
Ensures a certain level of competency and ethical practice
Provides industry recognition
Gives you an advantage in a competitive market
Offers specialization tracks to fine-tune your expertise
Helps you for global reach with international clients
Levels of Certifications
Many coaching institutes create their program to target three types of certification. The certification you need depends upon your experience and education hours.
Associate Level (ACC)
This level typically signifies a foundational understanding of coaching principles and techniques. It's a starting point for those new to coaching. This level requires 60 hours of coach-specific education and 100 hours of client coaching experience.
Professional Level (PCC)
This level indicates a higher level of coaching competence. It also signifies an extensive understanding of coaching methodologies and practical experience. For this certification, you need 125 hours of education time along with 500 hours of coaching experience.
Master Level (MCC)
This highest certification level signifies advanced coaching skills, extensive experience, and a deep understanding of coaching theory and practice. You need professional certification (PCC) plus 200 hours of education and 2500 hours of coaching experience.
Evaluation Criteria for Certification Programs
Evaluating life coach certification programs is crucial in choosing the right program that aligns with your goals, values, and aspirations. Here are some key factors to consider when evaluating certification programs.
1. Accreditation and Recognition
Look for programs that reputable coaching organizations such as the International Coach Federation (ICF) or the Center for Credentialing & Education (CCE) accredits. Recognized programs ensure that you're receiving quality training.
2. Curriculum and Content
Review the program's curriculum and content. It should cover core coaching principles, techniques, ethics, and practical skills. Ensure that the content aligns with your learning goals and coaching aspirations.
3. Faculty and Instructors
Research the qualifications and expertise of the program's instructors. They should possess a strong background in coaching theory and practice.
4. Practical Experience
A good program should provide opportunities for hands-on coaching practice with real clients. Practical experience is essential for honing your coaching skills and building confidence.
5. Duration and Format
Consider the program's duration, format (in-person, online, hybrid), and flexibility. Choose a program that fits your schedule and learning preferences.
6. Client Feedback and Testimonials
Look for reviews, testimonials, and feedback from past participants. Positive feedback from coaches like you who have completed the program can provide insights into its quality.
7. Cost and Value
Compare the program's cost with the value it offers. Consider the price and quality of training, practical experience, and potential return on investment.
Take your time to thoroughly research and check various programs before deciding. You should consult with current coaches, attend informational sessions, and ask questions. Thus ensuring your chosen program aligns with your certification journey.
Top Life Coach Certification Programs
We have compiled the best life coach certification programs that will help you advance your coaching career.
1. Health and Life Coach Program
By Health Coach Institute (HCI)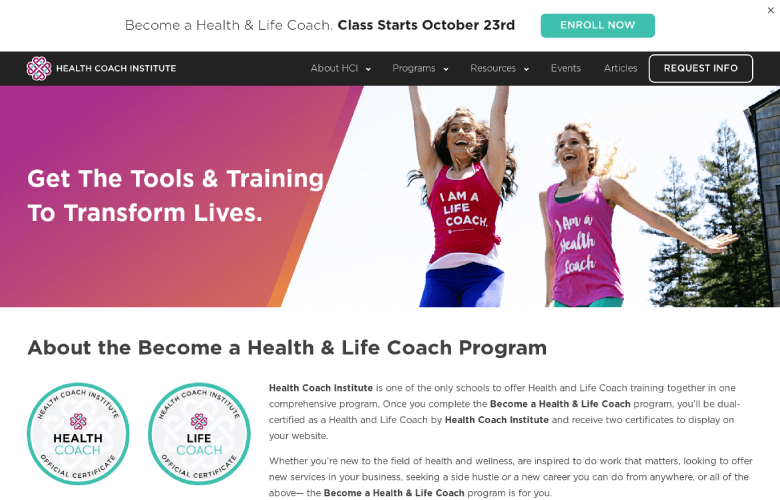 The Health and Life Coach Program by HCI presents a comprehensive journey toward becoming a Health and Life Coach. This program offers engaging opportunities for growth and development. It is a 6-month online program with an emphasis on experiential learning.
Beyond certification, participants access a supportive community and resources that promote learning. Whether you're stepping into a new career or enhancing existing skills, this program offers a good foundation for making a positive impact.
Key Features
Guidance from expert coaches with over 32 years of experience.
Integration of behavioral science to plan impactful coaching.
Personalization and versatility to get adaptable skills.
Engagement with the dynamic learning experience.
Duration: Dual Life and Health Coach – 6 months
Method of Delivery: Online
Pricing: One-time Payment – $5,950, 7 payments – $921 each
2. The Certified Coach Program
By Coach Training Alliance (CTA)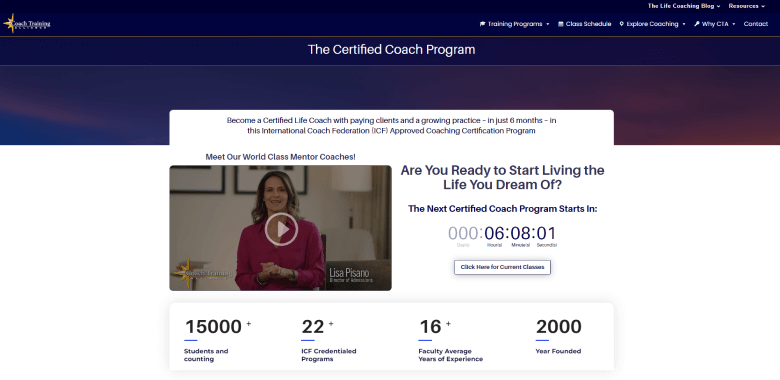 Approved by the International Coach Federation (ICF), The Certified Coach Program helps to cultivate a rewarding coaching practice within 6 months. You'll be able to make a meaningful impact as you build practical skills with real-world coaching scenarios.
Through a combination of live teleconferencing, interactive software, and online resources, you'll engage in diverse learning experiences. This program includes group mentoring, self-paced study, and hands-on coaching practice.
Key Features
Guidance from experts to ease learning from different tools, techniques, and models.
Engagement with the community for interactive discussion, resource sharing, and support.
Exploration of comprehensive learning materials to deeply understand coaching principles and practices.
Duration: Certified Coach Program – 6 months / 75 hours
Method of Delivery: Online
Pricing: One-time Payment – $3,897, or in parts of 3, 7, or 9.
3. Coaching 101 and Coaching 102
By Certified Life Coach Institute (CLCI)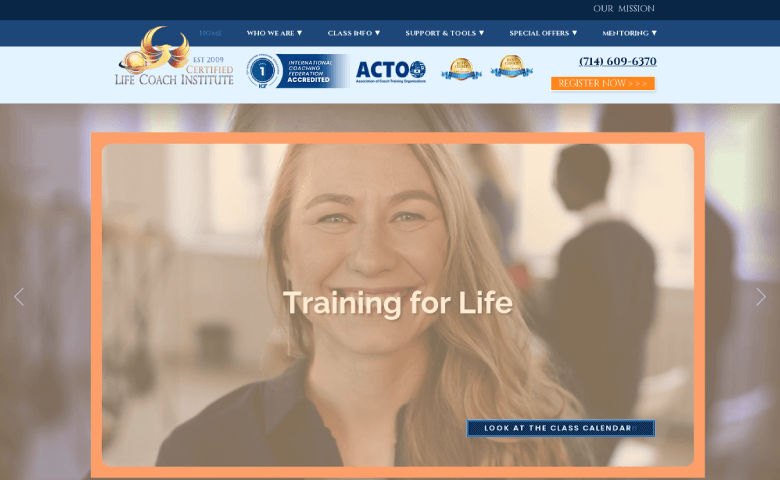 The Certified Life Coach Institute is a renowned organization established in 2009. It delivers exceptional coaching education and certification with experience of over 14 years. It is also a leading ICF Level 1 training provider, cultivating a network of impactful coaches who are changing lives worldwide.
Rooted in empathy, expertise, and effectiveness, CLCI offers personalized training. This process prepares you for a successful coaching career. Their team of professional facilitators ensures a well-rounded learning experience.
Key Features
Ensures participant's growth and development by allowing classes of small sizes.
Coverage of a broad coaching niche, including career, health, etc.
Guidance in business and marketing insights to effectively build and expand your coaching horizon.
Access to the resources, live discussions, blogs, and continued education opportunities.
Duration: Coaching 101 – 3 days / 33 hours, Coaching 102 – 3 days / 37 hours, Both – 6 days / 70 hours
Method of Delivery: Online
Pricing: Coaching 101 – $995, Coaching 102 – $1,295, Both – $1,995
4. Life Coach Certification Program
By Institute for Professional Excellence in Coaching (iPEC)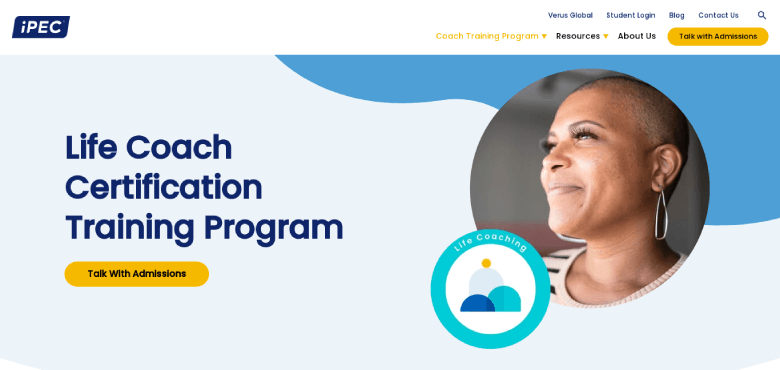 iPEC Coaching offers a comprehensive journey to become a proficient life coach through its ICF Accredited Coach Training Program. With the belief that each individual has untapped potential, the Life Coach Certification Program provides coaching techniques for self-discovery and empowerment.
The program consists of two phases. Phase one includes certification in Core Energy Coaching™. Whereas phase two offers specialization programs. Flexible schedules, ICF accreditation, and comprehensive resources empower you to guide your clients to personal transformation.
Key Features
Specialization in life coaching, executive coaching, health and wellness is also available.
Graduation with triple certification.
Presence of highly trained trainers for consistent deliverance of curriculum in high quality.
Offers different learning environments and settings like in-person and virtual modules.
Duration: Life Coach Certification – 10-12 months / 320 hours
Method of Delivery: In-person or online
Pricing: One-time Payment – $13,995, or Multiple Payment Options
5. ICF's Associate and Professional Certified Coach
By The Institute for Life Coach Training (ILCT)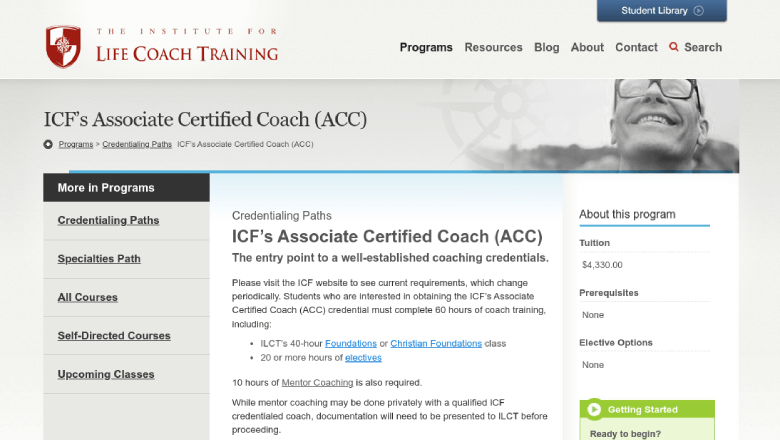 The Institute for Life Coach Training is a respected institution known for cultivating proficient and compassionate life coaches. ILCT empowers personal and professional growth through comprehensive coaching programs. This growth helps promote positive change in clients' lives.
ILCT's faculty consists of experienced certified coaches who serve as instructors and mentors. Mentor coaching is a cornerstone of ILCT's approach that aligns with ICF standards. As a result, it enables graduates to pursue ACC and PCC credentials further.
Key Features
Participation in peer-to-peer coaching, practice labs, and real client sessions.
Personalized mentorship from seasoned professionals with guidance and valuable feedback.
Alignment with the International Coach Federation (ICF) which enhances its credibility.
Availability of the flexible learning option of both online and in-person formats.
Duration: Associate – 6-8 months / 71 hours, Professional – 18-24 months / 130 hours
Method of Delivery: Online
Pricing: Associate – $4,330, Professional – $7,800
6. Integrative Life Coaching and Master Integrative Life Coaching
By Integrative Wellness Academy (IWA)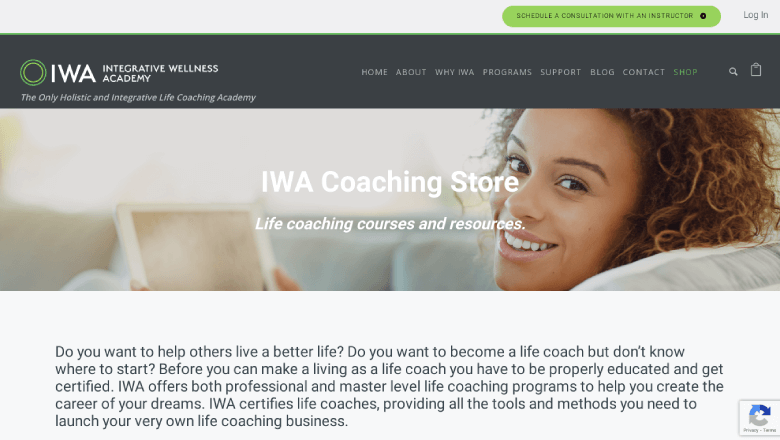 The Integrative Wellness Academy empowers individuals with a comprehensive curriculum in coaching foundations, life coaching frameworks, techniques, and business essentials. Their flexible learning options online and in-person are a plus point for aspiring coaches.
IWA's rigorous certification process and diverse healing modalities help to inspire positive transformations. The program's focus on personal growth prepares you to drive meaningful change in clients' lives.
Key Features
Usage of proprietary Holistic Life and Inside-Out, Outside-In coaching models.
Integration of this program with over 20 diverse healing modalities, including NLP, ECM, and CBT.
Inclusion of various certification processes, including wellness journal, client intake and history, etc.
Graduation with transformational positive change that nurtures coaching skills, personal growth, and empowerment.
Duration: Integrative Life Coaching – 6 months, Master Integrative Life Coaching – 6 months
Method of Delivery: Online
Pricing: Integrative Life Coaching – $1,200, Dual Master Integrative Life Coaching and Integrative Life Coaching – $2,499
7. Core Essentials and Professional Essentials
By Coach U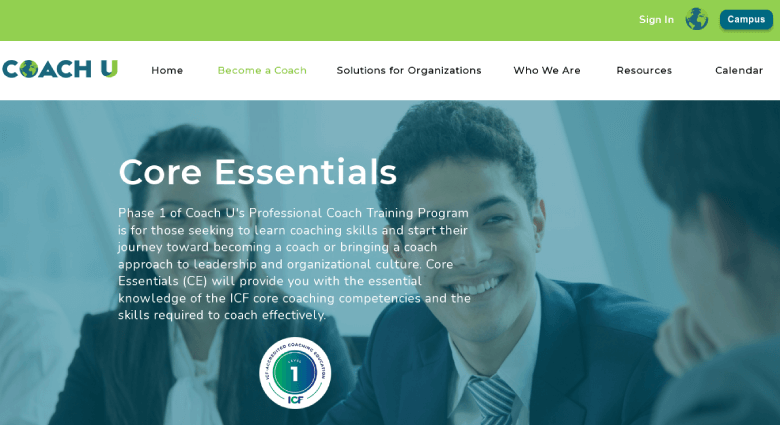 The Coach U Professional Coach Training Program offers two transformative phases.
Core Essentials (CE) serves as the foundational cornerstone. It imparts essential coaching ethics and principles to promote a global learning community.
Phase 2, Professional Essentials (PE), provides advanced coaching mastery for Core Essentials graduates and ICF-credentialed coaches. It focuses on ICF Core Coaching Competencies and coaching culture. This program offers language options and emphasizes experiential learning.
Key Features
Offers flexible delivery options with live Zoom sessions for real-time interaction.
Provides enhanced accessibility with global time zone coverage.
Deepen expertise and specialization with the availability of elective courses.
Focuses on practical application with fieldwork and hands-on experience.
Duration: Core Essentials – 8 months / 78 hours, Professional Essentials – 6 months / 72 hours
Method of Delivery: Online
Pricing: Core Essentials – $6,095, Professional Essentials – $6,095
8. Online Life Coach Training
By Coach TrainingEDU (CTEDU)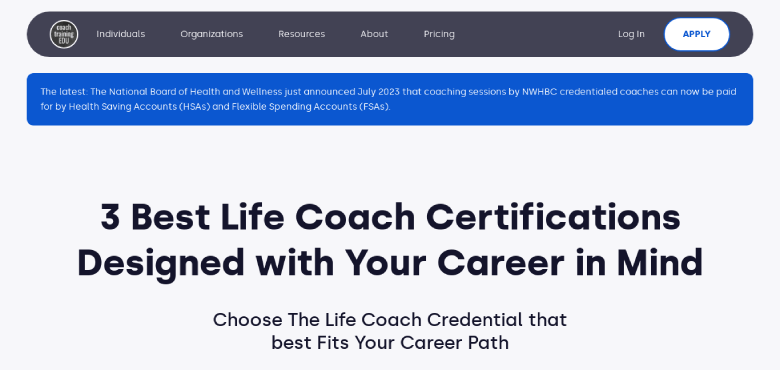 CTEDU provides Online Life Coaching Training for both beginners and experienced coaches. Their programs cover theory and practical skills to help people become better coaches.  
CTEDU has been offering coaching training since 2009, helping graduates become confident coaches. With this experience, they've reached over 50 countries, including cities like New York and Dubai.
Key Features
Focuses on mastering the eleven core coaching competencies for versatility.
Includes a detailed business roadmap for successful coaching practices.
Fosters a supportive global network of students and alumni.
Offers a modern, interactive learning environment with live discussions and coaching demonstrations.
Duration: Associate – 6 months, Professional – 12 months, Master – 12 months
Method of Delivery: Online
Pricing: Associate – $3,825, Professional – $5,760, Master – $10,125
What Comes Next After Certification?
You get many ways to showcase your life coaching abilities when you achieve certification. Some of the paths you can take are as follows:
Can start your practice at preferred rates and in the niche.
Can join associations like the International Coach Federation (ICF) and other corporate organizations.
Can offer your services as a freelance coach.
Can write books and create online courses.
Can offer workshops, seminars, and public speaking engagements.
Can collaborate with other therapists and professionals to expand your reach.
Can offer one-on-one as well as group coaching sessions.
If you wish to start your practice, you can choose an online coaching platform from many available. One such platform is CoachPodium.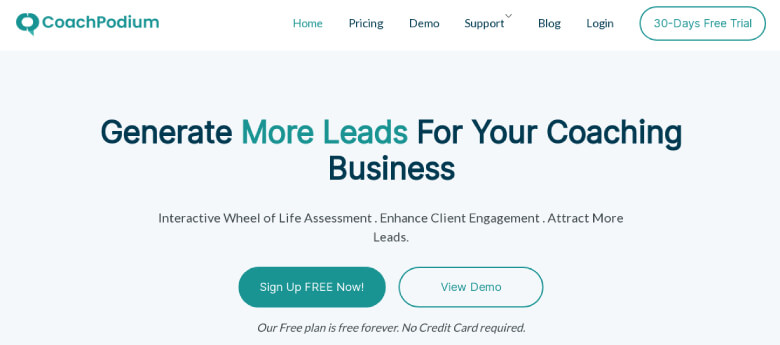 It can transform potential clients into actual clients due to the availability of various unique features. Such features include Call-To-Action, coach public profile, wheel of life assessment tool, and many more.
You can also read this article about how to start a successful life coaching business.
Conclusion
In conclusion, obtaining a credential from a life coach certification program opens doors to opportunities to impact people's lives positively. These programs help you acquire vital skills and knowledge through training and assessments.
As we've explored in this article, becoming a certified life coach involves evaluating program selection processes. But once certified, individuals can apply their expertise in various ways, from private coaching practices to corporate settings.
But, the journey doesn't end with certification. It's the beginning of a fulfilling path where certified coaches like you can guide, motivate, and inspire clients. As the demand for professional coaching rises, a recognized certification empowers you for a rewarding career.